President of Beijing's Sanctioned Buddhist Organization Accused of Sexual Assault
August 2, 2018 Last Updated: August 2, 2018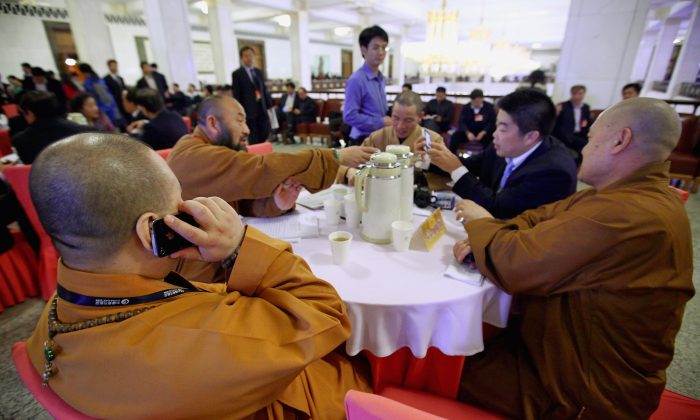 A Chinese Buddhist monk who serves as president of the Beijing-sanctioned Buddhist Association of China has been accused of sexually assaulting several of his female disciples.
Xue Cheng, 51, is an abbot of Beijing's Longquan Monastery and heads the Buddhist Association, through which the Chinese regime monitors the activities of Buddhist practitioners in the communist country. He also is a member of the Standing Committee of the Chinese People's Political Consultative Conference, a political advisory body of the Communist Party.
A 95-page letter that detailed the allegations was circulated widely online on Aug. 1, but was soon deleted by internet censors.
Two former supervisors of the Longquan Monastery, Xian Jia and Xian Qi, both doctoral graduates from China's prestigious Tsinghua University, published the allegations. They are currently abbots at Puji Temple in Yongchun County, Quanzhou City, Fujian Province, which is an affiliate branch of the Longquan Monastery.
In their report, they claimed that Xue allegedly sexually assaulted his female disciples and psychologically manipulated them, causing some to become mentally unstable as a result. The report is said to include text conversations between Xue and his female disciples on WeChat, a popular Chinese social media platform, that the abbotts say illustrate his allegedly inappropriate behavior.

The abbotts also claimed that Xue approved illegal construction on the temple complex and engaged in corruption.
On Aug. 1, Xue posted a statement on his Sina Weibo account (a platform similar to Twitter) denying the allegations. He also said he and the monastery are considering pursuing legal action against the accusers for defamation.
Psychological Control
The allegations detailed that Xue was able to psychologically manipulate many of the female disciples because the monastery was out of touch with the outside world. Xue isolated the alleged victims from their families and forced them to strictly obey the senior monks' orders.
Xian Jia also explained that she was close to a fellow nun, Xian Geng (a pseudonym), who was sent out to study with Xue. A year later, she returned to the temple in a mentally unstable state. Similar situations occurred with at least two other female disciples, Xian Jia said.
Corruption
After Xue became the abbot of Longquan Monastery in 2005, he requested his disciples—both monks and lay Buddhists—to build a stage for him. The stage was tens of thousands of square meters in size, with estimated costs reaching hundreds of millions of yuan (dozens of millions of dollars). Due to the alleged lack of protective measures, there were also many accidents that occurred during construction, according to the 95-page letter.
In April 2015, Xue became president of the Buddhist Association. In July that year, he ordered a chief monk to raise 12 million yuan ($1.76 million) in funds from Buddhist devotees, but where that money ended up is unknown.
In addition, in March 2018, Puji Temple transferred 10 million yuan ($1.46 million) to Xue's personal accounts.
Human Rights Crimes
Xue also is accused of actively carrying out the Chinese regime's persecution of Falun Gong, an ancient spiritual discipline.
Falun Gong, also known as Falun Dafa, is a meditation practice that incorporates the fundamental moral tenets of truthfulness, compassion, and tolerance. In 1999, former Chinese Communist Party leader Jiang Zemin started a nationwide persecution of adherents, believing that the group's popularity—by 1999, up to 100 million practiced Falun Dafa, according to official estimates—would undermine the Party's authority.
Jiang mobilized the state's security apparatus to arrest and detain practitioners. More than 4,000 adherents are confirmed to have died as a result of torture and abuse while in custody, although the real number is believed to be much higher—due to the difficulty of getting information out of China, according to the Falun Dafa Information Center, the group's press office. In addition, large numbers of practitioners have been killed for their organs, used in China's organ transplantation industry, according to independent researchers.
In 2000, in order to convince the public of the legitimacy of the Falun Gong persecution, Jiang established the "China Anti-Cult Association," an organization that was tasked with defaming Falun Gong and its adherents as a "dangerous cult."
Xue is the highest ranking Party official to be accused of sexual crimes as the worldwide #MeToo movement spreads to China. On Weibo, China's equivalent of Twitter, posts with the terms "Longquan Monastery" and "Xuecheng" have been deleted, while some netizens found that posts containing the term "monk" were deleted within 12.5 minutes.
Xue was appointed director of the "China Anti-Cult Association,'' and wrote articles attacking Falun Gong. He allegedly has been under investigation by the World Organization to Investigate the Persecution of Falun Gong, a U.S.-based nonprofit research group.
Epoch Times staff member Ling Yun contributed to this report.