Hong Kong Cardinal Joseph Zen Urges Vatican Not to Compromise with Beijing
June 25, 2009 6:05 am Last Updated: October 1, 2015 9:41 pm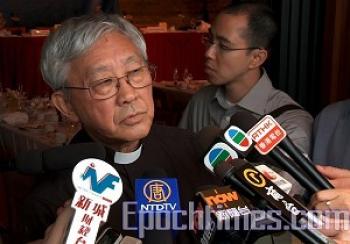 HONG KONG—Former Hong Kong Cardinal Joseph Zen said in a recent interview that in order to uphold freedom of religion, the Vatican should not compromise with the Chinese government. He urged the Vatican and all Catholics in China to follow Pope Benedict XVI's instructions and to stand up for religious freedom. Zen stressed that the most important thing is freedom of religion. He said that it should not be compromised simply because the Vatican wants to establish diplomatic relations with China.
In a recent interview with the Vatican-affiliated missionary news agency AsiaNews, Zen pointed out, "We've come to the point where it's not possible to accept compromise of our rights to religious freedom as we have done before." He added that the Vatican requires that Catholics remain firm in their faith and loyal to the Pope.
Cardinal Zen, who resigned from his position as bishop of the Catholic Diocese of Hong Kong in April this year, pointed out, "Sometimes too much importance is placed on diplomatic relations, when these alone cannot set things straight. In fact, sometimes it could lead to misunderstandings because it might give the false impression that religious freedom exists."
Zen was especially worried that the Catholic churches in China which are recognized by both Vatican and the Chinese Communist regime might bow to the pressure from the Chinese Catholic Patriotic Association, and that it would be an insult to the Holy Father because it would completely ignore the letter Pope Benedict XVI sent to the Catholics in China two years ago.
In a recent article carried by the AsiaNews, Zen repeated his uncompromising position against the Chinese Communist regime. Zen said that he did not rule out the possibility of martyrdom. "If needed, we should be prepared to resort to martyrdom if we have no other choice," said Zen. He also stressed that Catholics should follow the Pope's instructions to unequivocally and steadfastly stick to their religious principles. "Otherwise, we are surrendering, but we don't have the right to surrender, as we should be steadfast in our faith."
Hong Kong residents have widely supported Cardinal Zen's strong position against the Chinese Communist regime regarding religious freedom. Veteran pro-democracy activist Szeto Wah, who is the chairman of The Hong Kong Alliance in Support of Patriotic Democratic Movements in China, said that the Vatican should stick to its principles regarding freedom of religion. It is a longstanding Catholic tradition that only the Pope has the authority over the appointments of bishops. The Chinese Communist regime insists that such authority interferes in its internal affairs. The actions of the Chinese Communist regime obviously violate traditional Catholic principles.
Read origina article in Chinese.