Cruz and Sanders Pull Ahead in Wisconsin Poll
Marquette poll comes out a week before primaries
March 30, 2016 7:25 pm Last Updated: April 3, 2016 3:18 pm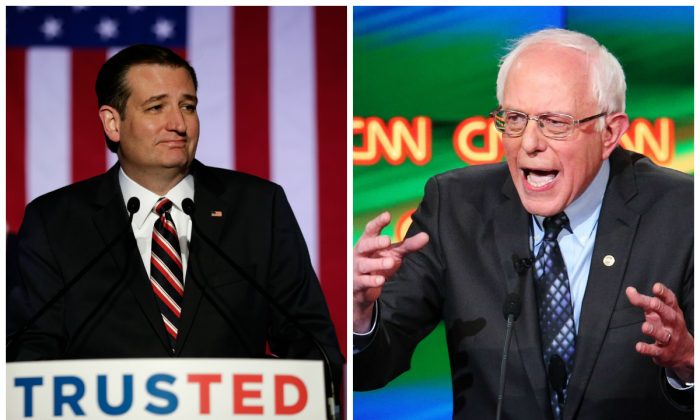 Ted Cruz and Bernie Sanders are pulling ahead of frontrunners Donald Trump and Hillary Clinton with less than a week to go before the primaries, according to the latest poll conducted by Marquette Law School.
Ted Cruz
leads on 40 percent, a sizable 10 point advantage to Trump's 30 percent.
On the Republican side, Ted Cruz leads on 40 percent, a sizable 10 point advantage to Trump's 30 percent. John Kasich trails with 21 percent.
Almost 8 percent of voters remain undecided. 
Trump's numbers haven't moved since a February Marquette poll, where he also received 30 percent. Marco Rubio had 20 percent in February, Cruz 19 percent, and John Kasich and Ben Carson received 8 percent each. Jeb Bush got 3 percent, but suspended his campaign during the poll.
The numbers show that Cruz and Kasich have picked up all the votes from the candidates who have dropped out of the race—particularly Cruuz, who has experienced a 21 percent surge.
Wisconsin is a coveted "winner takes all" state on the Republican side, and immediately gives 18 delegates to whomever has a plurality of votes. The remaining 24 delegates are allocated by congressional district.
Wisconsin has 42 delegates on the GOP side.
It's a much-needed win for Cruz, who is is running out of chances to slow Donald Trump's momentum toward the 1,237 majority delegates needed for the nomination.
The Democratic side shows a closer race, but with a slight advantage for Bernie Sanders who leads Hillary Clinton 49 percent to 44 percent. A February Marquette poll had Sanders and Clinton neck-and-neck on 44 percent and 43 percent respectively.
Sanders is coming off of big wins in Washington, Hawaii, and Alaska, and looks to lessen Clinton's lead in the delegate count. 
Unlike the Republicans, Democrats award delegates proportionally, and a close race would split the 86 delegates.
The Marquette poll was conducted between March 24–28, and surveyed 1,405 registered voters and has a margin of error of plus or minus 3.3 percentage points.