WINDSOR, Ont.—Police made more arrests on Feb. 13 to clear a protest blockade at a major Ontario border crossing connecting Windsor to Detroit, as the Canada–U.S. crossing.


Police made the first arrest on Feb. 12, detaining a 27-year-old male "for a criminal offence in relation to the demonstration" at the Ambassador Bridge. The international border crossing accounts for hundreds of millions of dollars worth of trade between Canada and the United States each day.
More arrests were made on Feb. 13. Police say they have made more than 25 arrests, mostly on mischief charges.
Police started to move in on the morning of Feb. 12 after a court order on Feb. 11 gave police more power to clear the blockade.
Protesters have been at the site since Feb. 6, demanding an end to COVID-19 mandates and restrictions.

Different police forces, including Windsor Police, Ontario Provincial Police, RCMP, and other regional forces came to the site on Feb. 12. Police were heavily armed, and there were armoured vehicles and police cruisers at the site.
Most large trucks left the site on Feb. 12, and police pushed away the protesters from the main road leading to the international bridge.
Police have now set up barricades on the road, preventing protesters from advancing to the bridge.
Some protester vehicles were ticketed and towed at the site.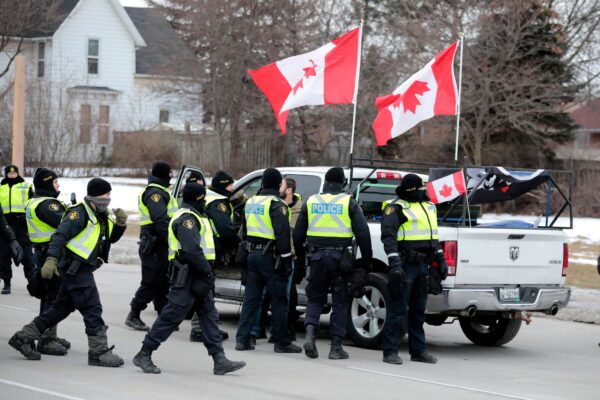 "Enforcement will continue in the demonstration area and there will be zero tolerance for illegal activity. The public should avoid the area," Windsor Police said in a tweet on the morning of Feb. 13.
Sam Helou, a Windsor resident who owns a parking lot close to the border crossing, doesn't think the protest is over.
"They're all still coming. I've got a car right here … from British Columbia. He was in Ottawa for a whole week and he just came here right now. This other guy here with the flag is from Scarborough, Ontario. He came all the way here to protest, and they're all telling me it's not over yet," he said while standing on his parking lot.
Helou said he supports the protest "as it's about freedoms."
"The government cannot take away our freedoms like they have. Enough, we complied with everything, we suffered enough," he said.
The border crossing remains closed due to police barricades.
Windsor Mayor Drew Dilkens, who has called the protest blockade illegal, says police will decide when cross-border traffic can resume.

The international border crossing is one of several that have been blocked by protesters in recent days. Border crossings in Manitoba, Alberta, and B.C. have also been blocked by protesters demanding an end to COVID-19 mandates.
Ontario Premier Doug Ford on Feb. 11 declared a state of emergency in his province due to the ongoing protests.
The demonstrations have been inspired by the truckers' protests, which were initiated to oppose the federal government's requirement that all truck drivers crossing the Canada–U.S. border be vaccinated for COVID-19.
As truckers formed large convoys to come to Ottawa in late January to protest, many supporters joined in and the protest increased in scope to oppose all COVID-19 mandates and restrictions. Many protesters remain in Ottawa, saying they won't leave until the government drops all mandates.
The protests in Ottawa and those taking place at the borders are separately organized.
Reuters and The Canadian Press contributed to this report.