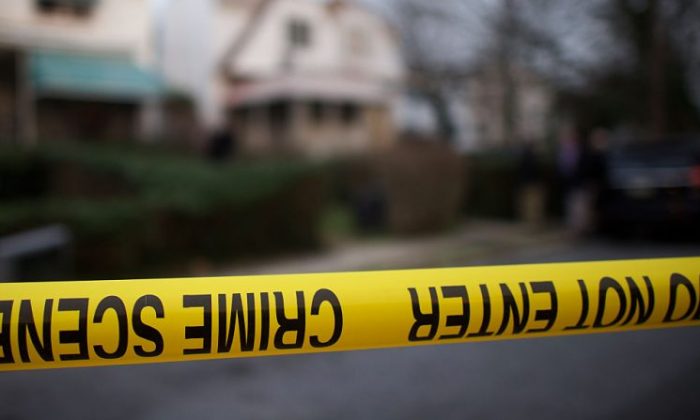 Police Eyeing Son After North Carolina Developer Found Strangled in Home
Police have not named any suspects but are interested in the son of a wealthy North Carolina developer who was found apparently strangled to death by a dog leash.
William "Bill" Bishop, 59, was a prominent real-estate developer in Tampa, Florida, known for his concept of "walkable" communities, where schools, shops, and houses were close enough together that residents were not forced to drive everywhere by car.
Bishop was found unconscious in his home in Durham, North Carolina, on April 18 by police answering a 911 call made by Bishop's 16-year-old son.
According to his son, Bishop was sitting in an armchair in his basement, unconscious and with no pulse, with the leash of his 60-pound Labrador retriever wrapped around his neck.
Bishop was taken to the hospital where he was pronounced dead three days later.
A report filed by the North Carolina Office of the Chief Medical Examiner stated, "The son called 911 but stated he was unable to perform CPR and stay on the phone because there is no cell service in the basement," the Herald-Sun reported.
Emergency responders noted that the leash was not wrapped around Bishop's neck when they arrived. They also noted some odd statements made by the son.
"Of note, EMS states that during time at the house the son pulled one of them to the side to say, 'I feel weird because I don't feel bad he might die' and 'My dad is abusive to me and my mom," the report states.
Bishop's divorce from his wife, the boy's mother, had been finalized two weeks earlier.
Despite the suspicious circumstances, no formal charges have been filed to date.
'Suspicious in Nature'
In search warrant applications, Durham police investigator T. Huelsman listed a series of circumstances regarding the son's speech and actions which he described as "suspicious in nature," the Herald-Sun reported.
In addition to the son telling first responders that he didn't feel bad that his father might die, there were other oddities.
"[The son] explained that there had never been anything physical to occur, just constant verbal abuse over minor things like dishes being left in the sink and homework not being completed," according to one search warrant application. "[He] also told officers that he would be extremely fearful for what his father would do if he survived."
The son called his mother five times before he called 911.
Investigators searched the son's phone and found searches for financial information, how to calculate the value of an estate, the value of gold, and how to transfer bank accounts after death, another warrant application stated.
This is more noteworthy because Bishop was known to keep large quantities of gold on his property.
One of the financial records found at the property showed a purchase order for $462,773 in gold. Bishop believed in having cash, gold, and jewelry on hand in case of emergencies which prevented him from using banks.
According to the Herald-Sun, Bishop's girlfriend Julie Seel told police on June 5 that there was at least $50,000 in gold and $75,000 in jewelry and cash inside a safe in Bishop's home.
Police have applied for a special warrant which will allow them to drill into the safe to examine its contents, WRAL reported.
Strife in the Marriage
Bishop and his ex-wife Sharon had been married since October 1998. They originally lived in Florida, then moved to Durham, North Carolina in 2008, the Herald-Sun reported.
Sharon Bishop paints a picture of a man with a violent temper and a short fuse.
According to court documents, Sharon Bishop called the police in 2005 during "an episode when my husband was suicidal and enraged."
"During this episode, he threatened to kill my family members and threatened to kill me. He has never forgiven me for [calling police], and I am deeply afraid of how he will react when he receives these papers," the 2010 documents state.
In that same document Sharon Bishop claimed that her husband always carried a loaded gun. In the report she states that she heard Bishop tell their sons he carried the weapon "so mommy won't call the police on me again."
Sharon Bishop accused her husband of smashing furniture and also smashing their children's toys in fits of rage.
Sharon Bishop moved out of the family's home in 2010, saying that Bishop had stopped taking his anti-depression medication and was experiencing "outbursts of rage" and threatening violence toward his her and their children.
At that time, Sharon Bishop was granted an order of protection, which she voluntarily dismissed ten days later, possibly in a deal with her husband to unfreeze her bank accounts.
In March 2017, Bishop filed for custody of his two sons. He said in his application that the boys had lived with his since 2013, and that he and his wife had separated in 2016 when his wife moved to Arizona to seek treatment for her substance-abuse problems.
In November 2017, Bishop filed for divorce. The divorce was granted on April 6, 2018.
It was twelve days after this that Bishop's son called 911 and reported that his father was unconscious and had no pulse.
From NTD.tv
Watch Next:
How a Traditional Spiritual Practice Changed the Lives of These People
The practice has attracted tens of millions across the world and at its core are just three simple principles: truthfulness, compassion, and tolerance.
RECOMMENDED