Police Drive Away Rights Activists Visiting Hu Jia's Family
April 8, 2008 12:00 am Last Updated: April 8, 2008 12:00 am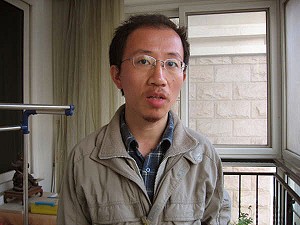 On the morning of April 5, Beijing rights activists Wang Jianping and Qian Guoliang were driven away from human rights advocate Hu Jia's residence in the Tongzhou District of Beijing by the monitoring policemen.
Wang and Qian were visiting the Beijing residence to offer encouragement and comfort to Hu's family after Hu was sentenced to prison.
On April 3, Hu Jia was sentenced by the Chinese communist regime to three-and-a-half years' imprisonment on allegations of "instigating subversion of state power." Both Hu's mother and wife were present at his court session, but refuse to accept the regime's sentence.
Wang and Qian said that everyone was in low spirits after Hu's verdict was announced. Since Hu's arrest in 2006, he has been in custody for more than 600 days. Meanwhile, his wife, Zeng Jinyan, was left to raise her daughter alone. The activists decided to visit Zeng and her daughter to offer encouragement and comfort.
Afterwards, they had planned to visit Hu's parents.
Qian stated, "When we arrived outside Hu's residence, the gate guard didn't pay attention to us, so we entered. After they realized [what was going on], they immediately chased us and dragged us back to their office. After taking our personal information, they forced us out. There were also people sitting in a vehicle outside talking."
Seven to eight people questioned them in the building office, according to Qian. When Wang and Qian questioned why they were not allowed to visit Zeng and her daughter, the police responded that they were "only carrying out orders from above."
Qian once expressed in an essay that Hu is a kind person who works to help people, including those at the bottom of society. Convicting someone who does good deeds is a travesty.
It is beneficial for a country and its people to have the corruption exposed, regardless of what means is used. It is also in line with higher principles and protecting ordinary people's legal rights.
Even if the regime insists on connecting what Hu did with subversion, it would only be destruction of corruption.