Lying in a shelter, Leonard the Pit Bull was bound to be euthanized. He was just too energetic, never letting go of his toys. Such dogs are hard to handle as pets and seldom get adopted. But Jim Alloway, director of Ohio's Union County Humane Society, saw a different future for the pup.
Alloway had experience working with police dogs and noticed Leonard's strong "ball drive" made him a great candidate for sniffer dog training.
He asked Mike Pennington, owner of the Storm Dog Tactical training company, to teach Leonard to sniff out narcotics. Usually, only selected breeds are used for police training, like german shepherds and labradors. But Pennington decided to give the pit bull a try.
And Leonard did splendidly. Mid-May, he became the first K9 officer of Ohio's Clay Township Police Department.
Leonard's handler, Chief Terry Mitchell, shared nothing but praise for Leonard.
"He's doing great," he said. "He works hard the whole day."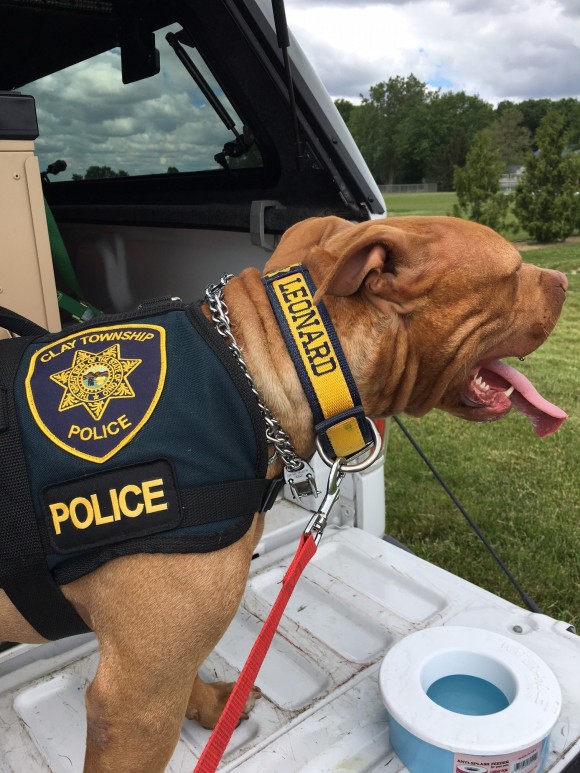 Since Clay Township didn't have a K9 unit before, Mitchell had to learn to handle a police dog.
"He's not your average pet. He's real high energy. He's got a really high work drive," he said.
After a day's work, they're both worn out enough to just fall on their respective favourite spots and sleep.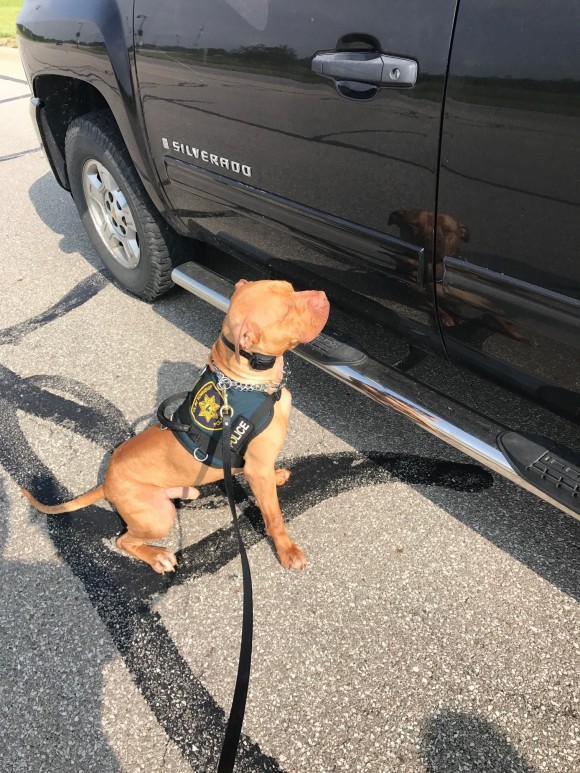 Why Isn't This a Thing?
Looking at Leonard's success, adopting hard-to-handle shelter dogs for K9 training seems like a no-brainer.
But things haven't been quite so simple.
The role of a police dog was traditionally reserved for purebreds purchased for thousands of dollars, often from Europe. Professionals have a hard time believing shelter dogs could perform just as well, explained Brad Croft, whose nonprofit Universal K9 focuses on training shelter dogs for law enforcement.
"Everybody told me that I was going to have a hard time giving dogs away," he told The Epoch Times in a previous interview. "I had to fight the stereotype. The military, the police, all these people think one way and it's real close-minded. And if you try to bring something new into the mix, they balk at it."
Yet, examples like Leonard's are gradually changing the debate.
"This is not a breed-specific thing. This is a God-given gift. And all dogs have it," Croft said.
High-energy dogs, whatever breed, work well as K9s because they tend to be strongly motivated to accomplish goals. The goal can be getting a favorite toy or a treat. But they need to be willing to do whatever it takes to get it.
Croft has proven even small crossbreeds can do the work, if properly motivated. However, they're only trained as service or sniffing dogs—not for suspect apprehension, which requires the dog to be large, fast, strong, and agile. Usually, only German shepherds or Belgian Malinois are suitable for that purpose.