PHILADELPHIA—Ballot observer Brian McCafferty became so disillusioned with the lack of access he and others were afforded during the ballot-counting process in the cavernous Pennsylvania Convention Center that he recorded a video on Nov. 5.
The video went viral after he sent it to a friend who posted it on Twitter. Hours later, McCafferty was escorted from the building for recording the video and banned from re-entering. Large signs in the area ban photography and videography.
"They will not allow us within 30 to 100 feet to supervise the ballots being counted," McCafferty said on the video. "I can't believe what I'm seeing right before my eyes."
Originally, McCafferty was asked by a local GOP contact if he could be an observer for three days, starting Nov. 4, and he was happy to accept.
However, when he arrived on the first morning, he and the other observers were so far from the ballot counters he said only Superman could have possibly seen anything.
The observers are separated from the main sorting and counting areas by metal crowd-control gates. Several rows of tables with ballot-counting machines were in closest proximity to the observers, while other sorting areas were a distant 250 feet back.
The giant warehouse-type space had a chain-link cage in the center where white boxes of counted ballots sat.
On Nov. 6, the Trump campaign won a Philadelphia lower court case that would allow ballot observers to be within six feet of the counting. The ruling went into effect at 10:30 a.m. on the same day.
However, when The Epoch Times entered the room on two separate occasions during the afternoon of Nov. 6, the closest workers were at least 50 feet from the observers' area. Most of the activity was at the far reaches of the room.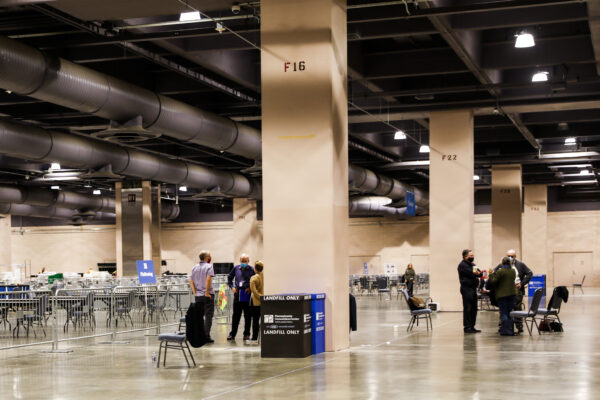 "How do you feel about them counting votes in the back?" McCafferty told The Epoch Times. "How confident are you that there's no fraud going on? What are they hiding? They're hiding something. And if they're not, then why is it set up that way?"
McCafferty is a registered Democrat, but considers himself conservative. He voted for former President Barack Obama in 2008, Mitt Romney in 2012, and President Donald Trump in both 2016 and 2020.
"If Joe Biden wins fair, I'm fine—that's America, we move forward," McCafferty said. But he's concerned the process hasn't been transparent enough to allow for confidence in its fairness.
The Office of the Philadelphia City Commissioners released updated voting results at midday on Nov. 8. The results show that Biden has secured almost 81 percent of the total 701,700 votes counted so far, while Trump has 18 percent.
Around 6,000 ballots remain uncounted in the city, according to the commissioners' website.
In the 2016 presidential race, 82 percent of voters in Philadelphia turned out for Hillary Clinton and 15 percent for Trump. However, Trump won the state.
Pennsylvania's 20 electoral seats are a sizable haul for either candidate and could be the deciding factor in who wins the White House. Both candidates have declared themselves the winner of the state. On election night, going into early Wednesday morning, Trump was winning Pennsylvania by around 500,000 votes.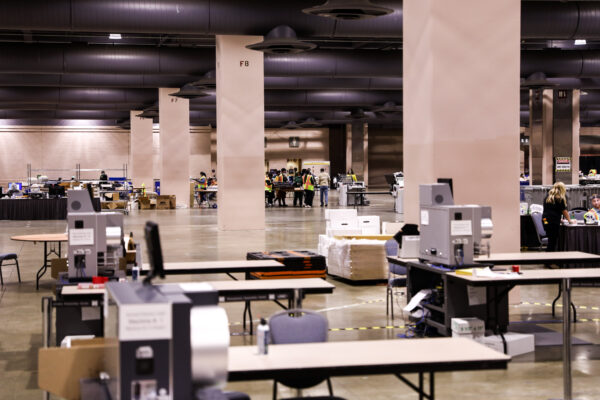 The Trump campaign has filed a lawsuit against the state to halt any type of ballot-curing, which could allow for mail-in or absentee ballots to be corrected after Election Day.
Under a recent Pennsylvania Supreme Court ruling, ballots that arrived up to three days after the election will be counted, provided they were postmarked by Election Day or do not have a clear postmark.
Supreme Court Justice Samuel Alito ordered late on Nov. 6 that Pennsylvania ballots received after 8 p.m. on Nov. 3 must be separated. "All such ballots, if counted, be counted separately." the order stated. Alito said the segregated ballots must be kept "in a secure, safe, and sealed container separate from other voted ballots."
Pennsylvania Secretary of State Kathy Boockvar, a Democrat, has defended the counting process in Pennsylvania.
"We're going to keep counting. Military and overseas ballots, I think, are coming in, those will continue to be accepted through next Tuesday. There are obviously provisional ballots that will have to be counted as well after the initial round of ballots," she said on Nov. 6.
"I think whatever the outcomes are, I can tell you that I'm so proud to work with the 67 counties, the election officials who are just doing an amazing job getting these counted accurately and securely."