The 40-mile-long Russian military convoy heading toward Kyiv was "stalled" by Ukraine's military this week, said Pentagon spokesperson John Kirby on Friday.
Kirby told reporters that U.S. officials have obtained reports "that a bridge was blown up that we believe was in the path there," adding, "We also have indications that the Ukrainians have struck the convoy elsewhere and on vehicles."
For about five days, the convoy, which satellite firm Maxar has said to be about 40 miles in length, has barely moved. It's located some 15 miles from Kyiv, the capital city.
Russian military forces have also had problems with logistics, including food and fuel supplies, Kirby said.
"We do believe that the actions of the Ukrainians have stalled that convoy, certainly slowed it down, stopped it in some places," he added.
Despite those claims, Kyiv came under heavy fire on Friday. Numerous reports came in about explosions being reported around the city's center.
But fighting also raged elsewhere in Ukraine as troops besieged and bombarded several cities in the second week of an invasion launched by Russian President Vladimir Putin on Feb. 24.
The southeastern port city of Mariupol—a key prize for the Russian forces—has been encircled and shelled. Its mayor said on Friday it had no water, heat, or electricity and is running out of food after five days under attack, Reuters reported.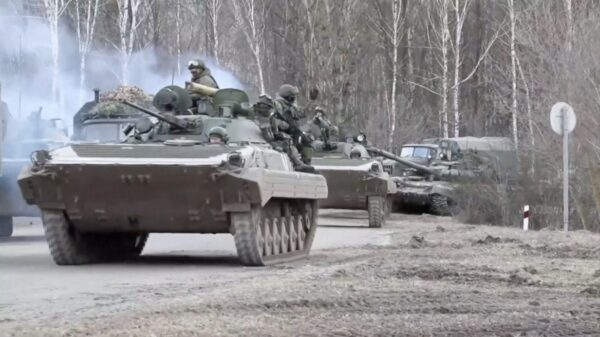 A humanitarian disaster is also unfolding, with more than one million people seeking refuge in western Ukraine and in neighboring countries. Thousands of people are believed to have been killed or wounded since the conflict started.
Russian forces have made their biggest advances in the south, where they captured their first sizeable Ukrainian city, Kherson, this week. Bombing has escalated in recent days in the northeast cities of Kharkiv and Chernihiv, according to reports.
Meanwhile, during overnight fighting, Russian forces seized the Zaporizhzhia nuclear power plant amid heavy fighting. Local Ukrainian officials said that a building located on the premises of the plant was hit and caught on fire, while U.N. officials later said that no damage was done to the plant's reactors.
The U.N.'s International Atomic Energy Agency chief, Raphael Grossi, described the situation as "normal operations … but in fact, there is nothing normal about this."
Ukrainian President Volodymyr Zelensky made a statement on social media that NATO countries, including the United States, should implement a no-fly zone following the nuclear plant incident. There were conflicting and now-erroneous reports early Friday that one of the power plant's reactors was damaged.
However, NATO Secretary-General Jens Stoltenberg told reporters Friday that the alliance will not put a no-fly zone in effect over Ukraine because it would mean that NATO planes would have to shoot down Russian ones.
Russia's Ministry of Defense responded to the incident by saying that Ukrainian troops attempted to provoke Russian forces into attacking the plant. Zelensky on Friday denied those claims.
Russia's envoy to the U.N., Vassily Nebenzia, dismissed the uproar over the nuclear power plant and said it's an attempt by Ukraine to promote an "artificial hysteria."
"At present, the Zaporizhzhia nuclear power plant and adjacent territory are being guarded by Russian troops," he said.
Reuters contributed to this report.