LOUDOUN COUNTY, Va.—Hundreds of protesters rallied in Loudoun County to voice their objection over a recently adopted pro-transgender policy. The event occurred outside the Loudoun County Public Schools (LCPS) administration building on Sept. 28, an hour before the school board meeting.
The policy, also known as policy 8040 (pdf), requires LCPS staff to address students with their preferred pronouns and allows transgender students access to bathrooms and locker rooms according to their self-identified gender. It also requires all LCPS staff to "complete training on topics relating to LGBTQ+ students" and schools to create more single-user restrooms within the next five years. It was adopted on Aug. 11, before the start of the current school year.
For the county parents, the pro-transgender policy was just one out of many issues they had with the Loudoun County School Board (LCSB). "Trust," or instead, the loss of trust, was often mentioned in rally speeches and during public comment at LCSB meetings since June 22, at which two LCPS residents were arrested after the superintendent Scott Ziegler declared the meeting an "unlawful assembly."
"I'm even thinking about sending my kids to school with a body cam. When they get into the class, start recording. Because we're not in the classroom," said an LCPS parent at the rally. Another LCPS parent said during public comment of the LCSB meeting, "The parents of Loudoun trusted that the members of the board would have our children's best interests in mind when making decisions; that trust is lost."
Ian Prior, executive director of Fight for Schools, said that the LCSB needed to act like elected officials and "stop acting like a politburo" that wants to take away parents' responsibility of raising their children. "If you want to take that responsibility from me, you're going to have to pry it from my cold, dead hands," warned Prior. On Aug. 25, Fight for Schools filed a petition in the Loudoun County Circuit Court to recall LCSB member Beth Barts. The next court hearing is scheduled for Oct. 5.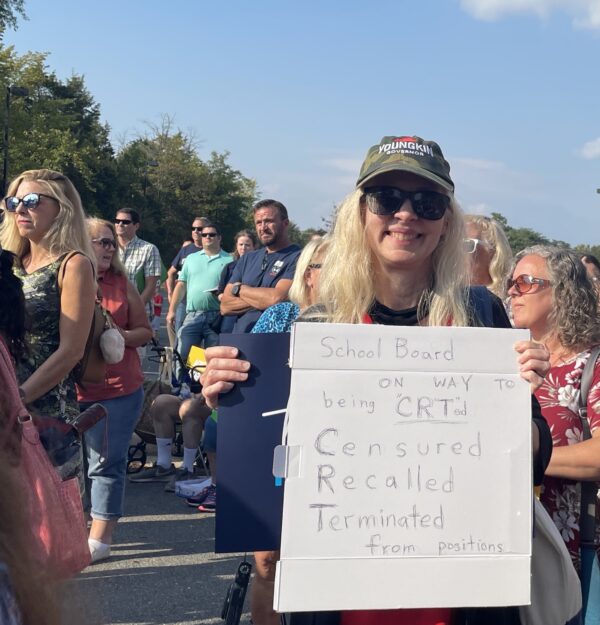 On Sept. 23, the LCPS changed the rules of public participation at LCSB meetings, again. It asked registered speakers to show proof of residence in the county, following changes that took away public viewing during public comment in August. Public participation didn't dwindle as a result. Instead, the number of registered in-person speakers at the Sept. 28 meeting was 82, more than the 70 at the previous session on Sept. 14.
Andrea Weiskopf, an LCPS teacher, was the only in-person speaker supporting the LCSB. "Will you fight so that it will be pretty clear that they will benefit, that all children of Loudoun will feel like they belong? Cui bono [for whom it benefits]?" she asked. She wrote in a tweet about her plan to "incorporate critical race theory into my lessons" during the summer. On Aug. 24, Weiskopf posted another tweet asking for lesson plans "designed to indoctrinate students." The LCPS has repeatedly said that it doesn't teach critical race theory.

Lawsuit Aimed to Reverse Speech Mandate in Pro-Transgender Policy
LCPS teachers Tanner Cross, Kim Wright, and Monica Gill seek an injunction on the pro-transgender policy 8040. "We're specifically challenging the forced speech mandate against teachers; we're not challenging the entire policy. It's just the requirement that all teachers and staff be forced to use whatever pronoun a student demands," said Tyson Langhofer, the legal counsel representing the three teachers, adding that the hearing for the injunction would happen within the next week.
On May 25, Cross spoke out against policy 8040 during public comment at an LCSB meeting. Two days later, he was suspended. On Aug. 30, the Virginia Supreme Court maintained the lower court's decision on June 8 that Cross should return to his job and that his suspension violated his First Amendment rights.
"My win is a win for all teachers across the country who want to stand up for the good of their students," said Cross.

LCPS issued a statement on the pro-transgender policy in August: "LCPS' number one priority is to foster the success of all students and ensure they feel safe, secure, accepted and ready to learn at school. The school division will continue to do its due diligence in creating that environment and remaining open and transparent with all LCPS partners, community members, and stakeholders."