Anxious Canadians called their banks within hours of the government freezing accounts of alleged supporters and protesters who the government flagged as participating in or donating to the Freedom Convoy protest in Ottawa last year.
An unidentified executive at the Canadian Credit Union Association (CCUA), a national organization representing the country's credit unions, sent an email on Feb 15, 2022, to the office of Chrystia Freeland, deputy prime minister and federal finance minister, reported Blacklock's Reporter.
Addressed to Douglas Wong, policy adviser for Freeland, the email from the banking executive reads, "Just got word from our people in Atlantic Canada that our member hotlines are also lighting up in the east with people worried their accounts will be frozen because they donated to or support the truckers."
"So this is not regionally-focused. It's a problem in many parts of the country," continued the email, which was sent one day after the Liberal government announced it would be using the unprecedented powers of the Emergencies Act to freeze bank accounts.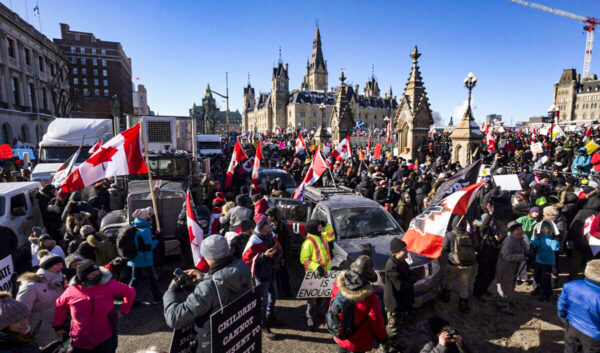 According to Blacklock's Reporter, Freeland was not sure of the extent of her own orders using the Emergencies Act. "Here are some issues for us to think about," Freeland said in an email to her deputy minister Michael Sabia. "What have the banks actually been doing so far?"
"What is the pattern of donations so far. If your account has been frozen because you made a donation, how do you unfreeze it. What do we think the right approach is going forward," Freeland asked Sabia.
Sabia responded to Freeland minutes later, saying: "The more I think about it, the more I think you should stay away from using a number on the deminimus issue. There is no good place to stand on a number and we are not sure the banks could do it in any event."
"I would just say no one should contribute to an illegal activity. Obviously law enforcement is focused on the bigger issues of people who were in the blocades [sic] and major funding sources—essentially what Bill Blair said," responded Sabia.
Frozen Accounts
Freeland responded a few hours later stating, "We need to be clear on what you need to do to unfreeze your account if it was frozen because you made a donation."
Martha Durdin, CEO of the Canadian Credit Union Association, said panicked customers withdrew millions of dollars collectively from banks after the freeze. She made the comments while testifying at the finance committee.
"In the early days there was some degree of panic among some Canadians that their accounts may be frozen," Durdin testified at the House of Commons finance committee on March 17.
"In those important days, the government was less than clear about the intended targets of financial measures under the Emergencies Act," said Durdin. "Many of our members expressed this concern and many Canadians made significant withdrawals from credit unions as a result, sometimes in the hundreds of thousands and on a few occasions in the millions of dollars."
Durdin said staff had to "manage many very unhappy members." Customers expressed shock that cabinet could unilaterally freeze accounts, she added.
Accounts were frozen based on an RCMP blacklist.