A regional minister appeared on screen with cat ears, nose, and whiskers for several minutes of a live press conference in Pakistan before his media team realized they had left the "cat filter" switched on.
Live filter software allows phones and computers to superpose all kinds of graphics—including cat ears—on people's faces in videos in real-time at the touch of a finger or click of a mouse.
But, as the social media team of Pakistan's Khyber Pakhtunkhwa regional government discovered, you have to remember to turn it off—especially if you are live-streaming a press briefing by the information minister.
Information minister Shaukat Yousafzai appeared during the Facebook live stream for several minutes on June 13 complete with cat ears before the team were alerted by bemused social media users.
Other officials at the presser were also caught by the whiskery filter.
One of the first journalists to spot the bizarre moment was Naila Inayat. "You can't beat this! Khyber Pakhtunkhwa govt's live presser on Facebook with cat filters," she wrote on Twitter.
You can't beat this! Khyber Pakhtunkhwa govt's live presser on Facebook with cat filters.. 😹 pic.twitter.com/xPRBC2CH6y

— Naila Inayat नायला इनायत (@nailainayat) June 14, 2019
The original video has since disappeared from the regional government's official Facebook feed. However, other videos and screen-grabs on social media recorded the moment.
Yousafzai confirmed the incident, according to AFP, explaining that it happened by accident.
So this happened today when PTI's SM team forgot to turn off the cat filter while live streaming a press conference on Facebook. @SAYousafzaiPTI looks kinda cute pic.twitter.com/IjjJrua7DL

— Ahsan Hamid Durrani (@Ahsan_H_Durrani) June 14, 2019
What have this official PTI KPK Facebok page has done with KPK Information Minister Shaukat Yousafzai 😂 !
This is INSANE. @SAYousafzaiPTI pic.twitter.com/bttJt5FrdB

— Mohsin Bilal Khan (@MohsinBilalKhan) June 14, 2019
"I wasn't the only one—two officials sitting along me were also hit by the cat filter," he said.
"The cat filter was turned on by mistake," Yousafzai said.
"Let's not take everything so seriously," he added.
Needless to say, many social media users were way ahead of him.
"Looks kinda cute," said one social media user.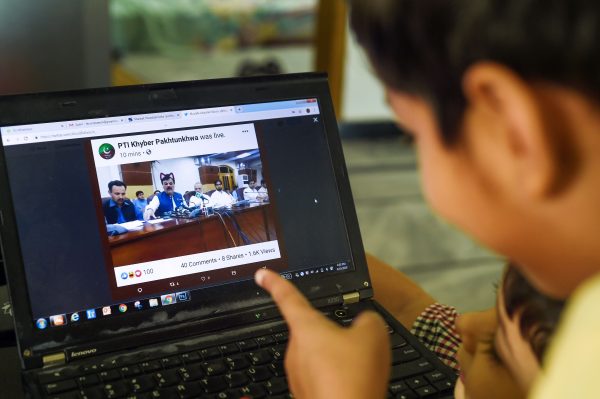 "Who let the cats out," said another Twitter user.
"According to KP government's social media team we now have a cat in the cabinet," wrote one journalist on Twitter.
The following day, the social media department issued a formal statement via Twitter:
"Pakistan Tehreek e Insaf's social media team is deemed to be the pioneers of Social Media in Pakistan. We not only pride ourselves in bringing Pakistani policis to internet but also feel content in setting high standards of SOPs and etiquette with the help of our volunteer-based SM force.
"Yesterday, whilst covering a press briefing held by KP's Information Minister Shoukat Yousaf Zai, a 'cat filter' was witnessed by the viewers which was removed within a few minutes.
"PTI SM Disciplinary Committee probed the matter first hand and concluded the incident as "a human error" by one of our hard-working volunteers. All necessary actions have been taken to avoid such incidents in future."
Clarification regarding coverage of Press Briefing held by KP's Information Minister Shoukat Yousafzai: #PTISMT pic.twitter.com/Oudb9r3lGz

— PTI (@PTIofficial) June 15, 2019
Follow Simon on Twitter: @SPVeazey