Both are faithful allies of former president Donald Trump.
Each is outspoken and considered a political lightning rod among Democrats and even many in their own party.
Both attended the University of Georgia, though one gained more prominence there than the other.
On May 24, Republican Rep. Marjorie Taylor Greene and GOP U.S. Senate candidate Herschel Walker are expected to win their respective primaries, but their opponents are making a Herculean effort to see that doesn't happen.
Greene Seeks Re-Election
Greene was a political unknown in her northern Georgia district until she left the business world for a successful House of Representatives bid in 2020.
Early in her freshman term, Greene encountered what was deemed at the time as a setback when House Democrats and and eleven Republicans voted to remove her from committee assignments because of her "outrageous beliefs" and controversial social media posts.
An outspoken defender of former president Donald Trump and his "America First" platform, Greene twice introduced articles of impeachment against President Joe Biden.
She emerged as a vocal critic of COVID-19 vaccine mandates and was heavily fined for not wearing a mask on the House floor.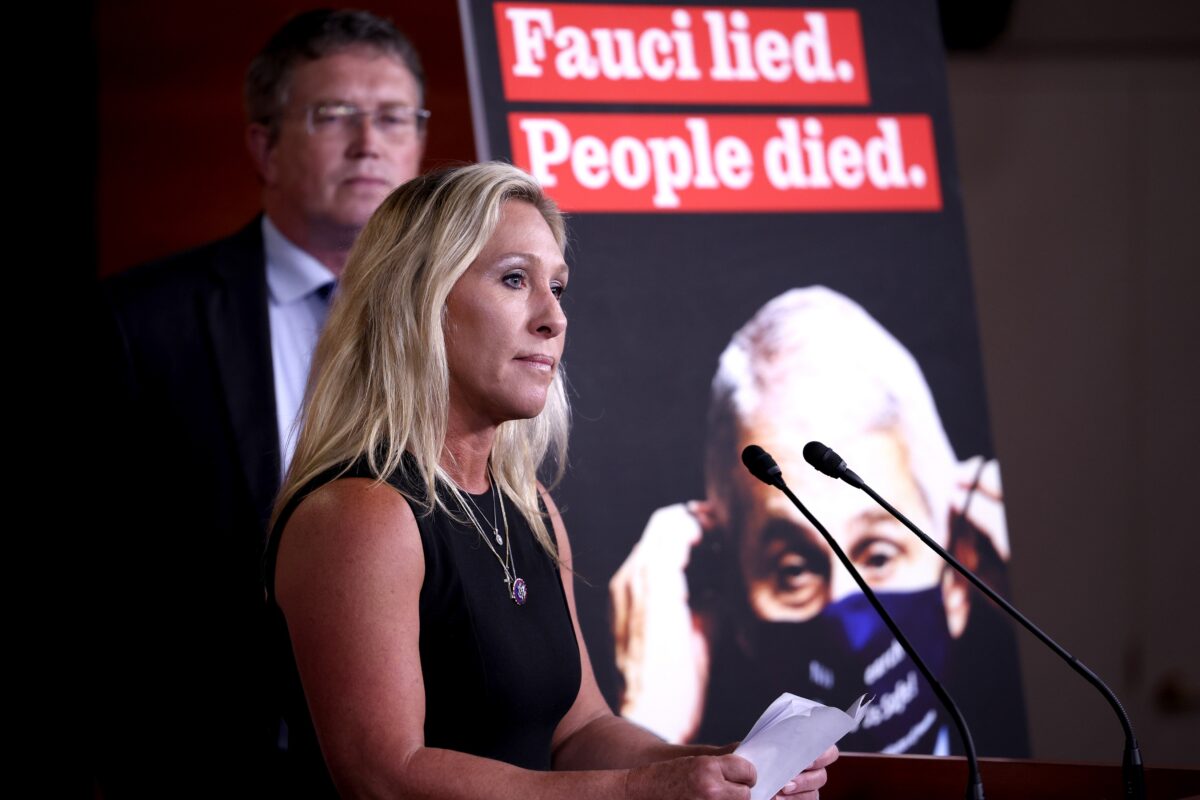 This year, Greene has voted against almost every Ukraine-related bill in Congress since Russia's invasion, a resolve which has frustrated many of her House colleagues.
Greene has also drawn criticism from Democrats and Republicans alike because she asked for a roll call on a series of bills. Many bills are generally passed either through voice vote or unanimous consent, which Greene says does not always reflect an accurate tally, nor does it give voters a true sense of who voted for what. A roll call vote places every vote on the record.
Strahan Emerges as Main Challenger
Dr. Jennifer Strahan, who owns a health care consulting company, is deemed by many as Greene's most serious challenger. The first-time candidate frequently introduces herself at campaign stops as the mom of a son, two dogs, and a tortoise.
Greene's campaign account was stockpiled with $3 million while Strahan's pulled in around $300,000.
Dr. Charles Lutin, Eric Cunningham, James Haygood, and Seth Synstelien are also candidates in the 14th District GOP primary.
A first-time candidate, Strahan received backing from the Republican Jewish Coalition PAC; PACs representing UPOS, International Paper, and other businesses; and some Congressional members.
"There are too many serious issues at stake to not have a serious representative who's here to serve, not just be a social media celebrity," Strahan said earlier in May.
"The No. 1 fallacy that we've had to overcome is that the loudest are not always the majority."
Marcus Flowers, a U.S. Army veteran who wears a cowboy hat, has raised more than $8 million and is considered by many pundits as the frontrunner in the Democratic primary.
Wendy Davis, who is running against Flowers in the Democratic primary with hopes of defeating Greene in November, admits that winning the general election in a district that is 70 percent Republican is an uphill battle.
John Davis, Wendy's uncle, represented the district for more than a decade in  the 1960s and 1970s. She believes that Greene's firebrand approach will turn away voters in November.
Greene's supporters embrace her outspoken nature.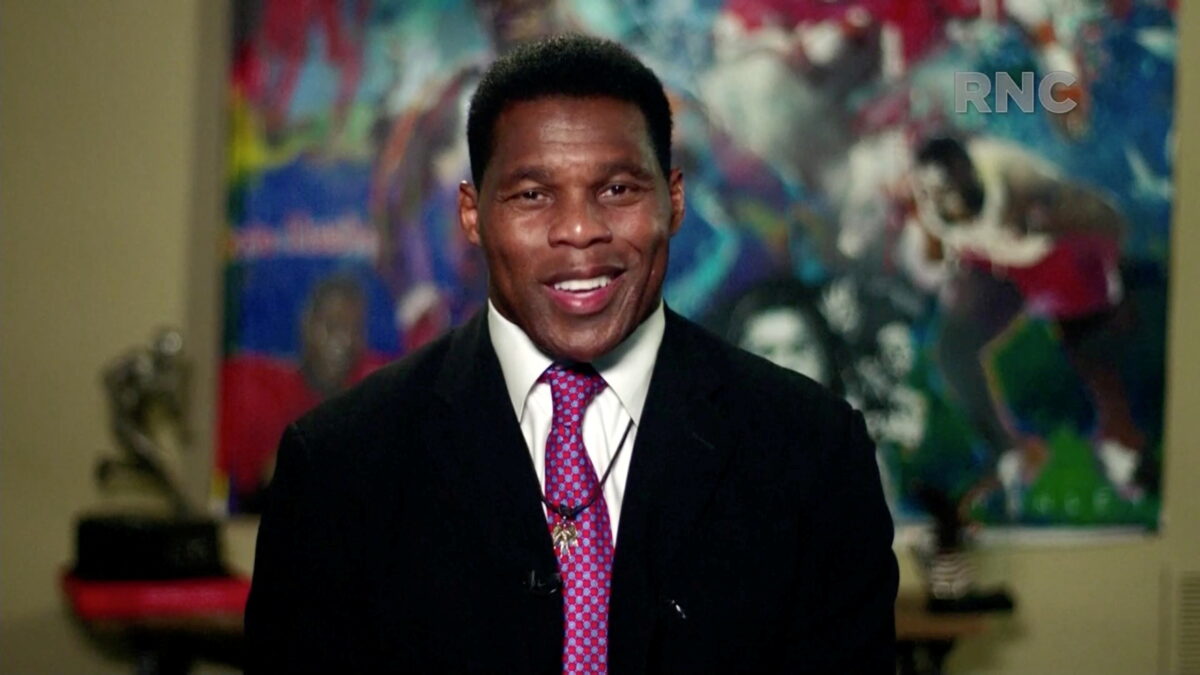 At a rally for Trump-endorsed gubernatorial candidate David Perdue last week, Bikers for Trump founder and rally organizer Chris Cox invited Greene to the stage after saying, "Like Donald Trump, she tells it like it is. You don't have to read her mind."
Throughout her re-election bid, Greene has encountered abundant backlash by detractors who believe her style is too brash.
"I say the things that people care about and say at home," Greene added. "I criticize Democrats a lot, but I also criticize my own party because I blame Republicans and Democrats both for where we are, and so do most people."
Herschel Walker, Sports Legend
A Fox News poll conducted between May 12 and May 16 showed Walker owned a commanding 58-point lead. In Georgia, a runoff is forced when the leading candidate does not surpass 50 percent of the vote.
With Walker in the backfield, the University of Georgia football team captured a national title in the 1980 season, and he was named the Heisman Trophy winner in 1982.
Walker's status as a Georgia sports legend, and Trump's endorsement, made him the Republican party favorite right after he entered the race last August.
An early supporter of Trump's first presidential run, Walker has long been a Trump ally. Trump appointed Walker to the President's Council on Sports, Fitness, and Nutrition in 2018, but Walker was removed from that post by President Joe Biden in March, along with Pennsylvania GOP Senate candidate Dr. Mehmet Oz.
Trump is just one of Walker's many high-profile endorsements: Sen. Ted Cruz (R–Texas), Senate Minority Leader Mitch McConnell (R–Ky.), Sen. Lindsey Graham (R–S.C.), and Sen. Josh Hawley (R–Mo.)
Former United Nations ambassador Nikki Haley and Trump national security adviser Mike Pompeo also gave Walker their stamp of approval.
Walker's Republican primary opponents have attacked the former Heisman Trophy-winning running back's character, focusing on previous allegations of domestic abuse and threatening behavior directed at former friends and business partners.
There have been no occurrences of violent behavior involving Walker for more than a decade, according to public records. Still, Walker's critics claim that his turbulent past would prevent him from defeating incumbent Sen. Raphael Warnock (D-Ga.).
'He Can't Win In November'
Georgia State Agriculture Commissioner Gary Black was one of Walker's opponents. At a rally earlier this year, Black said that Walker would not defeat Warnock in the general election.
"Folks, he can't win in November. The baggage is too heavy. It'll never happen," Black said.
"The Democrats will pour $140 million on top of domestic violence and altercations with the police, make no mistake."
With a substantial lead in the polls, Walker has said there is no need to debate his Republican challengers.
There is speculation that Walker's previous domestic abuse allegations and self-admitted struggles with mental health issues are reasons why he has avoided the debate stage.
In his 2008 book "Breaking Free: My Life with Dissociative Identity Disorder," Walker discussed his history of mental illness. He detailed his story of the multiple personalities that he developed as a coping mechanism to confront the teasing and bullying he experienced as a young child who stuttered.
In an interview with ABC News' "Nightline," Black said that "Georgia deserves to know the details. There's a pattern of deflect, defer, run, hide, twist. It's unacceptable for service in the United States Senate. In my opinion, I think most Georgians are going to agree."
Josh Clark, who served two terms in the Georgia House and is one of the six Georgia Republican Senate candidates, challenged Walker to a one-on-one debate by offering $1 million. Clark said he would donate the money to a charity of Walker's choice if he would appear at the debate.
Clark believes that Walker's resume does not qualify him to serve as a senator.
"He hasn't voted in 20 years and he just moved back to the state of Georgia," Clark told Atlanta's Fox 5. "And we're glad to have him back, but just because he's a football star, just because he's endorsed by McConnell doesn't mean he doesn't have tons of special interest money flowing into the state of Georgia doesn't mean that you automatically, you know, get elected without showing up for the job interview."
Latham Saddler, a former Trump administration official and a Navy veteran who is also among the GOP Senate candidates, questioned Walker's unwillingness to take the debate stage.
"If you can't get on the stage and debate fellow Republicans, how the heck are you going to debate with Raphael Warnock in the general election?" Saddler asked. "Usually if you're hiding, you're hiding for a reason."
In April, Walker told Georgia radio station WDUN-AM that his opponents were jealous.
"Because right now Herschel's going to win that seat," Walker said. "They can't win it, so they're going to the old politics where people are tired of that. They want what people are going to do for their state of Georgia, and they can't do anything but complain."

Walker has said that he will debate Warnock. In that April interview with WDUN, he said he is committed to "doing whatever it takes to win, so Rev. Warnock better get ready because I'm getting ready."
Will Walker, Greene Prevail?
Unless a monumental upset happens, Walker is expected to easily win the May 24 primary.
The anticipated clash between Walker and Warnock is projected to be close.
In the latest RealClearPolitics average poll, Walker leads Warnock by a half-point.
"He will have a better shot to win the general if he addresses those issues that are out there from his past," Georgia Lt. Gov. Geoff Duncan (R) told ABC News' "Nightline."
"If he doesn't, then I think it's going to be a tough day in Georgia when we get to the November election, and we're going to send, unfortunately, another Democrat to represent us as a U.S. senator."
As for Greene, the prospect of forcing a runoff is possible, but unlikely.
In January, TargetPoint conducted a poll showing that 86 percent of 14th District voters reported they would vote in the Republican primary compared to 7 percent saying they would cast a ballot in the Democratic primary.
Of the survey's respondents, 60 percent said they would support Greene in the primary if it was held that day; 30 percent of the respondents picked Strahan.
The poll's results indicated that Greene would likely defeat a Democratic challenger in the general election as 81 percent of the respondents claimed they generally vote mostly Republican or straight Republican.
Only 7 percent said they typically vote mostly Democrat or straight Democrat, the poll found.