The Canadian government's move to use broad new financial powers to quash the trucker protests is being called an extreme and unnecessary overreach by financial crime experts, while it remains unclear how banks will be directed to choke off funding.
Deputy Prime Minister Chrystia Freeland said on Feb. 14 that crowdfunding platforms and the payment services providers they use will now fall under "anti-money laundering and terrorist financing rules," with the changes covering all forms of transactions, including those in cryptocurrencies. In addition, financial institutions are asked to freeze the accounts, both personal and corporate, of clients whom they suspect are involved with the Freedom Convoy's "illegal blockades."
The move came as Prime Minister Justin Trudeau on Feb. 14 invoked the Emergencies Act for the first time in Canada's history, with the goal of containing the momentum of the protests.
The main convoy protest in Ottawa has drawn huge crowds of supporters since it began on Jan. 29. It sparked other protests at Canada–U.S. border crossings in Alberta, Ontario, Manitoba, and British Columbia, all of which have ended.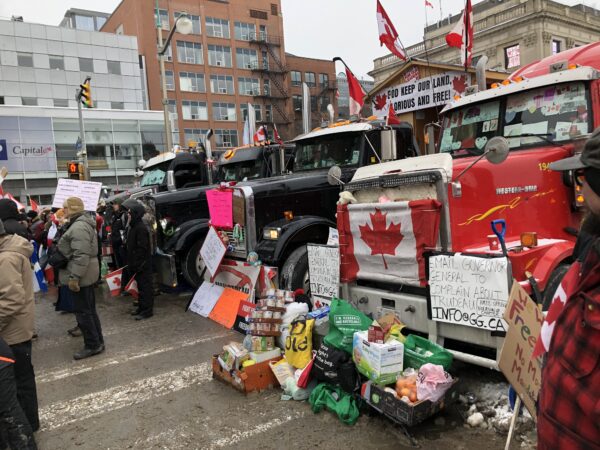 Freeland said the expanded financial powers crafted under the Proceeds of Crime (Money Laundering) and Terrorist Financing Act are necessary to end the protest blockades that she said are "causing serious harm to our economy, to our democratic institutions, and to Canada's international standing."
She said trucks that remain at the protests will have their insurance suspended and the owners' corporate accounts frozen, as banks are being directed to "review their relationships with anyone involved in the illegal blockades and report to the RCMP or CCIS [Canadian Security Intelligence Service]."
The organizers of the Freedom Convoy in Ottawa counter that their protest is peaceful.
"We will remain peaceful, but planted on Parliament Hill until the [COVID-19] mandates are decisively ended," Freedom Convoy organizer Tamara Lich said at a press conference on Feb. 14.
Potential Financial Ruin
Akaash Maharaj, ambassador-at-large for the Global Organization of Parliamentarians Against Corruption, noted that the legislation was originally crafted to target terrorists and transnational organized crime, and that broadening its scope to flag protesters and freeze their financial accounts could lead to long-term financial ruin for those affected.
"In a 21st-century economy, it would be a form of social death, making it effectively impossible for [a flagged truck protester] to hold a job, obtain housing, or pay for his basic needs," Maharaj told The Epoch Times.
Because Canadian financial institutions are notoriously risk-averse, Maharaj said protesters who are tagged by their banks will find it near-impossible to persuade any other financial institution to accept them as a client. That would leave them without a bank account, credit card, and ability to finance a mortgage even after the Emergencies Act expires in 30 days, depending on whether Parliament revokes or extends the declaration in the coming weeks.
"I only hope this will be applied by banks sparingly and judiciously," he said. "But I would advise [the protesters] to think very, very carefully about whether this is a price you are willing to pay."
Financial crime consultant Vanessa Iafolla, an expert on matters related to fraud, money laundering, and terrorist financing, says invoking the Emergencies Act is entirely out of proportion to the threats posed by the protesters and should be reserved for severe emergencies or when national security is compromised.
"These new powers are a broad overreach and I do not believe they are steps necessary to maintain public order," she told The Epoch Times.
An emergency public order has never before involved the use of private financial corporations in Canada; Iafolla said these new measures can increase banks' surveillance power on people based in part on their political positions.

This action sets a dangerous precedent for future protests in Canada, as governments on either side of the political aisle can target protesters economically based on their political beliefs, the Halifax-based criminologist says.
"In a vibrant and mature democracy, citizens and government should be able to tolerate disagreement and dissent, and our charter rights to protest should not be cast aside in such a heavy-handed and undemocratic way," she said.
Under the legislation, banks could even target donors of truck protest fundraisers, but Iafolla says it remains unclear how banks will proceed.
In addition, there will be no appeal process for the banks' actions, something she says should be concerning for Canadians.
Targeting Protesters, Donors
Canada's "Big Five" banks—Royal Bank of Canada, Toronto–Dominion Bank, Scotiabank, Bank of Montreal, and the Canadian Imperial Bank of Commerce—along with other insurance and financial institutions didn't immediately respond to questions from The Epoch Times about how they will implement the new directives.
Intact Financial Corp. spokeswoman Kate Moseley-Williams said the insurance company is carefully reviewing the announcement and awaiting further details.
Matthew McGuire, a forensic accountant and an anti-money-laundering expert who helps financial institutions assess and reduce financial crime, is co-founder of the AML Shop, a corporate compliance firm in Toronto. He says the emergency order puts financial service providers in the position of being the arbiter of which individuals are protesting lawfully or not.
He notes that in the past, simple suspicion of illicit transactions could lead a bank to sever ties with an individual or entity.
"[Banks] will continue to act conservatively in this respect to avoid fines, penalties, and the ire of their regulator," McGuire said in an email. "We have unfortunately observed governments around the world suppress dissent through the misuse of anti-money laundering measures."
By targeting individual protesters and donors, he said the government's strategy could help stop new crowdfunding options from emerging, which could be effective in ending the protests.
However, protest organizers have said online they are turning to other financing options, including cryptocurrency fundraisers and their own crypto token called the "Freedom Convoy Token."
Under the government's emergency laws, fundraising and cryptocurrency platforms are now expected to report to the Financial Transactions and Reports Analysis Centre of Canada (FINTRAC).
While numerous entities are already required to report to the financial intelligence unit including chartered banks, credit unions, insurers, and securities dealers, this is the first time FINTRAC will have power over fundraisers and crypto exchanges in Canada.
Ottawa-based Maharaj said that's a serious gap in the legislation, which should be filled irrespective of the protests.
Protesters initially raised $10 million on GoFundMe before the crowdfunding platform pulled the plug on Feb. 4. Organizers pivoted to start a campaign on GiveSendGo, where more than US$8.2 million was raised before the Ontario Superior Court froze access to the funds at the request of the provincial government.