Ottawa Falun Gong Rally Urges Release of Hunger Striker in China
Canada nationwide rally also marks 15-year anniversary of massive appeal in Beijing
April 25, 2014 5:48 pm Last Updated: April 27, 2014 10:44 am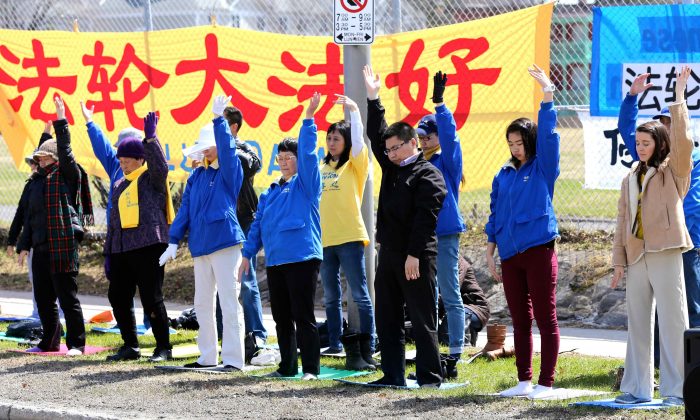 OTTAWA—Falun Gong practitioners and supporters gathered in front of the Chinese Embassy on April 25 to call on the Chinese regime to release Yinghua Chen, a Falun Gong practitioner imprisoned in China. Chen's parents are Canadian citizens.
Concerns are mounting for Chen's health as she has been on a hunger strike for over 37 days to protest her incarceration. She was arrested for supporting her niece who was holding a banner in front of a prison requesting a visit with her father, who was detained for following his faith in Falun Gong.
Two MPs, Joan Crockatt, Calgary Centre, and James Lunney, Nanaimo-Alberni, have called on the Chinese regime to immediately release Chen.
The event was part of a nationwide initiative that also marked the 15th anniversary of a 10,000-strong demonstration in support of Falun Gong on April 25, 1999, at Zhongnanhai, the seat of government in Beijing. 
Acting in accordance with their constitutional right to appeal, the practitioners peacefully petitioned for the right to practice their beliefs in peace after several instances of government harassment due to the rapidly growing popularity of Falun Gong. 
Although the appeal was very orderly and serene, Chinese Communist Party leader Jiang Zemin misrepresented it as a "siege on the government." In July 1999, Jiang launched a campaign of persecution across the country to systematically eradicate Falun Gong that continues today.
Yinghua Chen's parents live in Calgary and her brother, Yingyi Chen, lives in Nanaimo, B.C. As each day passes, the family grows more concerned. Chen's lawyer visited her in jail on April 13 and said she is very weak and her condition continues to deteriorate
"I am deeply worried. Yinghua's life is in danger every single second," said Chen's mother, Jinling Huang.
Several speeches demanding Chen's release were given in Chinese and in English. In a short speech former MP for Asia-Pacific David Kilgour thanked the Falun Gong practitioners for having the rally and said that the persecution of the spiritual practise has to stop.
"I just thought you would be interested to know that people in 130 countries, Falun Gong practitioners are protesting regarding the persecution in China and it is going to stop. It should never have started and it has gone on for 15 years," said Kilgour.
In Kilgour's opinion the Party will not be able to mistreat its own citizens for much longer. "You all know I am convinced that even the Government of China cannot continue to do this to its own people. I am sure this [cannot continue], and when it stops it is going to be because of the efforts of many, many thousands of people including yourselves," he said.
Falun Gong is a traditional Chinese spiritual discipline of the Buddhist school. It follows moral teachings based on the values of truthfulness, compassion, and tolerance and includes meditation and qigong exercises.