Organic Produce Stand Offers New Start for Formerly Incarcerated Youths
September 27, 2013 6:01 pm Last Updated: March 7, 2016 9:46 am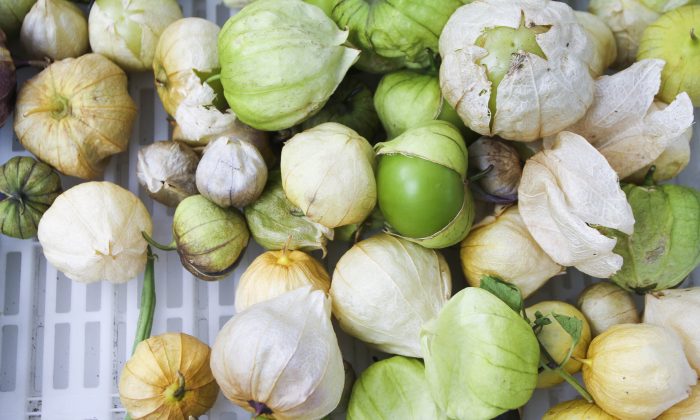 NEW YORK—An organic produce stand seems an unlikely addition to a Harlem neighborhood known more for its crime and obesity statistics. But, for seven formerly incarcerated youths from the Bronx and Harlem it represents another step toward reaching their goals.
They begin work at 8 a.m. Saturdays. On their first day, an intoxicated man was their company as they set up the stand on the corner of 145th Street between Edgecombe and Bradhurst. 
Jamel Johnson, 24, was arrested and received probation for criminal mischief. Now he has a chef license and is the coordinator of the produce stand. 
The youths elicited a range of reactions, from expressions of support to lectures to an open disapproval of their past. But nothing seemed to faze them. They asked everyone who passed by if there was anything they could help them with.
"It's been very rewarding, to see them take that in and develop their customer service skills," said Kristin Pederson, 29, food programs coordinator at the Fortune Society. 
Fortune Society, a non-profit organization whose staff primarily consists of former prisoners, provides resources for at-risk youth and formerly incarcerated people. Funded by Capital One, the group offers services ranging from education to housing. 
So far, the Fortune Society stand has sold around 1000 lbs of fresh-from-farm produce to Harlem residences, according to Pederson. 
The stand sells weekly rotations of produce such as white eggplants, tomatillos, okra, cherry tomatoes, zucchinis, nectarines, and cucumbers. 
All the produce comes from local, sustainable farms, many of which are organic; it sells dairy products from milk not jail, a grassroots organization that seeks to end rural New York's dependency on prison economy. And they sell products from Grow NYC's Greenmarket and Hot Bread Kitchen.
"This is my first time here, and I think is really good," said Eva Crosby, 86, a Harlem resident as she visited the stand. "It's so hard to get fresh food. A lot of seniors can't get around very far."
Second Time Around
The youths working at the stand range from 17 to 24 years old. 
Maurine Simmons, 21, begins her first job at 3 a.m. each morning at a discount store stocking shelves. She gets off just in time to make it to her 8 a.m. job at the stand, where she is the marketing specialist. 
After she takes her GED exam at the end of September, she plans to save up to study journalism at Hunter College. She enjoys reading about politics. 
This year is the first time Fortune Society has run the organic stand—created as part of its job and business skill training. The stand sells in conjunction with the Grassroots Farmers Market founded by Harlem resident Sonya Simmons in 2005.
"Watching the youths develop is amazing, I love watching them change," Simmons said.
Although the organic stand will close at the end of October, the Grassroots Farmer's Market will operate until Nov. 23. The market sells fresh vegetables twice a week and holds free cooking demonstrations.