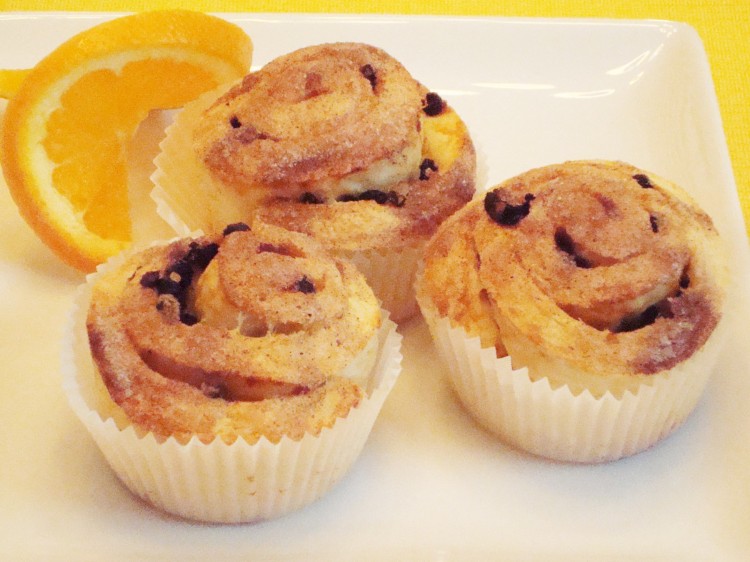 These quick and easy breakfast buns are great to enjoy with a morning coffee or afternoon tea. They can be made with a variety of options including raisins, apples, dates, or nuts. Apricot jam can be replaced with raspberry, plum, or cherry jam. I like to use lots of jam so the buns are sticky. I use a sugar-free jam that has been sweetened with fruit juice. The buns are best served warm. Any leftovers can be sliced in half and toasted the next day.
Makes 8
30 mL (2 tbsp) sugar, divided
2 mL (1/2 tsp) cinnamon
Pinch freshly grated nutmeg
425 mL (1 3/4 cup) all-purpose flour
9 mL (1 3/4 tsp) baking powder
125 mL (1/2 cup) heavy cream
125 mL (1/2 cup) milk
75 mL (1/3 cup) apricot jam, warmed
50 mL (1/4 cup) currants
Zest of half an orange
15 mL (1 tbsp) butter, melted
Preheat oven to 180º C (350º F). Mix together 15 mL (1 tbsp) sugar with cinnamon and nutmeg, and set aside. Sift together 15 mL (1 tbsp) sugar, flour and baking powder. Make a well in the centre of the flour mixture and pour in the cream and milk and mix together. Gently knead until smooth. Roll out onto a lightly-floured surface to 30×40 cm (12×15-inches). Brush the dough with warmed apricot jam, sprinkle on currants, and grated orange zest over the entire surface. Roll up dough and cut into 8 pieces. Place each piece in large muffin paper cups and place in a muffin pan. Brush tops with melted butter and sprinkle on the cinnamon/sugar mixture. Bake for 25-30 minutes until a golden brown.