Opinions About the Dismissal of a Shanghai Party Chief
October 10, 2006 12:00 am Last Updated: October 10, 2006 12:00 am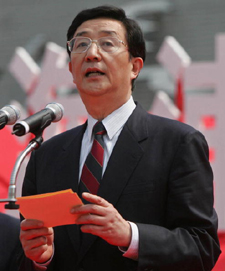 Shanghai Party Chief Chen Liangyu was recently dismissed for his involvement in corruption schemes. He was investigated by the Communist Party Central Commission for Discipline Inspection. Chen Liangyu is the most senior official to have been removed during the anti-corruption campaign since Hu Jintao took over as General Secretary of the CCP in 2002. The Voice of America asked the mainland Chinese people what they thought about the dismissal. The following are some of their views.
A One-Party Dictatorship Means There Will Be Corruption
Mr. Chen from Shaanxi Province said that corruption amongst Chinese officials is common and that the people he knows are not surprised by the charges against Chen. He believes Chen's dismissal will not decrease the ever-increasing amount of corruption: "The dismissal of Chen Liangyu shows that the corruption in contemporary Chinese society is no longer surprising. The Chinese authorities are promoting anti-corruption every day, but more and more corruption can still be seen. The crackdown on corruption is meant to deceive the public. The one-party dictatorship is the corruption."
Both Judiciary and Public Opinion Are Controlled
Mr. Zhang from Hebei Province said that Chen's corruption existed for a very long time. His recent dismissal only demonstrates that judicial surveillance and supervision of public servants is extremely limited in China. Instead of being supervised, governmental officials are controlling the judicial system and the public: "Chen Liangyu's trial is long overdue because the Shanghai people have felt very negatively about him for a very long time. Why was he not exposed before today? Some experts in China often claim there is judicial and media supervision. I ask: are the Shanghai officials and judicial system supervising Chen Liangyu or being supervised by Chen Liangyu."
Analysts believe that even though Chen's dismissal shows some determination by the CCP to combat corruption, the incident has an inextricable link to a power struggle within the Communist Party. Considering the political arrangement of the Party's 17th Congress next year, Chen Liangyu's case is significant.
Mr. Lin of Shanghai said that under Chen's government, Shanghai people have suffered from a dark ruling: "Chen Liangyu is a traitor. He has sold all the land in Shanghai. How will our children eat in the future? Shanghai is shadowed with darkness, and people have suffered too much."
Shanghai People Are Delighted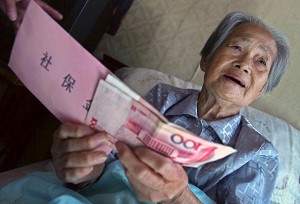 Shanghai resident Mr. Huang said that the Shanghai people have judged Chen and are delighted to see his fall: "What I am aware of is that many people are very happy and have commented that he (Chen Liangyu) should have stepped down long time ago."
Mr. Liu from Shanghai said that people in Shanghai know that Chen Liangyu was involved in many corruption cases: "People happily spread the news after this case was exposed. The overt corruption has long been bitterly hated by the people. Chen Liangyu was very corrupt. He had a quarrel with Wen Jiabao regarding Zhou Zhengyi (Shanghai Tycoon involved in house demolitions and the forced relocation of residents, and close friend of Chen) because he was also involved. I believe he will end up miserable, just like Chen Xitong of Beijing (former Beijing Mayor who fell due to his political battle with Jiang Zemin)."
Political Struggle
Mr. Kai from Hainan Province believed that Chen, even though deserving of dismissal, is a scapegoat in the CCP political struggle. "For several thousand years, the Chinese have been governed by a dictatorial regime. Both those who step up and those who step down are the victims of political struggle. The Chinese officials have engaged in corruption and power struggles, and the people are the ones who have suffered through the history of several thousand years of dictatorship."