Billionaire Bill Gates says the SARS-CoV-2 Omicron variant has spread faster across the world than the COVID-19 vaccines have, and that the variant is a "type of vaccine" that gives people cellular immunity. He also predicted on Feb. 18 that another pandemic was coming, and shared what he believes should be done "next time."
At the 2022 Munich Security Conference, attended by security experts, politicians, and people of influence around the world, the Microsoft co-founder was asked: "Where would you assess where we are today in beating COVID-19?"
"Well, sadly, the virus itself, particularly the variant called Omicron, is the type of vaccine—that is, it creates both B cell and T cell immunity—and it's done a better job of getting out to the world population than we have with vaccines," Gates said.
B cell and T cell immunity, also referred to as cellular immunity, comprise alternate mechanisms of immunity than antibodies. A study published in Nature suggests that the immune system's T cells may offer protection against COVID-19 by "remembering past encounters with other human coronaviruses."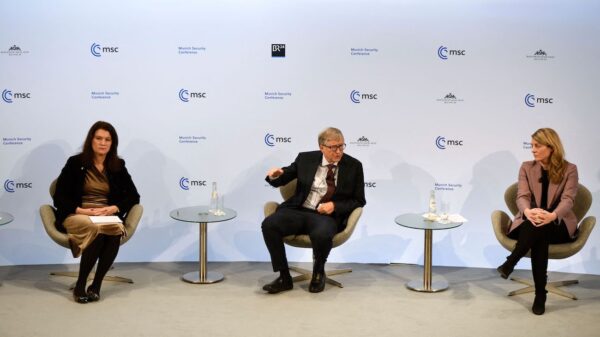 Meanwhile, a study published in the medical journal Cell (pdf) said that data suggests "SARS-CoV-2 elicits broadly directed and functionally replete memory T cell responses, suggesting that natural exposure or infection may prevent recurrent episodes of severe COVID-19."
Gates told the conference that the risk of severe disease from contracting COVID-19 has been dramatically reduced due to people having been exposed to various variants of the SARS-CoV-2 virus.
"If you do serosurveys in African countries, you get well over 80 percent of people [who] have been exposed either to the vaccine or to various variants. And so what that does is it means the chance of severe disease—which is mainly associated with being elderly and having obesity or diabetes—those risks are now dramatically reduced because of that infection exposure," he said.
The Omicron variant, since its identification in November 2021, has spread rapidly across the world to become the most dominant variant, although it generally triggers much milder symptoms.
Gates, who has invested in vaccine research via the Bill & Melinda Gates Foundation, noted in regard to vaccines that "it took us two years to be an oversupply."
"Today, there are more [COVID-19] vaccines than there's demand for vaccines," he said. "It's sad we didn't do a great job on therapeutics. Only here, two years in, do we have a good therapeutic."
He also said that vaccine development "took us a lot longer this time than it should have," and suggested that "next time, instead of two years, we should make it more like six months."
"Certainly, some of the standardized platform approaches, including mRNA, would allow us to do that," Gates said.
'We'll Have Another Pandemic'
When asked about the potential for another pandemic, he responded, "Well, we'll have another pandemic; it will be a different pathogen next time."
Gates said there will also be "some rebound" with the current pathogen, the SARS-CoV-2 virus, at more typical seasonal flu levels.
"We don't have a tool to do eradication," he said, noting that current COVID-19 vaccines haven't been able to prevent inoculated individuals from getting infected.
Gates said that funding should be allotted to developing a vaccine that can "get rid of families of respiratory viruses, including the flu family, and the coronavirus family."
"And I do think in the next decade we can come up with an eradication vaccine," he said. "That's an aspiration, not a guarantee. … There's already a lot of work that's been done on a universal flu vaccine, and the date on that looks very promising."
"We won't get death levels at the kind of acute level that we're still experiencing today as the Omicron wave passes through on a global basis," Gates said.
Gates's Bill & Melinda Gates Foundation on Jan. 19 pledged $300 million to the UK's Wellcome Trust to support the Coalition for Epidemic Preparedness Innovations (CEPI).
The coalition was formed five years ago by the governments of Norway, Germany, Japan, and India, as well as the Gates Foundation, Wellcome, and the World Economic Forum. It has co-led a global initiative called COVAX to deliver vaccines to low- and middle-income countries.
CEPI said it's seeking to raise $3.5 billion to "develop lifesaving vaccines against any new viral threat (referred to as 'Disease X')—to within 100 days of a pathogen being sequenced."