Commentary
With a military budget only 10 percent of that of the United States, Russia's top geopolitical tool of influence is its energy sector.
Over the past decade, President Vladimir Putin has used a sophisticated strategy to increase Russia's uranium production and gas transit routes to expand the country's global influence.
Yet despite the U.S. government being well aware of Russia's intentions, the Obama administration, including the State Department headed by then-Secretary of State Hillary Clinton, approved a deal that gave Russia control over 20 percent of all uranium mining capacity in the United States.
Leaked State Department cables dating back to 2009 detailed Russia's efforts to use its energy sector to create "zones of pressure," as well as the objective of Russia's Military Intelligence Agency to "renuclearize" Russia.
The deal involved Russia's state atomic agency Rosatom, through its wholly owned subsidiary ARMZ Uranium Holdings Co., taking a majority stake in Canadian mining company Uranium One.
The deal was controversial because it increased U.S. dependence on Russia for uranium, which is a key component in the operation of nuclear power plants as well as the production of nuclear weapons.
Yet, despite the national security concerns raised by Congress, the Obama administration signed off on the deal in October 2010. The deal required the approval of the Committee on Foreign Investments in the United States, which included the State Department under Clinton at the time.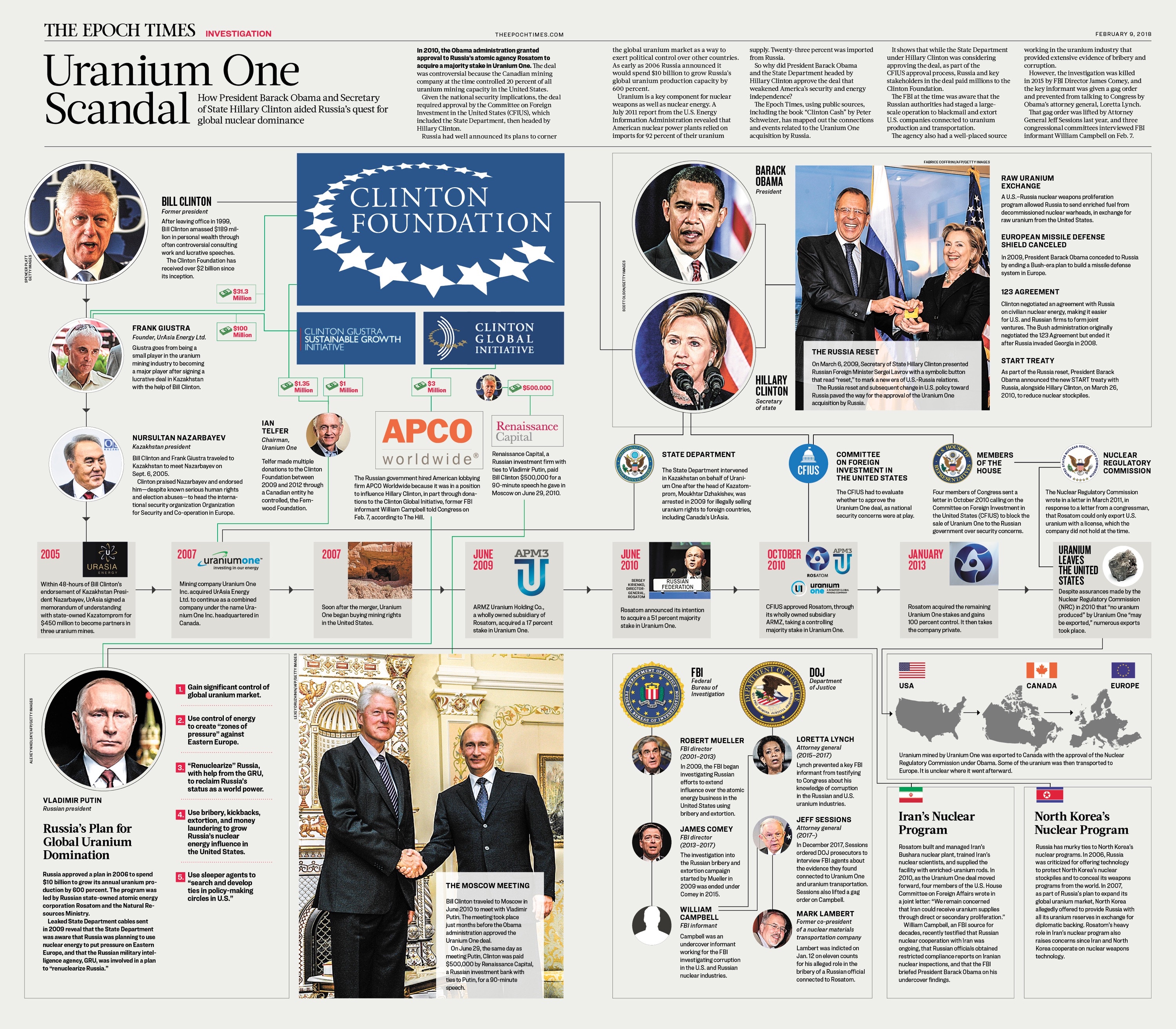 Clinton's own ties to the deal were close. Just months before the deal was approved, her husband, former President Bill Clinton, had traveled to Moscow in June 2010 to meet personally with Putin. On the same day as the meeting, Clinton was paid $500,000 by Renaissance Capital, a Russian investment bank with ties to Putin, for a 90-minute speech.
As Russia tried to get the United States to approve its majority stake in Uranium One, it hired American lobbying firm APCO Worldwide because the firm was in a position to influence Hillary Clinton, former FBI informant William Cambell told Congress on Feb. 7, according to The Hill. The influence was exerted, in part, through donations to the Clinton Global Initiative.
Bill Clinton's ties to Uranium One date even further back. In 2005, Clinton accompanied Frank Giustra, the founder of a small Canadian uranium mining company, UrAsia Energy Ltd., to Kazakhstan. Following the meeting—during which Clinton praised Kazakhstan's President Nursultan Nazarbayev and endorsed him, despite known serious human rights and election abuses, to head the international security organization OSCE—UrAsia signed a memorandum of understanding with state-owned Kazatomprom.
The deal propelled Giustra's UrAsia to become a significant player in the uranium industry overnight. Just months after the deal was finalized, Giustra donated $31.3 million to the Clinton Foundation. In 2008, Giustra donated an additional $100 million to the Clinton Giustra Sustainable Growth Initiative.
In 2007, Uranium One acquired Giustra's UrAsia Energy to continue as a combined company under the name Uranium One headquartered in Canada.
Nuclear power reactors in the United States now rely on foreign nations for 93 percent of all uranium purchases, according to a recent report by the U.S. Energy Information Administration.
America also only has one operating uranium mill left, Utah's White Mesa Mill.
"In 2017, U.S. uranium production fell to near historic lows, due in large part to uranium and nuclear fuel imported from state-subsidized foreign entities; 2018 domestic production is likely to be even lower," American uranium producers Ur-Energy Inc. and Energy Fuels Inc. wrote in a letter to the U.S. Department of Commerce earlier this year.
American nuclear power plant operators have supplies that on average would last only one year. The reliance on imported uranium provides foreign countries, such as Russia, with unique leverage over the United States that would be detrimental in the case of an armed conflict.
The Defense Department is required only to use uranium sourced in the United States, but American companies say this might no longer be possible at some point.
"Unless steps are taken now to foster a healthy domestic uranium mining industry, the defense stockpiles currently held by the DOE will be depleted, and it is unlikely that domestic producers will have sufficient capabilities to meet our defense needs in the future," the letter reads.
Russia, Kazakhstan, and Uzbekistan account together for a combined 32 percent of all uranium imported into the United States.
After Rosatom gained a majority stake in Uranium One, it acquired the remaining stakes in 2013, after which Russia took the company private.
Despite assurances made by the Nuclear Regulatory Commission (NRC) in 2010, in response to concerns from Congress, that "no uranium produced" by Uranium One "may be exported," numerous instances of such exports took place after Russia took control over the company.
Instead of providing Rosatom with a license directly, the NRC added Uranium One to an existing export license in 2012, thus allowing American-produced uranium to leave the country, The Hill reported.
Uranium was exported to Canada through a third party, a logistical firm called RSB Logistics Services Inc., after which some of the uranium made its way to Europe. It is unclear where the uranium went after it reached Europe.