NYC Mayor Meets Finally with Transit Chief
July 11, 2018 6:48 pm Last Updated: July 12, 2018 1:59 pm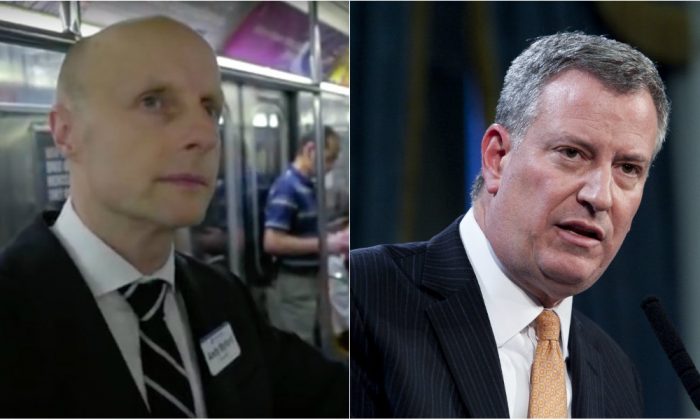 After six months on the job, New York City Transit President, Andy Byford, finally got a face-to-face with the mayor.
Actually, the 90-minute meeting on Tuesday at City Hall was the first time they had spoken since he started half a year ago.
"Bit weird," the UK-born transit chief told The New Yorker last week. "I should ring him up."
I have had numerous conversations with Andy Byford, in person and on the phone. And we (Staten Island) don't even have a subway. Or that many buses. Or essentially a mass transit system. Oh, and we still have no fast ferry. #irony?

— Jimmy Oddo (@HeyNowJO) July 3, 2018
The mayor told reporters earlier Tuesday that it didn't make sense to spend time on an agency the governor controlled, even though the city does fund a portion of it, and does make policies that affect the city's transportation system.
In his defense, mayoral rep Eric Philips tweeted on Monday that "senior City officials talk to him a good bit," referring to Byford.
According to the mayor's press office, the two discussed how the city and Metro Transit Authority (MTA) can expand bus service, implement the L train shutdown mitigation plan, and improve accessibility throughout the system.
"The Mayor pledged his support for Mr. Byford and his 'Fast Forward' plan, before wishing the Transit President success in his challenging mission," the mayor's press office said.
But what Byford needs to make his $19 billion modernization plan, called "Fast Foward," a reality, is a financial commitment from the city, and he said as much during their meeting.
De Blasio has agreed there needs to be stable funding for the agency, and agreed the city should invest in the MTA, as long as the money is spent in the city.  He also reiterated calls for a "Millionaires Tax" to create a sustainable funding stream for the MTA. The governor has blocked such a tax, and has instead proposed a congestion pricing scheme that would create tolls on Manhattan's busiest streets.
Byford and de Blasio have agreed to meet quarterly, and improve collaboration through the creation of a working group.