Rep. Nicole Malliotakis (R-N.Y.) said she is hopeful that New York City's public safety standards can be restored. She said although most New Yorkers want crime reduced, Mayor Eric Adams' efforts will be limited by a Democrat majority in the state legislature.
"There's a tide turning, and New Yorkers have made it clear. Three out of four New Yorkers are saying they want more public safety, they want this restored," Malliotakis told Steve Lance, host of NTD's Capitol Report program, in response to a question about the new mayor being able to restore public safety.
Violent crime in New York has surged in recent years, and there were more than 1,800 shooting incidents in 2020 and in 2021.
"Eric Adams has said the right things in terms of wanting to reinstate public safety, to his credit. I think that there's still those politicians who keep pandering to the far left and aren't embracing the changes that need to be made," Malliotakis said. "For example, New York's radical bail law. You know, the governor, the legislative leaders continue to say that they're not going to take any action, despite calls from the mayor, despite calls from members of Congress like me."
New York implemented a bail reform policy in 2020 that bans judges from requiring cash bail for most nonviolent and some lower-level violent crimes, allowing criminals to quickly get back on the street after an arrest.
Some experts have pointed to bail reform, anti-police sentiment, and the criminalization of police takedown techniques as factors exacerbating the rise in violence.
Adams, a Democrat and former police officer who took office Jan. 1, 2022, has urged state lawmakers to pass updated legislation that makes the bail process "fairer, smarter, and more targeted." That should include letting judges detain accused criminals who pose a threat to the community, the mayor's office said.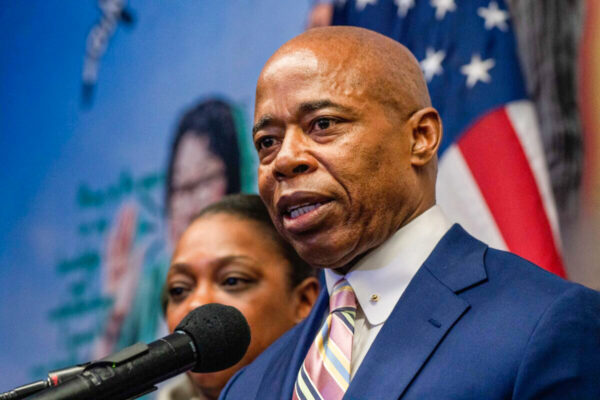 "This is a pivotal moment for our city and my team is focused on this issue, focused on the challenge that's in front of us. With the right leadership this can be a safe city," Adams said in a January 2022 briefing at City Hall.
Malliotakis said despite the fact that instances of rape, robbery, hate crimes, assaults, and car thefts are increasing across the board, the state legislature is not taking the necessary action to address the problem. She said prosecutors in major cities such as New York are following Democrat policies that are putting criminals back onto the streets instead of behind bars.
Malliotakis explained how Asian residents in her district, which includes Staten Island and part of Brooklyn, are concerned for their safety because of a rise in violent crimes against them.
"My community wants public safety. I think it's one of the top issues that President Biden should be talking about: the need to support law enforcement all across America and get rid of these policies," she said.
Adams has introduced a plan to bring down crime which would include implementing a summer youth employment program, which he says will help deter youth from turning to guns and violence. The plan, titled "The Blueprint to End Gun Violence," (pdf) would also expand mental health care programs and require all city agencies to name an anti-gun violence liaison to communicate with the mayoral administration, health care providers, and the New York Police Department (NYPD).
In addition, the NYPD will ramp up efforts to patrol neighborhoods, seize illegal guns, and improve partnerships with state and federal agencies such as the FBI.
Peter Svab and Zachary Stieber contributed to this report.