NYC Announces Reforms to Better Serve Homeless Families With Children
April 15, 2014 8:06 pm Last Updated: April 16, 2014 7:07 am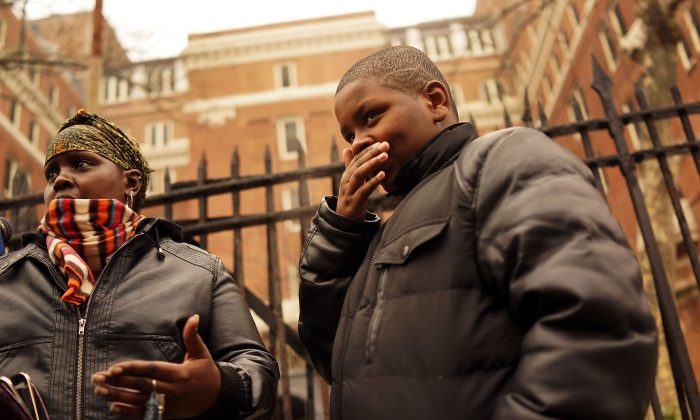 NEW YORK—Families with children who are in need of shelter can get some relief soon. The Commissioner for the Department of Homeless Services Gilbert Taylor and Public Advocate Letitia James announced Tuesday three reforms for a more compassionate and transparent approach to families with children.
The first reform is a dedicated hotline manned by Department of Homeless Services (DHS) staff for shelter clients who have questions about the intake and eligibility process. Previously, shelter clients had to call 311 or their local official's office for any information.
The second reform is allowing families with children who are deemed ineligible for shelter to stay at their conditional shelter location until 9 a.m. the next business day. Previously, families had to leave within four hours after being notified.
The third reform is a checklist for families deemed ineligible for shelter. The checklist would explain in detail why a family was denied temporary housing assistance. The family can reapply after fixing the problems listed.
"Now there's at least some transparency—some accountability to clients in the city of New York—and to these countless number of families who unfortunately are in the homeless shelter," said James.
There are two main reasons why families with children are denied temporary housing assistance. One is that the DHS has found that the family has another suitable place to live. The second is that the family has not provided the necessary information to be deemed eligible. With the checklist, the family can try to provide the outstanding information and be reconsidered for shelter.
According to the Coalition for the Homeless, in June 2013 there was an all-time record 53,615 homeless people sleeping each night in the New York City municipal shelter system. This includes 12,724 homeless families with 22,712 homeless children. Families comprise three-quarters of the homeless shelter population.
DHS considers families with children to be families with children younger than 21 years of age, pregnant women, and families with a pregnant woman.
Families with children must apply for shelter at Prevention Assistance and Temporary Housing at 151 E. 151st St. in the Bronx. There are separate application centers for adult families and single adults throughout the city.
Families are conditionally placed in a shelter while the DHS investigates their eligibility. The investigation process usually takes 10 days. If a family is deemed eligible, it can stay at the shelter provided. If not, they must return to the application center to reapply, or relocate.