NY Senator Pushes for Ceiling on Student Loan Interest Rate
By refinancing at 4 percent, the average graduate will save $9,800 in interest
April 10, 2014 1:13 pm Last Updated: April 11, 2014 6:43 am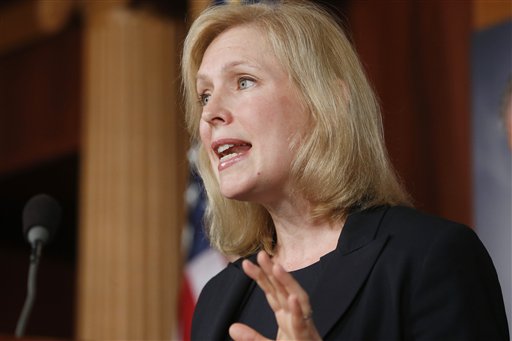 NEW YORK—Senator Kirsten Gillibrand has continued to push for the Federal Student Loan Refinancing Act, a bill she introduced last May that would allow college graduates to refinance their federal student loans at a lower interest rate.
College students and graduates say that Gillibrand's bill would be an essential first step to help reduce student debt burdens. Gillibrand and her staff met with student leaders and affordable higher education advocates Monday at Borough of Manhattan Community College to promote the bill.
"This bill is going to make sure that students who have taken on a lot of financial burdens to afford higher education are going to get some help in paying them back," said Rob Kornblum, project coordinator at the New York Public Interest Research Group (NYPIRG).
Kornblum said that paying for college placed a burden on his whole family. His parents had to refinance the mortgage on their house in order to cut his student loan debt in half. Now graduated and working at NYPIRG, Kornblum works with students to promote legislation that help keep college affordable. NYPIRG focuses on issues such as higher education and government reform.
"Ultimately we would like to see this piece be included in a larger package that makes the entire system more welcoming to students who don't come from the financial background that a few lucky ones do," he said.
Savings on Interest
Currently the average interest rate for federal student loans is 6.8 percent, and this rate is expected to rise. Under the current system, a graduate with a federal student loan debt of $26,000 who pays 6.8 percent in interest over 20 years would pay more than $47,600 over the life of the loan; $21,630 of this is interest.
The Federal Student Loan Refinancing Act would enable individuals who have student loan interest rates over 4 percent to refinance at a fixed rate of 4 percent. By refinancing at 4 percent, the average graduate will save $9,800 in interest.
Student loans at $1.2 trillion has now surpassed auto loan and credit card debt nationally. New York graduates are facing an average of $27,000 in debt. If the bill is passed, it is expected to save $14.5 billion for borrowers.
College students and graduates were encouraged to promote the bill via social media. Angel Panora, who heads the technology committee for the BMCC student government, said that he plans to help publicize the bill to his peers via Twitter and other social media websites.
"For middle class families like mine, I know many of them struggle so I shouldn't let other people take care of it when I can actually make a change. I'm more aware of it now," said Panora.
Yi Yang is a special correspondent in New York.