NXIVM's Doctor Attends Hearing to Face Slew of Malpractice Charges
June 28, 2018 Last Updated: June 28, 2018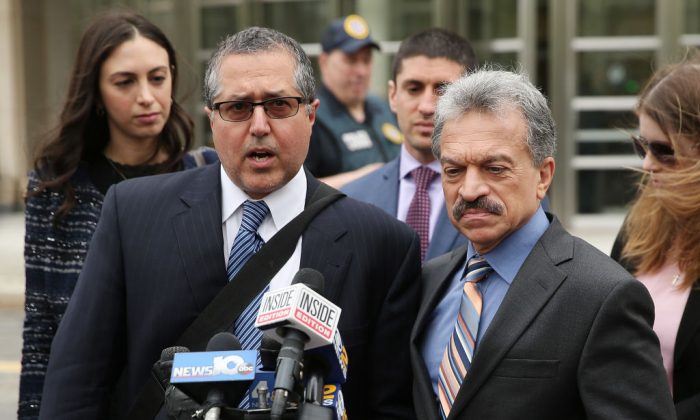 NEW YORK—Brandon B. Porter, the doctor of the infamous NXIVM secret society accused of illegally conducting a slew of shocking human experiments among other accusations, attended his hearing on June 27.
Porter, 44, was a high-ranking member of NXIVM, whose leader, Keith Raniere, is currently in prison facing sex-trafficking and forced labor charges after recently being denied bail. The New York-based organization masqueraded as a company offering self-help curricula.
The New York State Office of Professional Medical Conduct (OPMC) accused Porter of moral unfitness, gross negligence, and gross incompetence, as detailed in a 16-page report.
Depending on the findings of the closed-door hearing, Porter could face a criminal referral to the New York State Attorney General. The current charges only center on suspending or revoking his license.
The Epoch Times reached out to the New York State Department of Health, but a spokesperson said they could not comment until the hearing committee renders a "determination and order." A timeline for when that would occur was not disclosed.
"Due to the confidential nature of the proceeding, the department cannot comment on the evidence presented at the hearing, any witness's testimony, any exhibits, or legal arguments presented," spokesperson Jill Montag responded via email.
While Porter himself could not be reached for comment, his lead attorney, Michael S. Kelton, said in an email on June 29 that they were "optimistic" about the future.
"We are very pleased with the way yesterday's hearing session went. We have an excellent judge and a very attentive and professional hearing panel," Kelton said via email. "There are many more hearing sessions scheduled over the next few months and we are very optimistic."
Results of a Google search for Porter's office in Albany lists it as "permanently closed."

Unethical Experiments
The OPMC accused porter of conducting illegal and highly perverse experiments. In one case, he conducted a "fright study" in which he showed "an actual video of the horrific and brutal murders and dismemberment of four women by machetes" to subjects without their consent. Other clips shown between 2012 and 2017 were equally as gruesome.
The report also describes another incident in which "50 to 60 children" fell ill from a mysterious illness at a retreat hosted by NXIVM in August 2016. About 400 people attended the event at the Silver Bay YMCA recruitment office in New York.
"Many of the attendees and most of the children became ill with an undetermined infectious disease," the report noted. Attendees allegedly suffered from "flu-like symptoms, vomiting, and diarrhea."
While Porter was in attendance and had full knowledge of the outbreak, he failed to report the incident, the OPMC alleged. He was also accused of failing to isolate individuals with the disease to an appropriate environment. Porter and other NXIVM higher-ups did not get sick.
More indictments are expected to occur in the coming weeks amid the ongoing investigation.
Watch Next:
"I Was a Communist Slave"
A story of tragedy, faith, and resistance in the face of brutal totalitarianism, Memoir of a Communist Slave is one man's journey to uncover what he believes has held him and his people hostage for too long.