Philadelphia quarterback Nick Foles sustained a shoulder strain in the Eagles' 37-20 preseason loss to the New England Patriots on Thursday night in Foxborough, Mass.
The injury occurred in the second quarter when Foles was hit by Patriots defensive end Adrian Clayborn. Foles grabbed his throwing arm as he fell to the ground. He didn't return and told reporters postgame he will have the injury evaluated more thoroughly on Friday. Nate Sudfield replaced Foles, throwing for three touchdowns and 312 yards in a 22-for-39 performance.
Patriots quarterback Tom Brady threw two touchdowns in his preseason debut, finishing 19 of 26 for 172 yards with no interceptions.
New England first-round pick Isaiah Wynn was carted to the locker room in the first quarter with an ankle injury, according to the team. The Georgia product was playing right tackle in his preseason debut.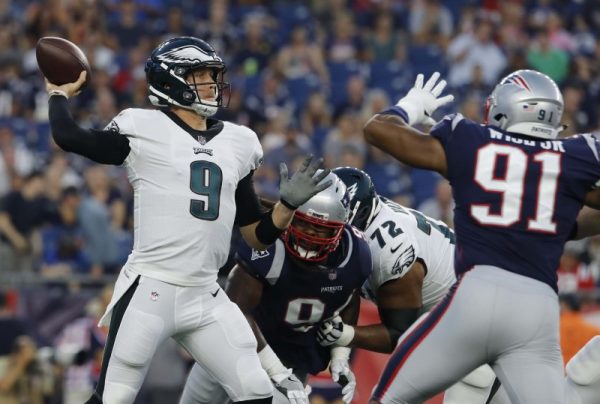 Packers 51, Steelers 34
Green Bay returned two interceptions for touchdowns in a victory over visiting Pittsburgh.
Tramon Williams was responsible for the first Packers pick-six, a 25-yard return, on the first pass of the game, while second-round draft pick Josh Jackson took his interception return 22 yards to the end zone in the third quarter.
Packers quarterback Aaron Rodgers saw limited action, completing 2 of 4 passes for 35 yards and a touchdown. Steelers QB Ben Roethlisberger did not play after reportedly being cleared of a concussion earlier in the day. DeShone Kizer tossed two touchdown passes for the Packers, while Pittsburgh third-round draft pick Mason Rudolph threw a touchdown and an interception.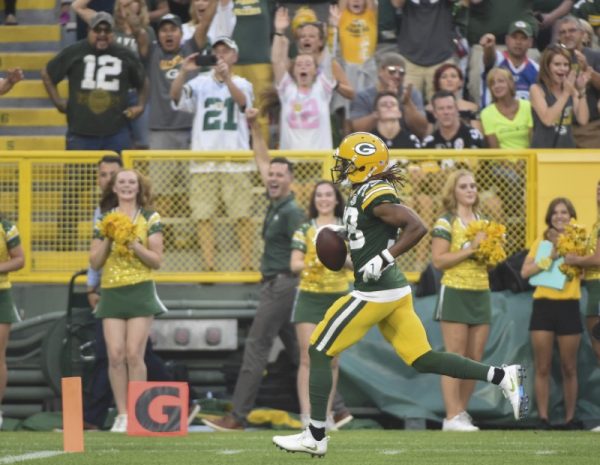 Redskins 15, Jets 13
New York's quarterback competition appears no closer to being settled after the Jets took a 15-13 loss to Washington in Landover, Md.
No. 3 overall draft pick Sam Darnold got the start for the Jets and played the first half, completing 8 of 11 passes for 62 yards and ending his day with a red-zone interception. Free agent signee Teddy Bridgewater took over in the second half and finished 10-for-15 for 127 yards with a touchdown, though he also threw a pick.
Alex Smith started for the Redskins and completed 4 of 6 passes for 48 yards. Kicker Dustin Hopkins scored all 15 of Washington's points, including the game-winning field goal from 40 yards out with four seconds remaining.