New Zealand has announced the end of QR codes, mask rules, COVID-19 vaccine passports, and other mandates in most industries.
As of April 4, vaccination passport rules will be removed and vaccination mandates will be lifted in all industries except health and disability, aged care, corrections, and border forces. Changes that take effect on March 26 include increasing indoor capacity limits to 200 from 100, while outdoor limits will be completely removed.
Mask mandates also will be removed for all outdoor events, but remain for workers at indoor events with an orange risk rating.
QR code scanning requirements also will be removed.
As the restrictions are eased, businesses will have the choice to require customers to show vaccine passports before entry.
Meanwhile, testing and isolation requirements will continue to remain the same.
Prime Minister Jacinda Ardern said the country's "successful management" of the Omicron variant outbreak and high levels of vaccinations means it's now safe to ease restrictions. Currently, the country has a vaccination rate of 95 percent.
"New Zealanders have worked incredibly hard to get through this pandemic and as a result of those efforts we are now in a position to move forward and change the way we do things," she said.
"We are keeping the traffic light framework in order to offer ongoing protection in the event of a new variant or in cases of future surges, but our plan is to move down to Orange and then ultimately Green once it is safe to do so."
Ardern said New Zealand, like many other countries, would keep a small number of rules that seek to keep COVID front-line workers safe and ensure that the most vulnerable, such as the elderly or those with disabilities, would be protected.
"Putting people's health first is the best economic approach. The hard work and sacrifices of New Zealanders delivered the lowest numbers of cases and deaths in the OECD for the last two years and puts us in the best position to recover strongly," she said.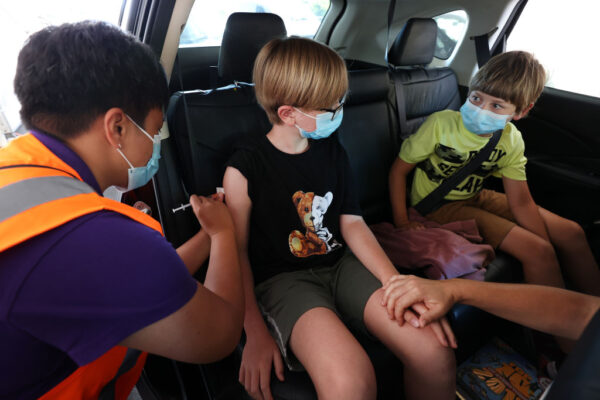 As case numbers go down, the prime minister said the next steps to help support greater economic activity and getting people closer to feeling "a bit more normal," could be taken with confidence.
"With our economy now larger than pre-COVID levels, record low levels of unemployment, and tourism about to reopen we are in a strong position to accelerate our recovery," Arden said.
She also noted that if a new variant emerged again, contact tracing would again "play a critical role" and asked people to keep the app on their phones. She also urged people to get vaccinated and boosted even though the requirements were being scrapped.
"Being highly vaccinated will continue to be central to the strength and stability of our recovery," she said.
Governments remain reliant on high vaccination rates to boost herd immunity despite the fact that it remains elusive.
Dr. Sean Stevens from the Royal Australian College of General Practitioners' COVID Working Group said herd immunity has never been achieved because of the number of new variants.
"You could have 80 percent of the population vaccinated, but if they are vaccinated with a vaccine that doesn't protect from the circulating strain, is that herd immunity?" he said.