A man is being investigated by New Zealand (NZ) health authorities after receiving ten jabs in one day on behalf of other individuals.
The man is alleged to have visited several clinics and was paid to take the jabs, according to NZ-based news site, Stuff.
Astrid Koornneef, group manager of operations at the COVID-19 Vaccine and Immunisation Programme, said the Ministry of Health was "very concerned" about the situation and said individuals who have received more than two vaccine doses should "seek clinical advice" as soon as possible.
"Having an inaccurate vaccination status not only puts you at risk it puts your friends, whanau, and community at risk, and the healthcare teams that treat you now in the future," Koornneef said in a statement to The Epoch Times.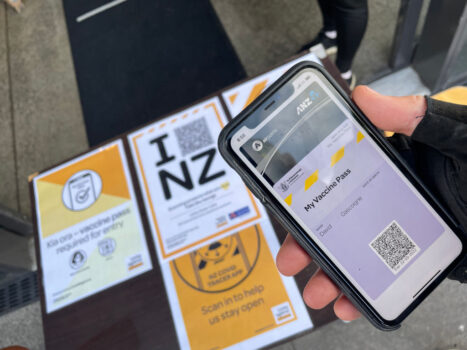 "Medical practitioners operate in a high-trust environment and rely on people to act in good faith to share information accurately to assist with their treatment," she added.
"To assume another person's identity and receive a medical treatment is dangerous. This puts at risk the person who receives a vaccination under an assumed identity and the person whose health record will show they have been vaccinated when they have not."
This is not the first instance where individuals have sought to game the vaccination system.
In neighbouring Australia, a nurse in the city of Perth was charged over allegations she pretended to administer COVID-19 vaccines.
Christina Hartmann Benz was accused of making false records of vaccinations, after pretending to administer vaccines and then disposing of the still-full syringes.
These charges were dropped last week.
Australian authorities are also trying to stem the spread of fake vaccine passports. For example, a website was discovered that could generate a bogus certificate after users inputted their personal details and dates for their supposed first and second vaccination.
Meanwhile, in NZ, authorities are set to begin removing restrictions around Auckland, the nation's most populous city.
The country has transitioned to a traffic-light system, with green, orange, and red levels that will outline what restrictions—including vaccine passports and social distancing—individuals and businesses must follow.
NZ Prime Minister Jacinda Ardern said businesses would likely need to continue implementing self-isolation requirements on any close contacts.
"Let's prepare and plan for those difficult scenarios, but then have the flexibility to move (earlier)," Ardern told AAP.
International border restrictions continue to remain, however, forcing national carrier, Air New Zealand, to axe around 1,000 flights to Australia in late November.