New York Quinnipiac Poll: Trump Way Ahead, Clinton Leads But Losing Ground
Battle for New York primaries on April 19.
April 1, 2016 Last Updated: April 3, 2016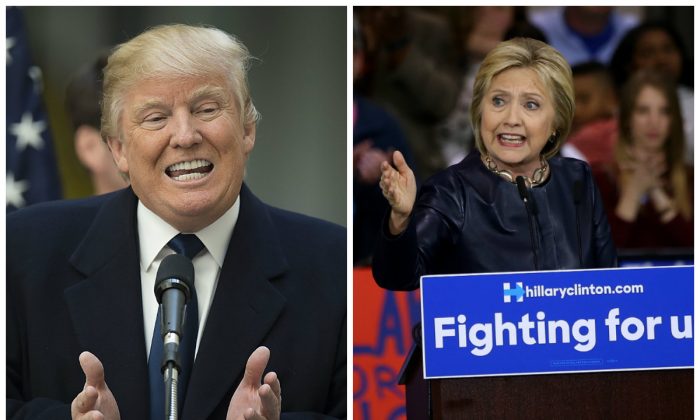 The latest New York Quinnipiac University Poll shows a wide margin lead for GOP frontrunner Donald Trump, and a substantial but diminishing lead for Democratic frontrunner Hillary Clinton.
Trump, with 56 percent, leads challengers Ted Cruz and John Kasich by over 35 percent. Cruz polled with 20 percent and Kasich trailed closely with 19 percent.
The lead for Trump is not unexpected. Trump is a native New Yorker, having grown up in Queens.
The lead for Trump is not unexpected. Trump is a native New Yorker, having grown up in Queens, he is a far more familiar candidate than someone like Ted Cruz who attacked Trump for having "New York values" in a contentious debate.
John Kasich is trying to make up for lost ground in New York, having campaigned in the city recently. His campaign was criticized in local tabloids for the candidate eating pizza with a fork at Gino's Pizzeria & Restaurant in Queens.   
In the Democratic side, former Senator of New York, Hillary Clinton is leading Bernie Sanders by 12 points, but that margin has diminished significantly in the last month where previously she was polling with over 20 point margins, and in the Emerson College poll, a 48 point margin.  
Bernie Sanders is looking to mount a comeback in his native state to upset the former senator. On March 31, the Vermont Senator landed in the Bronx for his first major rally in New York where he had an estimated 15,000 people show up, according to the NY Daily News.  
Sanders was born and raised in Brooklyn and is going to be playing up his New York roots in the coming weeks leading up to the primary on April 19.
Both Hillary Clinton and Bernie Sanders poll higher than Republican leader Donald Trump in a one-on-one matchup. Clinton leads 53 percent to 33 percent, and Sanders leads 56 percent to Trump's 32 percent.