At the crossroads between the East and West, the international hub of Hong Kong has long prospered on its dynamic public discourse, vibrant press, and bustling commercial trade.
Now, a growing number of Hongkongers are considering fleeing the city, fearing that the cherished freedoms that distinguished the territory from mainland China will vanish under Beijing's latest encroachment.
On July 1, the 23rd anniversary of the transfer of sovereignty to China from the UK, an expansive national security law went into effect. Offenses such as secession, subversion, and "collusion with foreign forces" now carry a maximum penalty of life imprisonment.
The law triggered fears that Hong Kong, once a place where people could be outspoken critics of the regime, would turn into another mainland Chinese city under the authoritarian grip of the Chinese Communist Party.
"This is a global tragedy," Fred McMahon, the Dr. Michael A. Walker chair of economic freedom research at the Fraser Institute, told The Epoch Times. The Canada-based institute on July 3 released a letter denouncing the law, while calling for a "global response" to address the deteriorating situation in Hong Kong.
As of July 3, it had been signed by a coalition of think tanks from 39 countries.
Clampdown on Speech
Hong Kong police acted swiftly, arresting 10 people under provisions of the law when thousands of protesters gathered in Causeway Bay on July 1 to oppose it. In some cases, they were arrested for possessing flags, banners, and flyers with slogans that advocated for Hong Kong independence.
A Shau Kei Wan restaurant, one of thousands of shops that openly support Hong Kong's pro-democracy movement, meanwhile, was forced to take down protest messages from its walls on July 2 after police warned the owner.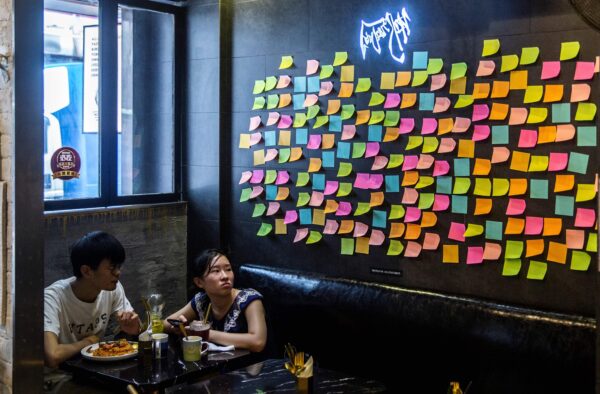 Four armed police officers appeared at the restaurant in the morning and photographed the interior, restaurant owner Gordon Lam told The Epoch Times. Citing the security law, the police threatened to arrest Lam if he didn't remove a display of sticky notes expressing support for the movement.
Later that evening, the Hong Kong government announced that the popular protest slogan "Liberate Hong Kong, the revolution of our times" was banned, declaring that it violates the new law because it "connotes" a pro-independent, separatist, and subversive message.
"Is Hong Kong still Hong Kong? How is today's Hong Kong different from other Chinese cities like Guangzhou and Shanghai?" Lam said.
"This national security law is thoroughly destroying Hong Kong's core values."
Multiple shops have begun removing pro-democracy messages in anticipation of a clampdown, while public libraries have pulled books written by pro-democracy activists. On July 4, police confiscated an American flag from a protester during a local demonstration celebrating July Fourth, citing breach of the law.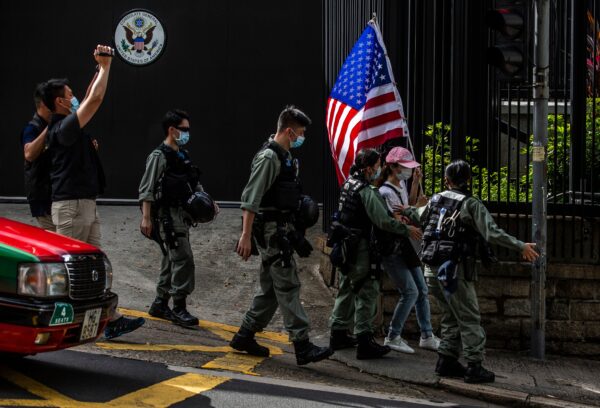 Activist Nathan Law, who testified at a U.S. congressional hearing on July 1, fled Hong Kong to an unidentified location, saying that if he stayed, his "speech and appearance would put my own safety in serious jeopardy, given the circumstances."
Security Apparatus
Chinese officials claimed the law would target a small segment of society, but the offenses' broad and vague definitions—as well as a part that stipulates that non-Hong Kong residents could also be subject to prosecution—have stoked concern among legal experts and human rights observers, who say that residents and foreigners alike who draw the regime's ire could be at its mercy once they set foot on Hong Kong soil.
Such laws "should never be used to criminalize conduct and expression that is protected under international human rights law," the U.N. human rights office said in a July 3 statement, expressing alarm at the potential "discriminatory or arbitrary interpretation and enforcement."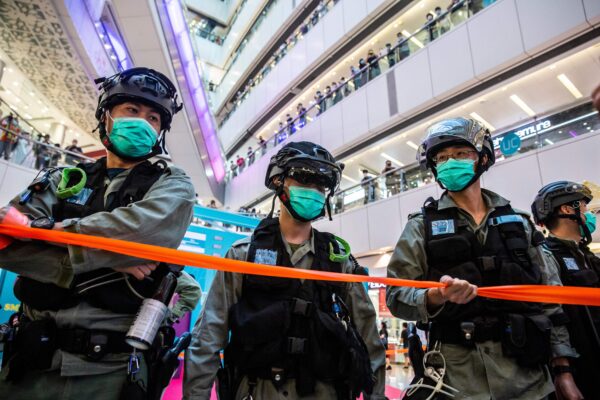 The law also mandates that a new security bureau be established in the city.
On July 3, Beijing appointed Zheng Yanxiong, known for his role in suppressing on 2011 anti-corruption protests in the southern village of Wukan, to head the new security bureau—which directly answers to the central government.
"We used to think of 'secret police' as something abstract. Now, it is a very real fear," Law said at the July 1 hearing.
In 2016, he won an election to become a local lawmaker but was disqualified after protesting Beijing's grip over Hong Kong during his oath-taking ceremony.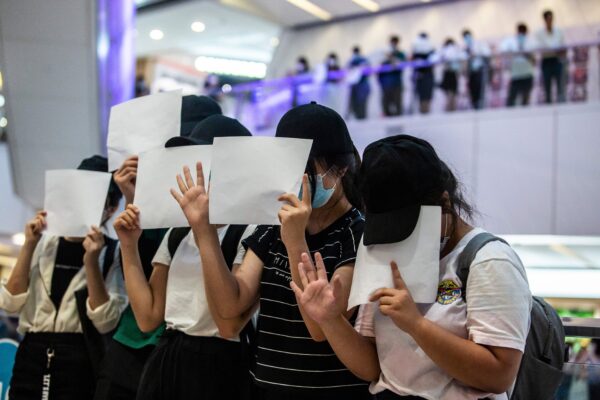 Global Backlash
The Chinese regime, as in the past, has responded to international backlash by saying the law and its implementation are "internal affairs."
"What business has that to do with you?" said Zhang Xiaoming, deputy director of Beijing's office for Hong Kong affairs, when asked during a July 1 press conference about possible sanctions from Western governments.
The U.S. Congress has unanimously approved legislation that would impose sanctions on Chinese officials who violate Hong Kong's autonomy, as well as banks that do business with those officials. The UK promised to extend immigration rights to an estimated 3 million Hongkongers, a decision that roughly two-thirds of the British public agreed with, according to a recent poll. Lawmakers in Japan's ruling party are campaigning to cancel Chinese leader Xi Jinping's upcoming visit in light of the developments in Hong Kong.
The city is "the front line in the fight for freedom against authoritarianism," said Benedict Rogers, a London-based human rights activist and vocal critic of Beijing's encroachment over Hong Kong.
"If the regime is allowed to just get away with this with impunity, then it's not going to stop with Hong Kong," he said in an interview for The Epoch Times' "American Thought Leaders" program.
"The Chinese Communist Party already is encroaching on our freedoms—in your country and mine—and we mustn't let that continue."