Two state Republican senators introduced legislation on Tuesday that would prohibit teaching critical race theory in New Jersey public schools.
Sens. Michael Testa and Joe Pennacchio introduced a bill that would prevent critical race theory (CRT) from being taught in New Jersey public schools, according to a statement. The bill would also prohibit public school teachers from engaging in political, ideological, or religious advocacy in their classrooms.
The bill specifies that critical race theory cannot be taught in schools "as part of a curriculum, course of instruction, or through supplemental instructional materials that promote concepts related to CRT," the statement said.
The bill (pdf) specifically lists a number of concepts related to critical race theory that are prohibited from being taught in New Jersey public schools. For example, it bans teaching that one race or sex is inherently superior to another one; a person of a certain race or sex is inherently privileged, racist, sexist, or oppressive; or a person should be discriminated against based on their race or sex.
Schools are also forbidden from teaching that a person's moral character, values, or beliefs are determined by race or sex, the bill said.
The measure also singles out as prohibited teaching the concept that "an individual should feel discomfort, guilt, anguish, or another form of psychological distress solely because of their race or sex."
Taxpayer money should be spent on teaching students basic concepts such as "mathematics, science, English, history, and civics and not on political or ideological indoctrination," the bill stipulates.
"Providing an education in a democracy is best done by teaching students how to think, rather than telling them what they should think," the bill said.
The measure encourages schools to present diverse views on controversial issues in the classroom and to foster open discussion.
According to the bill's provisions, schools would have the right to teach the history of an ethnic group, provide "the impartial instruction on the historical oppression of a particular group of people based on race, ethnicity, class, nationality, religion, or geographic region, or historical documents," as well as engage students in "the impartial discussion of controversial aspects of history."
Teachers would be required by the bill to "provide students with materials supporting both sides of a controversial issue being addressed and to present both sides in a fair-minded and nonpartisan manner," the bill said.
The measure gives the state government the authority to withhold state funding from a school district that knowingly violates the rules specified in the bill.
"Critical race theory is a thinly-veiled effort to legitimize discrimination under the guise of an intellectual social theory," Testa said in the statement.
"Every student should be empowered through lessons emphasizing the opportunity they have to succeed through their own hard work, individual merit, and the personal character they demonstrate to others," Pennacchio said in the statement.
"In many classrooms, however, we've heard of teachers engaging in political advocacy and pushing partisan ideologies when they should have been teaching math, science, history, and literacy, "Pennacchio noted.
How CRT Is Being Taught
Some states passed laws banning critical race theory from being taught in their schools, but there are educators who teach other educators how to "back-door it" into the classrooms.
The Zinn Education Project has collected the names of nearly 7,500 educators who vow to keep pushing CRT into classrooms despite the passage of laws banning CRT in a growing number of states.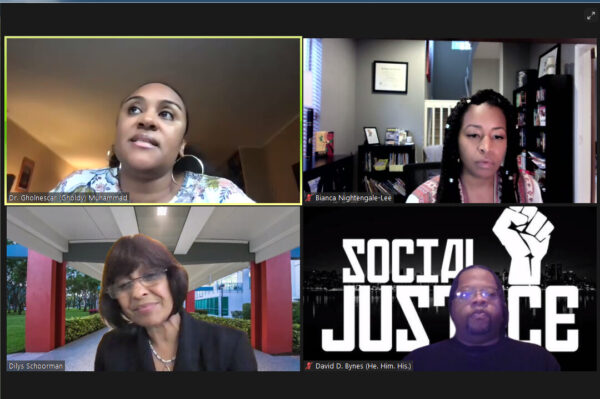 In September, Florida Atlantic University sponsored a webinar where Dr. Gholnecsar (Gholdy) Muhammad—an associate professor of language and literacy at Georgia State University—taught educators in Miami Dade, Broward, Martin, and Palm Beach counties how to creatively slip critical race theory through the back door of any classroom, regardless of subject matter.
Earlier this year, a parent from Chatam, New Jersey, who discovered that her children were being taught critical race theory in disguise in a number of classes, requested that the board of education set up an open discussion on this topic, according to "Tap Into."
What teaching critical race theory "is calling for is ostensibly using racism to fight racism and that makes no sense in no world," the parent said at the board of education meeting in a video posted by Tap Into.
Critical race theory is an offshoot of a Marxist branch of thought known as critical theory developed in the 1930s by a group of Marxist scholars first associated with the University of Frankfurt in Germany and later with Columbia University in New York.
Originally, Marxism divided people into two opposing classes: the bourgeoisie with capital and the proletariat, with a goal of instigating struggle between them. However, with industrialization, class mobility increased and that process started as early as the mid-19th century. For example, a supposed member of the proletariat is no longer among the proletariat if the person buys public equity in a company or starts their own business.
 Patricia Tolson contributed to this report.