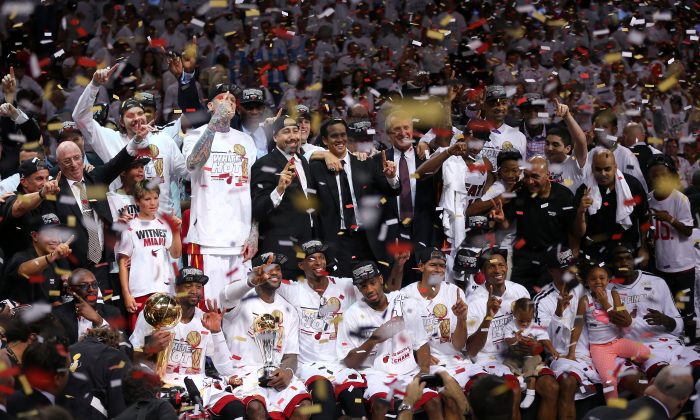 LeBron James scored 37 points, including 22 in the second half, as the Heat pulled away late in the final quarter of a thrilling Game 7 to top the Spurs 95 – 88 and repeat as champs. James was named Finals MVP–for the second straight time–after averaging 25.2 points, 10.9 rebounds, and 7.0 assists per game in the series.
It was a struggle though.
Unlike last year's series-win over the Oklahoma City Thunder (in five games) this series, especially the final game, went the distance.
Miami settled for threes all night long, going 12-for-32 from three-point land, as San Antonio packed the lane and dared James and Dwyane Wade to beat them from outside.
The strategy worked–except James and Shane Battier kept making shots.
Although Wade did not attempt a three in Game 7 (or the whole series) James hit 5 of 10 attempts from beyond the arc.
Battier came up huge, hitting 6-for-8 from three-point land to make up for off nights from Mike Miller (0-for-4) and Mario Chalmers (1-for-7). Chalmers still ended up with 14 points.
Wade, with the Spurs especially sagging on him, put up 23 points, mostly settling for mid-range shots, and grabbed 10 rebounds.
The game, though, wasn't sealed until 14 seconds left, as Shane Battier came up with the offensive rebound off of Dwyane Wade's second free throw with the Heat already up 7. San Antonio elected not to foul again as the crowd erupted.
The Spurs hung tough most of the game, despite the difficult environment on the road. San Antonio was down just 46 – 44 at the break, and 72 – 71 at the end of three.
Tim Duncan, in perhaps his final chance at a fifth title, had another turn-back-the clock performance with 24 points and 12 rebounds—though he missed a late gimme that would have tied the game at 90 with 46 seconds left and was visibly frustrated by it.
Duncan had little help though.
Danny Green, who had been hot through the first five games, struggled mightily in Game 7, hitting just 1 of 12 shots, as the Spurs hit just 37.8 percent for the game, versus 43.9 percent for Miami.
Meanwhile Chris Bosh, after telling fans that left Game 6 early to stay home for Game 7, failed to show up himself, totaling zero points while recording five fouls. Alas, it didn't matter in the end as his teammates were enough to make up for it.