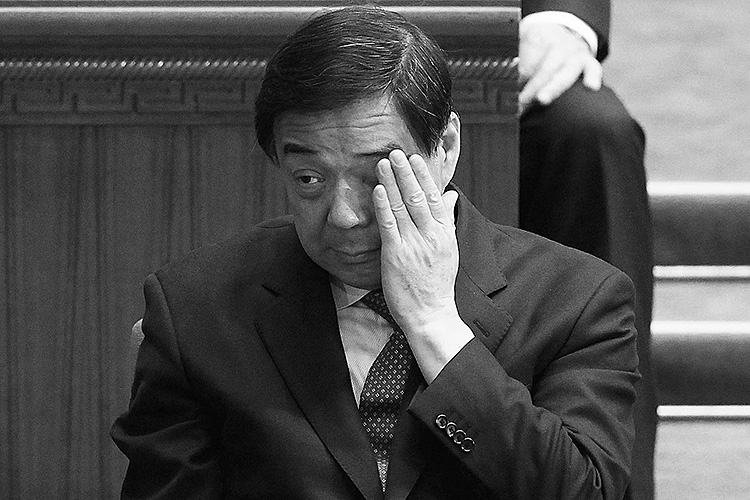 The death of Ruan Zhibo, a military general with close ties to Bo Xilai, was announced by China's state media on May 17, but no details about his death were given except that it was due to an "incurable illness." The circumstances surrounding his death, the vague explanation for it, and particularly Ruan's ties with Bo Xilai, have triggered speculation on China's Internet community as to the actual cause of his death. 
Ruan was a lieutenant general and an expert in economics and management before his death at age 62 on May 13. He held a number of military posts before being appointed deputy commander of the Chengdu Military Region in 2008, a post that he held until his death.
Ruan's sudden demise aroused suspicions among Chinese bloggers that he might possibly have committed suicide or was even murdered. Fueling the speculation is the conspicuous lack of details on Ruan's death; none of the news reports identified the illness that was supposed to have killed him.
A netizen on Sina Weibo listed four other military officials who have similarly died since 2007 of what were described by state media as "incurable illnesses." He commented: "Being a high-ranking military official seems to be a very hazardous occupation, with such a high likelihood of dying from so-called 'incurable illnesses'." 
A netizen commenting on Ruan's death said: "It seems that now even prison convicts are not the only ones who end up dying in strange ways," a reference to how the deaths of prisoners in China, often at the hands of severe beatings and torture from prison officials, are often given apocryphal explanations like "hide-and-seek." 
A netizen who conducted an analysis of Ruan's resume concluded that "Ruan was close to Liu Yuan."  Liu Yuan is an official known to have been involved in Bo's attempted coup, based on information obtained by The Epoch Times from a source close to the Central Military Commission (CMC).
The Chengdu Military Region that Ruan was deputy commander of is a military formation responsible for the defense of the several southern provinces, including Chongqing City, which Bo was the Party head of before his downfall. 
Bo was also known to have close ties to the military, as the Shanxi New Military first founded by his father in the 1930's to fight the Japanese invasion eventually became the 14th Group Army of the People's Liberation Army.
About a month before his death, on April 10, it was widely reported that the CCP's Central Military Commission had dispatched five investigation inspection groups to the Chengdu Military Region with the intention of investigating military officials who were suspected of having links to Bo Xilai. 

Click www.ept.ms/ccp-crisis to read about the most recent developments in the ongoing crisis within the Chinese communist regime. In this special topic, we provide readers with the necessary context to understand the situation. Get the RSS feed. Get the new interactive Timeline of Events. Who are the Major Players?

Read the original Chinese article
The Epoch Times publishes in 35 countries and in 19 languages. Subscribe to our e-newsletter.