Musician Urges People Go and See Shen Yun
April 29, 2014 1:55 am Last Updated: May 1, 2014 2:21 am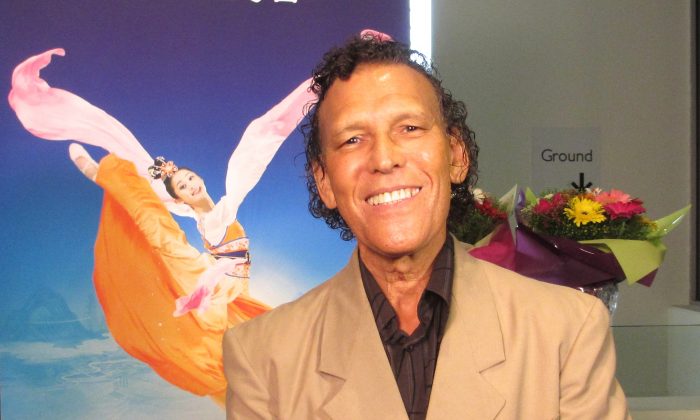 GOLD COAST, Australia—If you want to see a spectacular performance, go and see New York-based Shen Yun Performing Arts, says musician Bernie Baroco Brown who was at the Gold Coast's The Arts Centre, Arts Theatre, on Anzac Day, April 25.
"If you're really interested in Chinese culture, you want to learn something about the last 5,000 years of [true] Chinese culture and to see something spectacular and worth your money as well, I would say definitely go along to [Shen Yun], its fabulous," Mr. Baroco Brown said. "Beautiful. It was absolutely beautiful, relaxing. Very entertaining, professional, very well done, spectacular … so many adjectives."
New York-based Shen Yun revives 5,000 years of Chinese civilization—said to be inspired by the heavens—through the universal languages of music and dance, according to the company website.
"Sophisticated dance techniques, an orchestra joining instruments from both the East and West, beautiful costumes, and a stunning back drop—this is Shen Yun at first glance.
"But digging deeper, one discovers a sea of traditional Chinese culture. Mortals and divine beings merge on stage as one. Principles such as benevolence and justice, propriety and wisdom, respect for the heavens, and divine retribution, all come to life, washing over the audience."
Mr. Baroco Brown continued to describe his experience of Shen Yun.
"It's so beautiful, the costumes, choreography, the arrangements, music, dancing—obviously. Beautiful and the way it was presented by the two comperes. It was just very professionally and proficiently done is all I can say about it."
Caught up in the wistfulness of the moment, he said "the flowing movements of the dancers and the music combined" caused a feeling of "both serenity and elation at the same time."
Integral to a performance, Shen Yun recounts ancient myths, bygone heroes, and celestial paradises, according to the website. "Whether set in the past or in contemporary China, every dance embodies traditional Chinese values. Ideals of loyalty, filial piety, and veneration for the divine are cherished and celebrated. Heroes are extolled for their compassion and tolerance as much as their courage or determination when facing adversity."
Mr. Baroco Brown said overall the performance was excellent.
"Very well done. They put that together very effectively and efficiently. You can really see the culture coming across there just by watching the show and the dances. Of course, the presenters really added to it they made the understanding of the entire production clearer to the audience."
According to his website Mr. Baroco Brown is a singer, pianist, rhythm guitar, bass, drums, harmonica, composer, actor, arranger, author, producer, multilingual, and a teacher. He has travelled the world as entertainer, singer, songwriter, and a composer and has performed with the likes of James Brown Band and Ray Charles Orchestra in USA.
Reporting by NTD Television and Raiatea Tahana-Reese
New York-based Shen Yun Performing Arts has four touring companies that perform simultaneously around the world. For more information, visit Shen Yun Performing Arts.
The Epoch Times considers Shen Yun Performing Arts the significant cultural event of our time. We have proudly covered audience reactions since Shen Yun's inception in 2006