Music and Life in Oneness: An Interview With Burt Bacharach
April 30, 2013 12:41 am Last Updated: April 30, 2013 1:19 am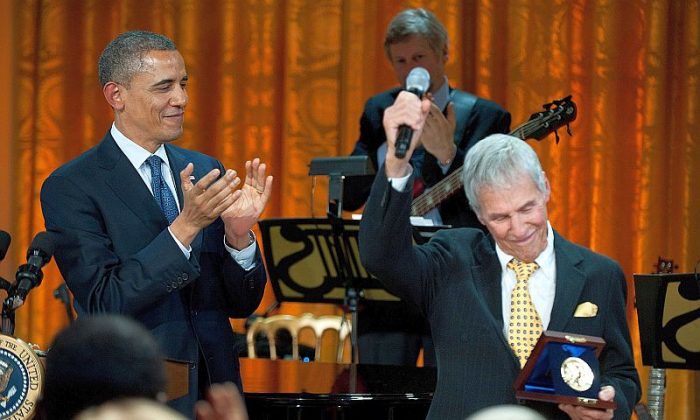 May marks an important month for Burt Bacharach, recipient of three Academy Awards and eight Grammys, and a Songwriters Hall of Fame inductee. Aside from his 85th birthday on the 12th, Mr. Bacharach is also celebrating the publication of his memoir "Anyone Who Had a Heart: My Life and Music" on the 7th, and the Lifetime Achievement Award by The Chamber Orchestra of Philadelphia on May 4.
Commenting on The Chamber Orchestra of Philadelphia's Lifetime Achievement Award, Mr. Burt Bacharach said via a recent email exchange: "It is humbling to be recognized by such a distinguished organization for the work I have done throughout my life. For this great honor, and for my supporters who have followed me for years, I am eternally grateful."
According to Mr. Bacharach's website, his songs differed from much of the music of the era. His compositions typically boasted memorable melodies, unconventional and shifting time signatures, and atypical chord changes. Combining elements of jazz, pop, Brazilian music and rock, Bacharach created a unique sound that was as contemporary as it was popular.
Among his greatest hits of the last six decades are "Close To You," "Raindrops Keep Fallin' On My Head," "Do You Know the Way to San Jose," "I Say a Little Prayer," "That's What Friends Are For," "I'll Never Fall in Love Again," and "What the World Needs Now Is Love."
His memoir "Anyone Who Had a Heart: My Life and Music" documents for the first time, Mr. Bacharach's feelings, including those around the most tumultuous and heartbreaking events, including the dissolution of marriages and loss of his daughter.
In the interview Mr. Bacharach discussed his life, music, and how the two intertwined to weave a remarkable tapestry of a time-honored American pop songwriter.
The Epoch Times: In the span of six decades of music making, where do you get the inspiration to create so many of the greatest hits of our time?
Burt Bacharach: I believe that if you are an artist, then your craft is an expression of who you are as a human being. I like to think of myself maybe as a sponge, meaning in what is absorbed and what comes to my psyche and my soul.
I don't mean that I see a beautiful sunset, and therefore I hear a melody. I do know one thing, if I'm very happy, the door to get into creativeness; creative music is easier if I'm in a good place. That doesn't mean I'm going to write a very sad piece or a very romantic piece. I guess you are what you write, and my music is an expression of me. It's who I am.
Epoch Times: If you can describe it, what is your creative process for penning musical scores?
Mr. Bacharach: I try to spend a lot of time after an initial contact with something melodic, the framework. I want to get away from the keyboard and try to hear what I have just been exploring at the piano—what it sounds like away from where my fingers would go.
I would orchestrate the same way. That way I get a long picture of where this piece is going. If I'm doing it at the piano, I'm caught in the short range of one bar followed by another bar and a chord here and a chord there, so I always double check. If it feels good at the piano, then let me get away from it and sit or lie down on the couch and let me hear that in my head.
So much of the stuff that I have written [is] as I hear it—hear that melody, hear that harmonic foundation. It's also giving birth to orchestration … behind it. Because I have the ability to write my own orchestrations, I like that. I like the feeling of being able to control [it], and some people have come along and written better orchestrations than I ever could have. With me, it's going to come from the way I feel: where I hear the strings, where I don't hear the strings.
Epoch Times: You just recently released a memoir "Anyone Who Had a Heart: My Life and Music." Can you discuss the correlation between your life and your music?
Mr. Bacharach: A good and difficult question, or not so difficult to answer because of who I have touched. My music is a reflection of who I am, where I've gone in my life. I mean where I have gone emotionally in my life.
You cannot set out with a goal, saying 'I'm going to write music that is going to be so attractive to so many people.' You don't plan that. You can't. It will be more accessible if I write this way … it doesn't work that way. You have to be your own judge of what is acceptable and if it happens to be acceptable to the public, then that's just a great cohesion. I'm very grateful for that.
Epoch Times: In the Chinese language, the character for music is the central part of the one for medicine. In ancient Chinese philosophy, music is believed to have healing effects on peoples' minds and spirits. What do you think of this ancient Chinese belief?
Mr. Bacharach: I do believe that music is healing. … A week and a half after 9/11, we did a concert on the East Coast. The last five songs we did were "Alfie," "A House is Not a Home," "What the World Needs Now Is Love," "Windows of the World," [and] "That's What Friends Are For." There wasn't a dry eye on stage, my band, or myself. Those are emotional songs, the lyrics are very emotional.
In the Chinese philology, music is believed to have a healing effect. Yes, I totally believe it. Maybe the healing is just half an hour in somebody's life when they heard something that made them feel better and then they go on with the rest of their day and the rest of their life.
Epoch Times: What advice would you like to offer to today's young songwriters?
Mr. Bacharach: Years ago things were very different; it's a very different and difficult recording industry now. Great songs—you don't hear many great songs now. There are very few standards that get made in this time in the music business. Maybe something that is a hit may be heard for two months and never be heard again. There are a few exceptions.
Well it's a hard one. I'm not going to say get another job. If you are good, and you have the patience, because you get knocked around. Even when I started, I spent a long, long time writing many, many songs and getting many, many rejections from music publishers in New York. You just have to try and stick it out.