Mother Seeks Justice in Beijing by Selling Daughter
July 21, 2006 12:00 am Last Updated: July 21, 2006 12:00 am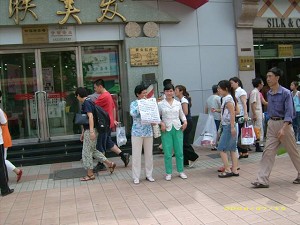 On the morning of July 15, 2006, middle-aged mother Wang Jinlan stands on the busy Wangfujing Business Street in Beijing with her daughter and narrates stories about her 14 years of appealing to the Chinese government. As tourists surround Wang, she holds up her handwritten complaint, Seeking Justice by Selling Daughter, searching for someone to adopt her daughter. The police took the mother and daughter away after about an hour.
Wang Jinlan is from Zhengzhou City of Henan Province. Wang and her husband were falsely charged with killing a pedestrian with their truck in 1992. As a result, their truck was illegally confiscated, leaving the family with no means of making an income. In addition, police and local mafia have beaten her husband many times since and constantly threatened their lives. The family had no choice but to leave and appeal to the government.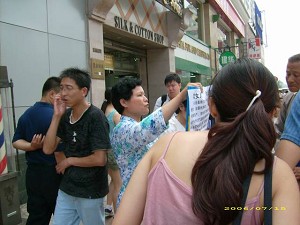 During the May session of the Meeting with Appellants held by the Ministry of Public Security, Wang appealed to the high-ranking officials of Henan Province's Supreme Court for help, but to no avail. Desperate, Wang joined the Trip Along the Great Wall to Safeguard Human Rights activities held by many appellants in mid-May. Wang was arrested and detained for 15 days by Beijing police for distributing written complaints to Chinese and overseas tourists on the Great Wall of China.
According to Wang, the mafia targeted her and her husband because they used to be wealthy. Wang claims she was almost killed and had suffered numerous beatings, arrests and detentions during her appeals over the past ten years. Out of desperation, Wang resorts to unconventional and extreme methods of appealing in order to seek sympathy and attention from society.
The Chinese Ministry of Public Security announced in May that drastic measures would be taken against any "unconventional appeals" made outside of the Appeals Office. This includes any appeals to Zhongnanhai offices, the Central Government, the People's Meeting Hall, national leaders, foreign embassies or consulates and all foreign organizations stationed in China.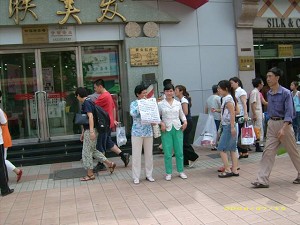 Farmer Sun Yueying, pregnant at the time, went to appeal in Beijing last year when her land was seized. Sun stepped in front of Hu Jintao's car to appeal while holding her baby, and she has been missing ever since. Appellants Feng Yufen and her younger brother were stabbed to death at their home in Xicheng District of Beijing this May. Many appellants from outside of Beijing have been found dead from unknown causes. The police simply inform the family that they died in traffic accidents.
Appellants claim that more than 100 police officers from Shenyang City Prison collectively appealed in Beijing last Monday. The Beijing police took them away in about an hour. After the May session of the Meeting with Appellants, many appellants were sentenced to forced labor and sent back to their hometowns. A great number of appellants are missing.
Appellants believe the "unconventional appeals" defined by the Ministry from Public Security will become a weapon for the government to illegally arrest, sentence and murder appellants. Wang Jinlan's detention for selling her daughter is a perfect example.