More Than 200,000 Sign up for One-Way Trip to Mars; Next Phase Launched
September 11, 2013 6:26 pm Last Updated: September 12, 2013 7:12 am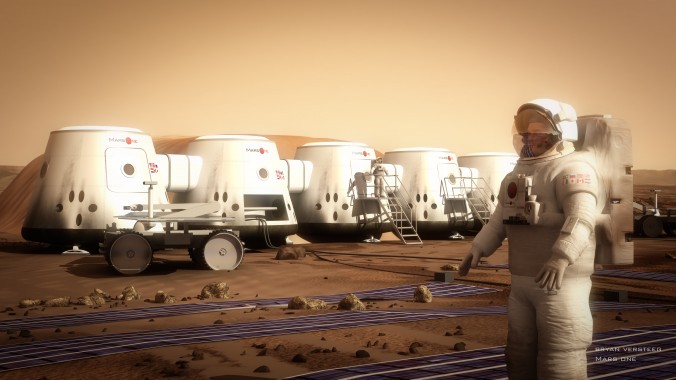 More than 200,000 people have expressed interest in traveling to Mars and never coming back, Mars One announced on September 9.
Mars One announced in May that more than 78,000 people had signed up for the trip. The updated number comes after the application period ended on August 31.
Applicants come from over 140 countries.
The largest numbers are from the United States (24%), India (10%), China (6%), Brazil (5%), Great Britain (4%), Canada (4%), Russia (4%), and Mexico (4%).
The Mars One team will select 6-10 teams of four people each out of the pool of applicants.
"In 2023, one of these teams will become the first humans ever to land on Mars and live there for the rest of their lives," says Mars One in the announcement.
The nonprofit aims to establish a human settlement on the planet, with the first humans arriving in 2023 after preparation including sending infrastructure up ahead of the humans.
To be considered for the next phase of selection, all applicants had to pay a registration fee, between $5 and $73, depending on what country they hail from, and submit a one-minute video that should convince "people around the world and the Mars One selection committee that you would be a great candidate to become one of the Mars One astronauts," according to the organization's website.
Article Continues after the discussion. Vote and comment
[tok id=81a22b007f4a76ff3cf32c3c1ff0d2b5 partner=1966]
It's unclear how many of the 202,586 people who expressed interest paid the registration fee. There are 278 pages of videos on the website (with 10 videos on each page), but videos can be made private. Bas Lansdorp, Mars One founder, won't disclose how many applicants have paid the fee, according to NBC.
Mars One regional reviewers will select around 50-100 candidates from different regions on Earth for Round 2 by the end of this year.
Applicants come from "a very wide range of personalities, professions and ages," said Dr. Norbert Kraft, Mars One chief medical officer, in a statement. "This is significant because what we are looking for is not restricted to a particular background. From Round 1 we will take forward the most committed, creative, resilient and motivated applicants."
Candidates who make it into Round 2 will be interviewed by the Mars One Selection Committee. Candidates who make it into Round 3 will compete against each other during a series of challenges that double as the beginning of training. This part will be televised. Audiences in each region will select one winner from their region, according to the Space Reporter, while the Selection Committee chooses the other candidates.
The selection process will end in 2015 with 28-40 candidates, who will train for the one-of-a-kind mission for around seven years. On the first mission, slated to take off in 2022 and arrive in 2023, four astronauts will launch. Other groups of four will follow every other year, if all goes according to plan.
The first mission is slated to cost about $6 billion and the organization is looking for a round of funding to pay potential suppliers to do conceptual design studies, so it can better calculate costs.
Mars One is planning on building a replica of the settlement on Earth beginning this year. A supply mission, which will have a cargo ship go to Mars with supplies such as solar panels, is slated to take off in 2016. The first rover would land in 2018, and in 2021 the six "landers"–or two living units, two life support units, a second supply unit, and another rover–are slated to arrive in 2021 (see photo for the "landers"). 
Read more about why people signed up here.
Read about what it would be like to live on Mars here.