Angered parents beat the top Chinese Communist Party official of Jinhu County in the southeastern province of Jiangsu upon discovering that local authorities failed to prevent expired vaccines from being used on their children.
Since Jan. 7, when the first reported case emerged that a child had been injected with an expired vaccine, parents say the number has swelled to more than 20,000 children younger than 14 years old who have been injected with expired vaccines. Hundreds of them fell ill, while others are disabled, they told the Chinese-language Epoch Times.
On Jan. 14, thousands of tactical police officers, riot police, and other security agents descended on the streets of Jinhu County to control the crowds of protesting parents. The county government promised that it would conduct a further investigation, but did not provide a solution for the children who were already injected with expired vaccines.
So far, 17 local government officials and clerks have been punished for the incident, according to a Jan. 11 report by state-run media Xinhua. Gao Changping, the deputy mayor in charged of county affairs, was among several local officials suspended from their positions and currently under investigation. Thirteen clerks at the Licheng Hospital, where many children were injected with expired vaccines, were expelled from the Chinese Communist Party and dismissed from their positions as well.
The Xinhua report claimed that only 145 children were injected with the expired vaccines, though parents cite a much larger number. Xinhua named one of the vaccine manufacturers as Beijing Bio-Institute Biological Products Co.
Parents have staged protests for the past three days, leading local authorities to dispatch thousands of police from neighboring cities such as Huai'an, Nanjing, and Shanghai to quash the protests.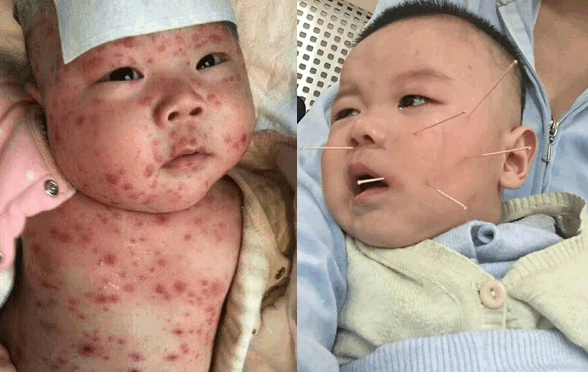 On Jan. 11, thousands of angered parents whose children were injected with expired vaccines protested in front of the county government office. Some of the parents were beaten by police.
"There are dozens of police cars, and police have sealed off the neighborhood and have not allowed people to enter," Liao, a protesting father, told The Epoch Times by phone on Jan. 11.
Liao, who did not wish to provide his full name, said local authorities have shut down mobile communication services in the neighborhood in an attempt to stop parents from mobilizing for protests. He said more and more police have arrived from other cities.
Several parents said there were about 2,000 parents who gathered on the morning of Jan. 11.
After 9 a.m., Zhang Zhiyong, the Party secretary of Jinhu County, stepped out of the government building and told the parents that only 145 children were injected with expired vaccines.
The parents were upset and began to beat Zhang. He eventually escaped the crowd with his assistants.
Some parents who were injured from police beatings were sent to the hospital for treatment.
"When we were standing in front of the government building, the tactical officers rushed forward and forced us to leave. When the police pushed us, some of them started to beat us. A woman's leg was broken," Bai, a protesting mother, told The Epoch Times on Jan. 11.
On Jan. 7, a retired medical doctor took her grandson to Licheng Hospital to get his polio vaccine, according to Chinese media reports. The grandmother discovered that that the vaccine had expired on Dec. 11, 2018.
After the grandmother spread the news and urged local families to check their children's vaccine records, many discovered that their children were also injected with expired vaccines.
Some of the children have become disabled as a result.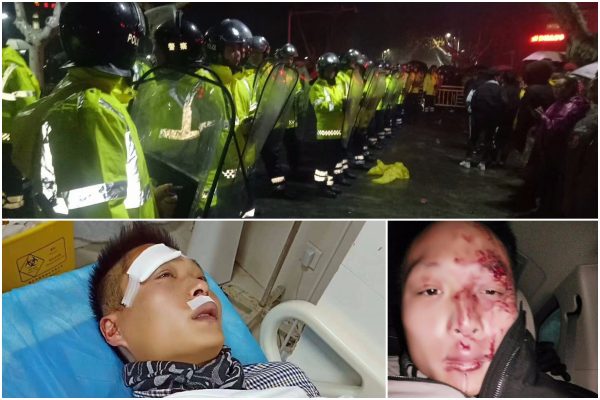 A young mother told The Epoch Times on Jan. 14 that her son is 1 1/2 years old. He was injected with a type A meningitis (ECM) vaccine and a hepatitis B vaccine when he was 6 months old. Three days after the injection, her son fell ill and was diagnosed with a pseudomonas aeruginosa infection.
Now, the boy has facial paralysis, his left ear nerves are injured, and his digestive system is weak, among other problems, his mother said.
"At the beginning, I thought maybe my son is the only victim, but then I found many children have the same problems," the mother said. "Us parents could not imagine that the vaccine supplied by the government can hurt our children so badly."
Another mother with a 13-year-old daughter said she was injected with 17 vaccines that were later confirmed to be expired. Her daughter is now physically weak. The mother added that some of her daughter's classmates are experiencing similar symptoms.
"We trusted the government too much," the mother told The Epoch Times on Jan. 13.
Watch Next:
Anastasia Lin—The Chinese Communist Party Does Not Represent The Chinese People