To outlive one's child is perhaps the greatest tragedy a parent can imagine, yet as if in answer to this mother's grief, who had lost her daughter in a car accident, fortuitously, this daughter left behind a series of heartwarming letters to her mom. A month after her daughter's tragic death, the mother found those bittersweet notes, as if a comfort from beyond, in answer to her grief.
"At 5:40 a.m. April 10, 2000, I gave birth to the most beautiful girl in the world," wrote Georgia mom Cindy Mathis on the Facebook page dedicated to her daughter, Macy Mathis.
Cindy's daughter, Macy, had been her strength, her rock, and her wings until Nov. 25, 2016, when a fatal car accident took her dearest girl's life. Macy died five days after the wreck. Her boyfriend, Adam Sattler, then 18, who was with her at the time, was also killed.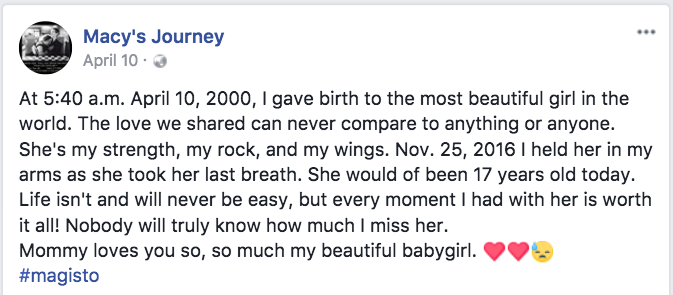 "[N]obody will truly know how much I miss her," she said.
One day, a month after the tragic loss, Cindy found some desperately needed comfort, as if in answer to her grief—a heartwarming set of letters written by Macy, addressed to her mom.
She came across the first letter when she was clearing the trunk of her car. It was marked, "Open it … when you can't sleep."
Macy wrote: "I want you to know that I love you."
Cindy could not help the tears from pouring down on reading the note. Then, she began rummaging through her room, looking for all the letters.
In all, sweet Macy had written 25 letters, which had been sealed in envelopes for Cindy's birthday a year earlier.
Each letter instructed Cindy to open it when, at various times, she was having feelings of being lonely, sleepless, excited, and so on.
"Open when … you miss me," was one of the letters Macy penned to her mom.
It read: "Hey mommy. I'm sorry that you're missing me … I'm probably missing you too."
"This one was so hard to open. You don't know how much mommy misses you!" Cindy wrote on Facebook.
In the letter marked "Open when … you feel lonely," Macy wrote: "I'm especially sorry if we're the ones who made you feel lonely. I never intended to do that."
Perhaps it was a strange coincidence, but Cindy did feel lonely after her daughter had left.
"I feel like she knew. Maybe deep down, she knew, or maybe God told her," Cindy told TODAY.
Those letters, which made her laugh and cry, had unexpectedly helped Cindy cope in the wake of her daughter's passing.
Cindy was thankful for the precious gift, and felt Macy's presence through her comforting words.
"Each [letter] has helped me in so many ways," Cindy told CBS News.
Currently, Cindy is working on a book on Macy's journey and the treasures she left behind.
"It's been a long emotional journey, but worth every minute of it. We gathered much needed information to fill in the chapters of the book," Cindy wrote on the Facebook page.