When the unexpected befalls us, as it undoubtedly will at some point, and an accident happens either to yourself or someone else, picking up the pieces in the aftermath can feel daunting.
That's exactly how mom Rachel Schoonover, of Elmira, New York felt when a shattered wine glass nicked an artery in her wrist while she was washing dishes.
Within seconds of the wine glass slipping from her hands and shattering in the sink, there was blood spraying from her arm—and although she acted quickly to call 9-1-1, before calling her mother to watch her son Declan, the entire ordeal left a horrifying scene behind.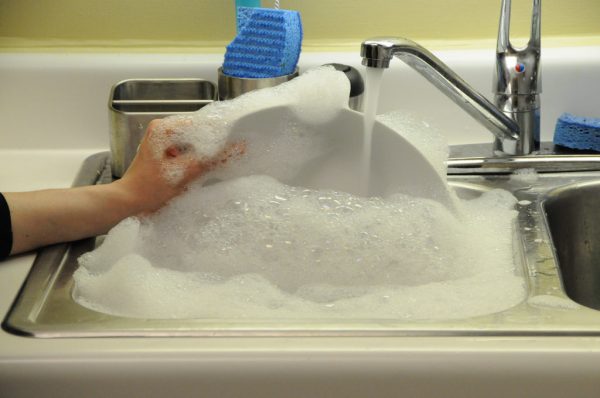 Thankfully, Schoonover was treated at the hospital for her gash, receiving 2 IVs of fluid, 9 stitches, and a tetanus shot before she was allowed to head back home.
She had been grateful for the arrival of the West Elmira Fire Department prior to her mother's arrival to watch Declan. They had helped monitor her vitals after applying a tourniquet, keeping her calm, and helping her out with her son.
What she didn't realize, though, was that they had stuck around even after she was brought to the hospital.
While washing dishes last night, I broke a wine glass and sliced open the side of my wrist, hitting an artery in the…
After being released from the hospital, Schoonover explained that she had been dreading heading back home.
The blood had gotten everywhere after Schoonover had cut herself, and her husband was still at work. Knowing that her mom was busy taking care of her son, she expected there was a massive cleanup at home waiting for her.
Instead, she found a spotless house and a note, explaining that the firefighters had made sure to help her out even more than they already had:
"When we got back to my house, I was dreading the bloody mess that was waiting for me in every room," Rachel wrote on Facebook. "Surprisingly, though, the mess was nearly nonexistent. On the counter, I found this letter. These men wiped down my fridge, coffee maker, speakers, cupboards, bathtub, floors, and even individual K-cups that had been hit. They put the dirty towels in my bathtub, threw away the glass, and cleaned up the blood in my sink."
Schoonover's Facebook post immediately went viral, with nearly 5,000 people sharing the photo of the note and another 900 taking to the comment section to lend their support to the first responders as well.
As the fire department added in their own response to the post, though, they were just happy that Schoonover was doing well.
"We are glad to hear that the patient returned home and hope they had a wonderful Christmas," they replied. "As a Department, we are very grateful for the dedication and commitment of our membership to meet or exceed the expectations of our community. Thank you all again for the support."