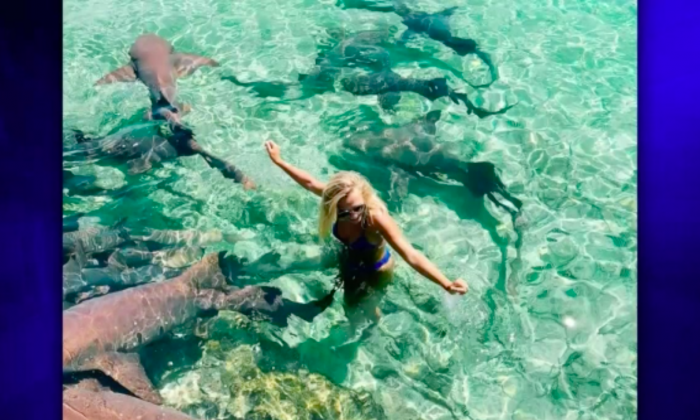 Model Bitten by a Shark While Posing for Photos With Them

Katarina Zarutskie was visiting her boyfriend and his family last month in the Bahamas when she decided to take a photo with some nurse sharks.
She had just finished a family lunch in Staniel Cay, when she saw people snorkelling with the sharks nearby and decided to join in to have some photos taken with them.
Zarutskie, a University of Miami student who runs a lifestyle blog Vogue and Vegetables, is from Laguna Beach in California.
"From my previous knowledge from surfing and scuba diving, I know nurse sharks are usually very safe," she told the BBC. "I've seen countless photos of people with them on Instagram."
After a few minutes in the water, she said she was encouraged by a person on the pier to float on the water on her back—so she did, with arms outstretched, according to the BBC.
"At this point people were starting to take photos, and right as I lay back, after a few seconds, I was pulled under," she told the BBC.
Her boyfriend's dad was photographing the scene and unwittingly captured the moment.
"[The shark] had my wrist in his mouth and I could feel his teeth sinking into my arm," she told NBC News. "I was pulled underwater for a few seconds, and then ripped my wrist out of the shark's mouth as fast as I could."
In the photos, Zarutskie can be seen raising her bitten arm above her head and covering the wound as she made her way out of the marina.

(WSVN/Courtesy of Katarina Zarutskie)
"I stayed extremely calm," she told the BBC.
She said she did not plan to upload the images to social media until journalists asked her about her experiences earlier this week, the BBC reported.

Zarutskie received stitches and antibiotics after the incident.
"I am so fortunate that I still have my arm and my life," she told NBC.

Owner of Staniel Cay marina wrote in an email to NBC: "These animals are considered quite docile but can and do bite on occasion … normally when they mistake a hand or fingers for a piece of food."
From NTD.tv


RECOMMENDED