(Video) The Longest Volcanic Eruption of 21st Century Captured on Camera: 'The Forces of Nature'
Over the course of six months, a native Icelandic photographer has captured breathtaking footage of the longest volcanic eruption of the 21st century to date.
The volcano eruption began on March 19 in the Geldingadalir valley of the Fagradalsfjall mountain on southwest Iceland's Reykjanes peninsula. In mid-September, it became the longest-running volcanic eruption of the century, overtaking a 2014 eruption in Holuhraun lasting 180 days, according to RÚV.
"It's amazing to capture the forces of nature and experience how small and powerless you are next to it," photographer Hermann Helguson, 31, told The Epoch Times.
"My first trip to Geldingadalir was one day after the eruption started. I have visited the eruption site regularly, over 15 times since then."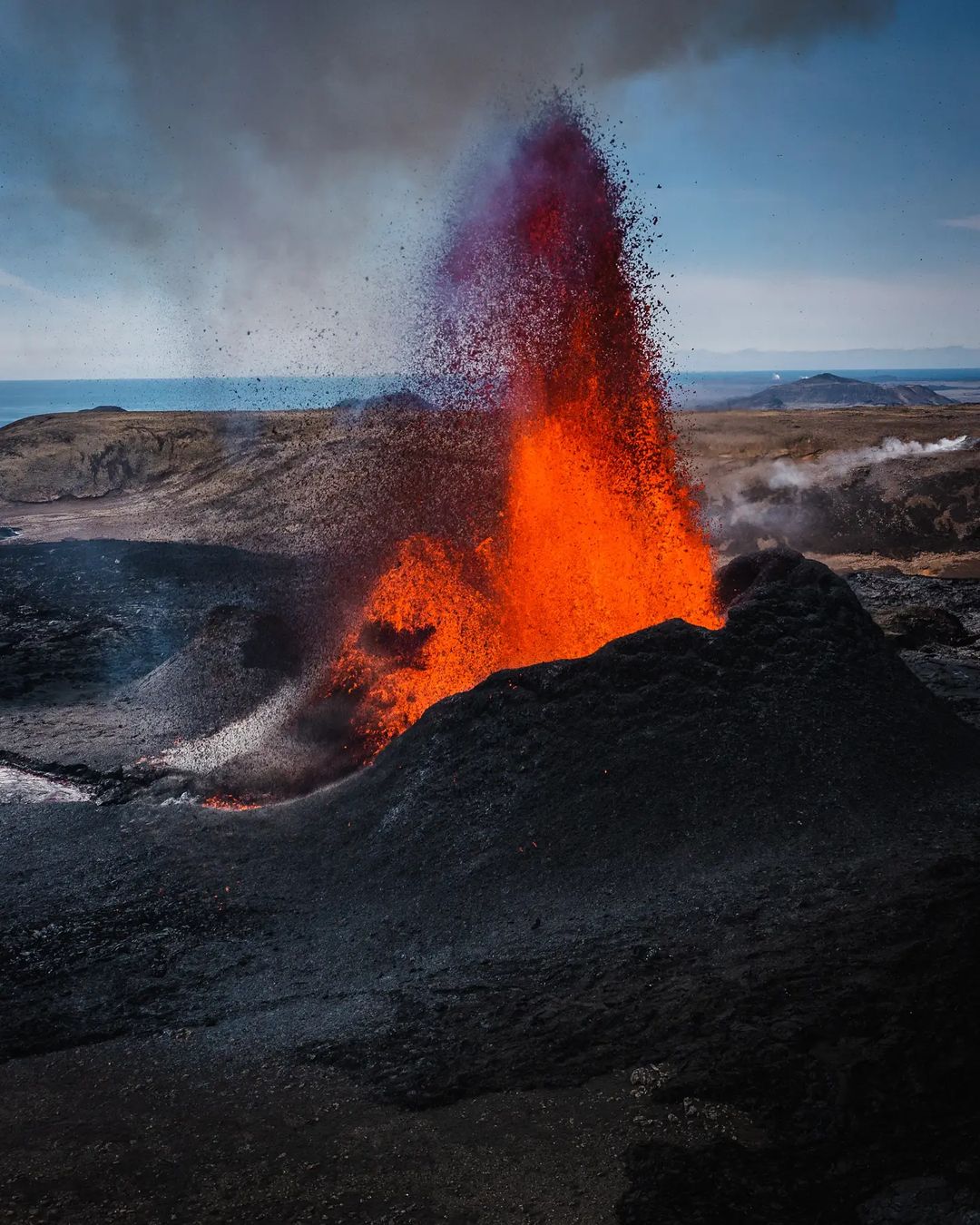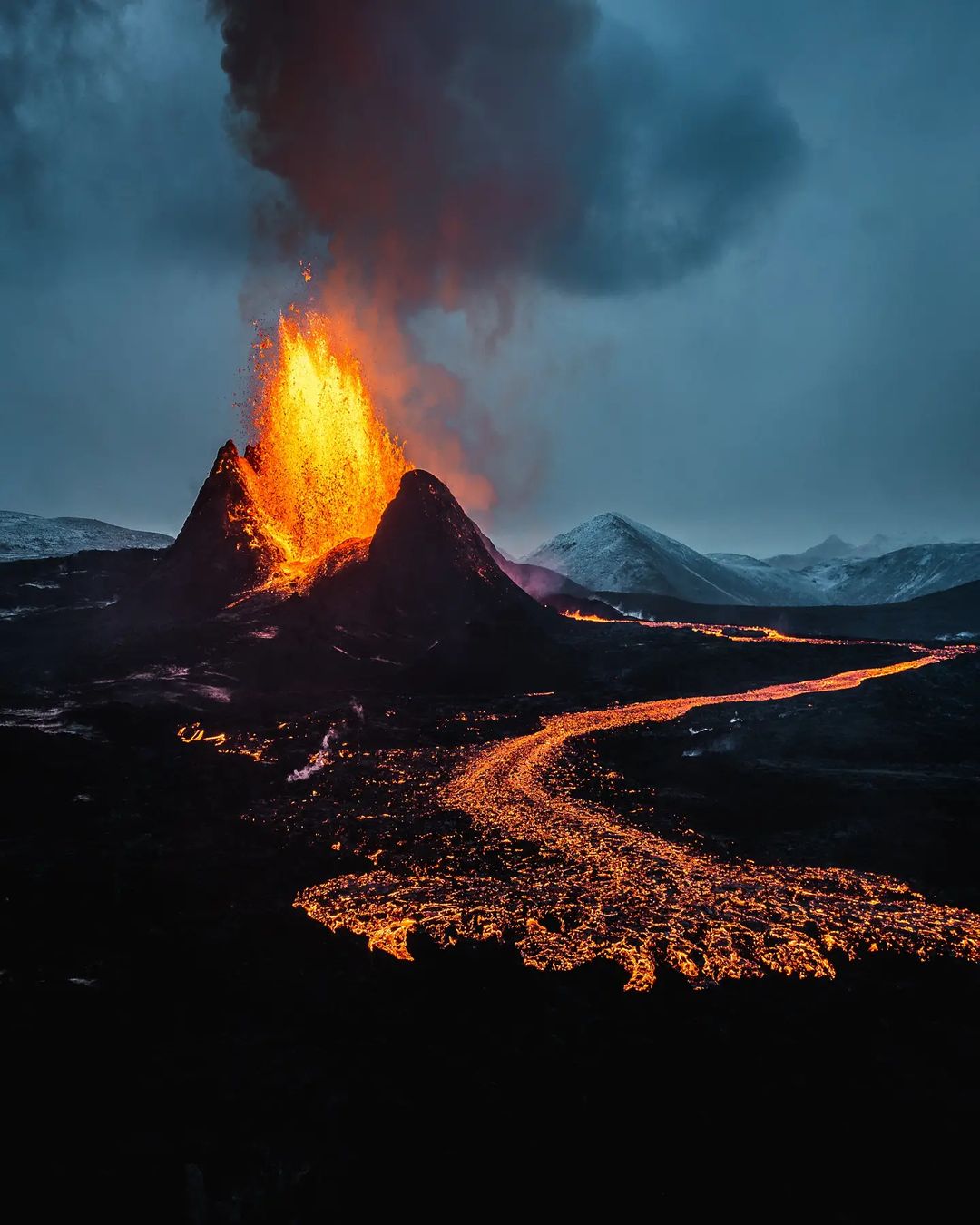 Helguson, who lives in Iceland's capital city of Reykjavik, has also visited Geldingadalir twice as a tour guide. He claims his most notable trip was with his mother, in June.
"The volcano was erupting every 10 minutes or so at that time," he recalled. "In each eruption we had lava fountains reaching up to 460 meters in height, which resulted in hot tephra falling over us like rain.
"The tephra was still quite hot when it fell over us, but luckily the pieces were not big and also quite light, so it wasn't a life-threatening situation. I have to admit I was a bit scared during that visit!"
(Courtesy of Hermann Helguson)
On each of Helguson's visits, he shoots stunning aerial footage of the volcano's progression using his DJI Mavic 2 Pro and Canon EOS R cameras, and a drone, uploading his best work to Instagram and his website. He shoots in RAW using PolarPro filters on the drone, and prefers manual controls with a tripod for long-exposure camera shots.
Helguson says public response to his footage has been emphatic. "Most people wish they were there to see the places I capture with their own eyes," he said.
Transporting equipment aside, one of Helguson's biggest challenges is the weather as the mountain region grows cold.
"I need to prepare well before I go," he said. "I normally dress in three to four layers of clothing, take something to eat and drink with me, put spikes on my hiking boots when it's slippery, due to snow, and also important is to take a headlight when it gets dark … I need to follow the weather forecast as well as checking if there is too much gas pollution in the area."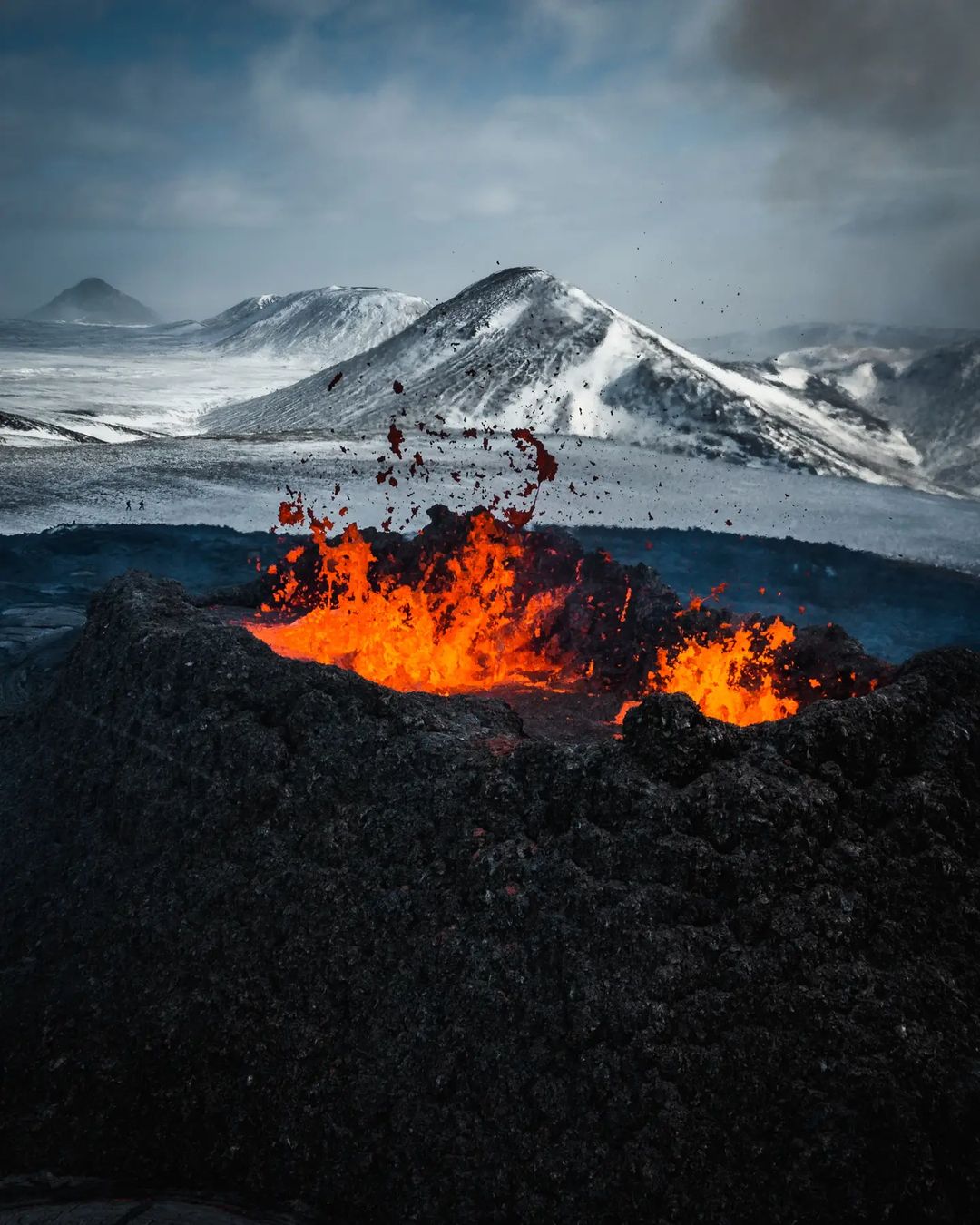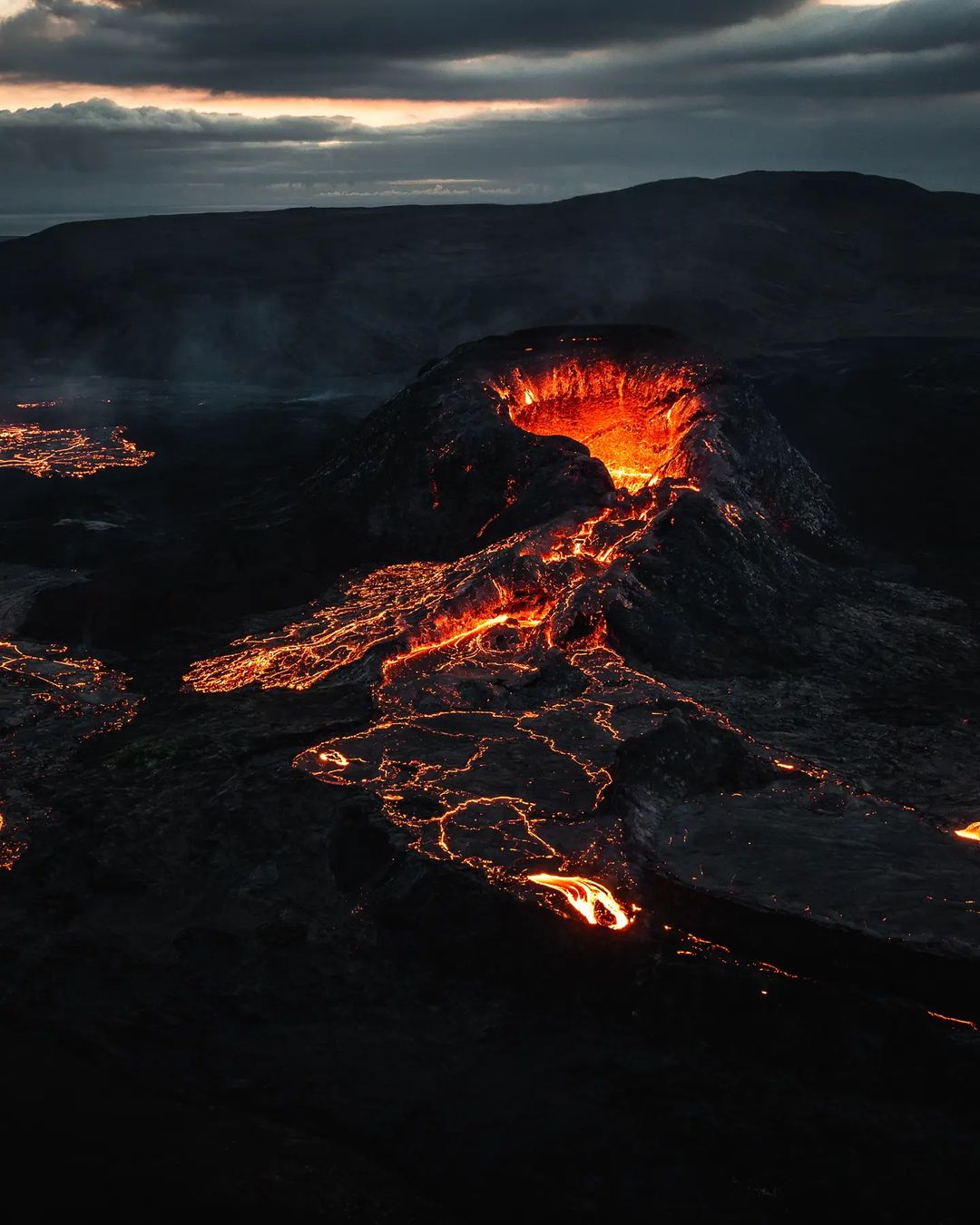 The photographer reads up on volcanology and geology after visits to subsidize his in-person experience. Yet, entranced by the colors of the lava and the sound it makes as it flows, nothing beats the impact of the real thing.
Among his favorite shots is an image captured on a May visit to the site.
"I stayed until late evening and suddenly noticed a full moon shining over the valley," Helguson recalled. "The volcano was very active back then, with a lot of lava river flowing in the area.
"I decided to fly my drone and got this beautiful shot of an S-shaped lava river, with the full moon in the background, and people sitting in the mountain watching everything. I loved that shot."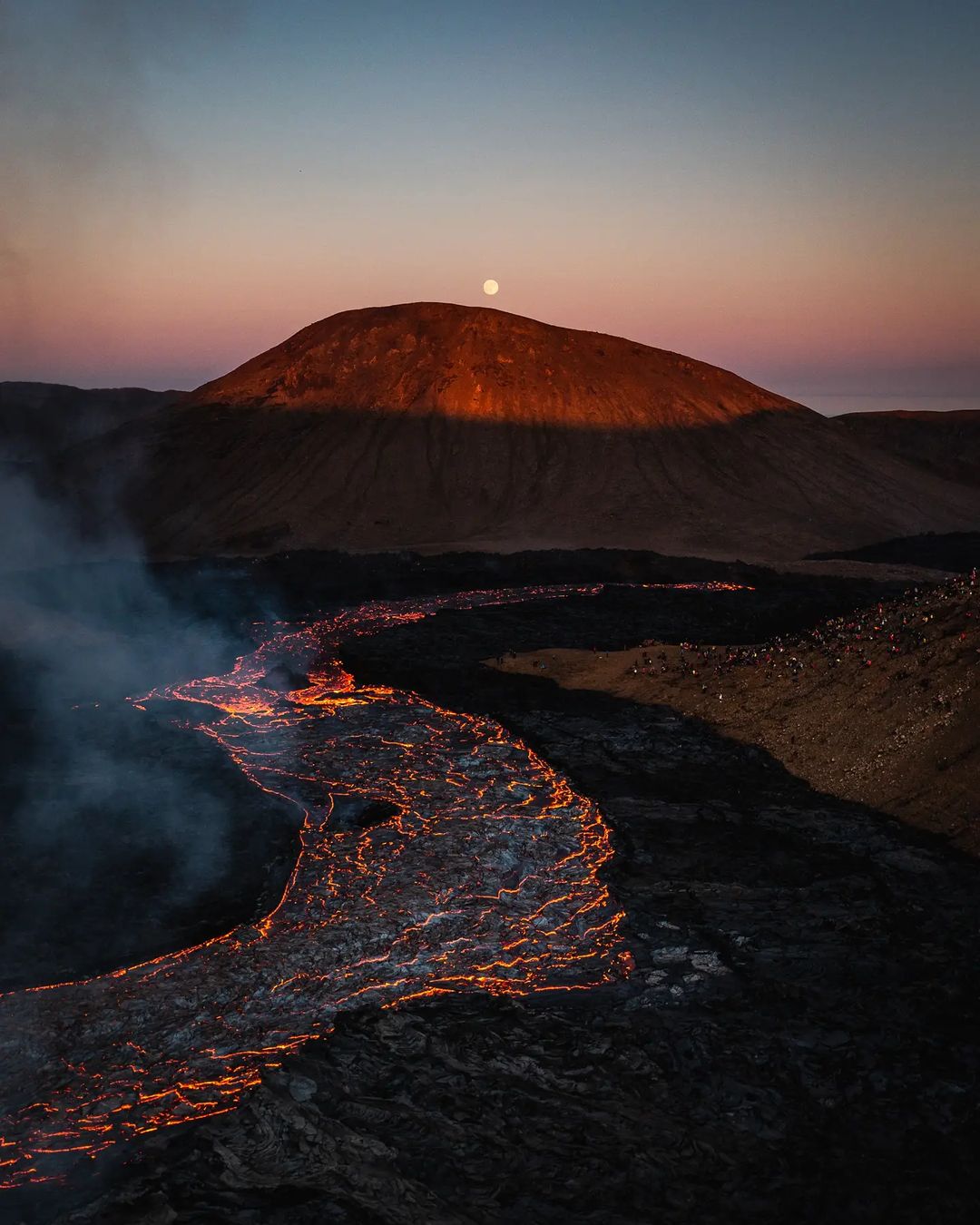 Another of his favorite shots is the one he took in April, shortly after the eruption started.
Helguson said even though it was very dark and snowing, it was the time when a lot of people visited the volcanic eruption site. That particular day he'd been capturing content throughout the whole time and then decided to hike back to his car and head home.
"On my way to the car, I looked back to see the crater one more time," he recalled. "Then I saw this line of people with headlights heading back leading up to the crater in the background, which was a perfect moment to take a picture."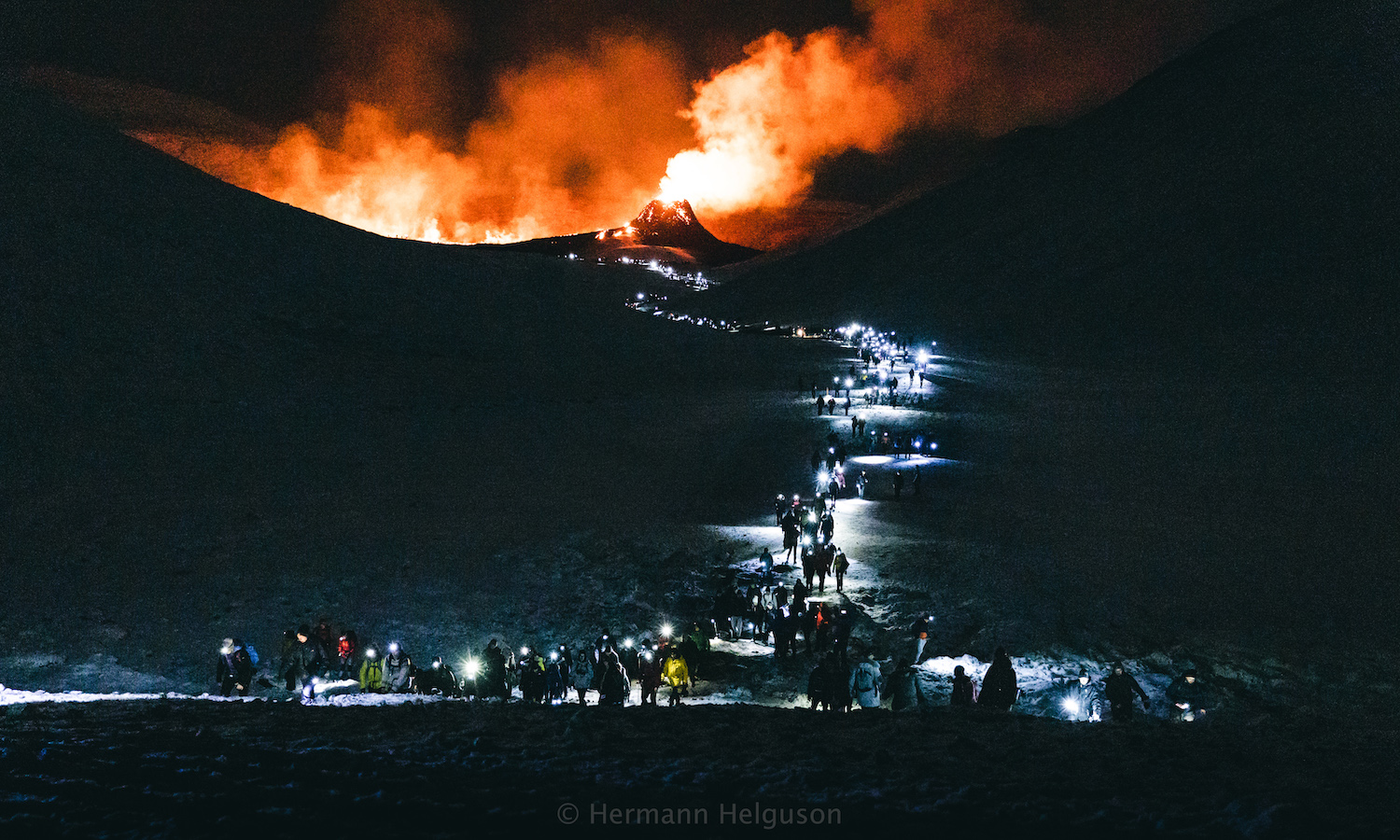 At the time of writing, Helguson said his last trip took place in September. The crater was "sleeping," so he focused on capturing pictures of the smoke and black lava, instead.
The passionate photographer—who works on expedition vessels as a lecturer, a tour guide, an expedition leader, and a Zodiac driver in the Arctic for Iceland ProCruises—dreams of working full time as a photographer and videographer.
He is also planning trips to Antarctica, South Georgia, and the Falkland Islands before leading expeditions in the summer of 2022 in Iceland, Svalbard, and Greenland.
"I want to remind people to follow their dreams while they can," he said. "There are so many people that want to do things 'in the future,' but never do it after all, since they are always busy or trying to find the right time to do it.
"Now is the time!"
Share your stories with us at emg.inspired@epochtimes.com, and continue to get your daily dose of inspiration by signing up for the Epoch Inspired newsletter at TheEpochTimes.com/newsletter