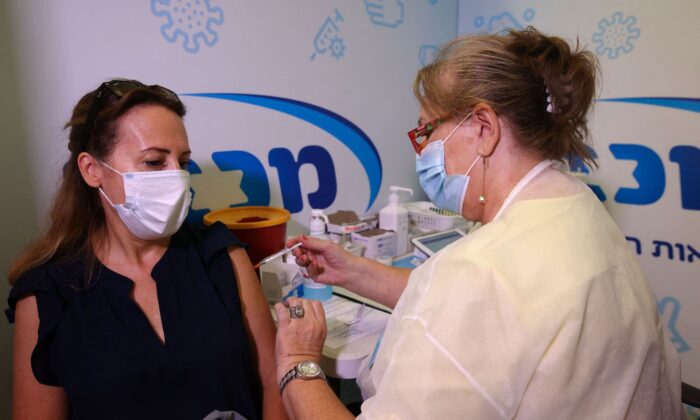 An Israeli health worker administers a third dose of the Pfizer-BioNtech COVID-19 vaccine to a woman, at the Maccabi Health Service in the Israeli town of Rishon Lezion, on Aug. 13, 2021. (Ahmad Gharabli/AFP via Getty Images)
UK Vaccine Watchdog Member Says He's Skeptical About COVID Booster Shots for Everyone
A member of the United Kingdom's Joint Committee on Vaccination and Immunisation watchdog agency has expressed skepticism about COVID-19 booster shots for all adults, coming as U.S. federal health officials said they would start pushing booster shots starting next month.
Speaking on a BBC program, professor Adam Finn said, "We will be imminently deciding that there will be some people who will need a third dose, particularly people who we know are very unlikely to be well protected by those first two doses."
However, during the interview, Finn, a member of the committee, said that he was skeptical about the UK's general rollout of COVID-19 booster shots. More data is needed, he said.
"We do need more evidence before we can make a firm decision on a much broader booster program," Finn said. And, he added, the UK needs "to focus on individuals who are more likely, if you like, to get sick again if they've not got a booster."
His comment came as the heads of the U.S. Centers for Disease Control and Prevention (CDC), Food and Drug Administration (FDA), and National Institutes of Health said they will recommend booster shots for all Americans eight months after they got both doses of an mRNA vaccine.
The announcement drew indirect criticism from the World Health Organization (WHO), who previously called for a moratorium on booster shots in lieu of providing vaccines for poorer countries. Several WHO officials this week expressed concern over wealthier countries' push for third doses of the vaccine.
Within the United States, several scientists expressed concern over the federal government's messaging around boosters.
"The message I got from reading all three [studies] was that there may be some reduction in infection protection with Delta in nursing homes, but no data about waning protection from severe disease or hospitalization," Dr. Walid Gellad, professor of medicine at the University of Pittsburgh's School of Medicine, wrote on Twitter.
After the White House's booster announcement, another expert, Johns Hopkins professor Marty Makary, who has advocated for a different dosing schedule for mRNA vaccines, accused the CDC, FDA, and major pharmaceutical firms of being a "medical oligarchy" and announced: "I will not be getting the booster."
"Public health officials should have listened to chorus of doctors recommending the 2nd dose be given three months after the 1st—as the U.K. did (and I did for myself). Would have saved many more lives while rationing vax & avoided the need for boosters," he said Friday.
Meanwhile, U.S. Rep. Thomas Massie (R-Ky.), who said he won't get vaccinated because he's already contracted COVID-19, tweeted that the FDA and CDC are misleading the public.
"Just last month, CDC & FDA said no booster needed. At the time, they worried that the truth about long-term vaccine efficacy would cause 'vaccine hesitancy,'" the Kentucky Republican wrote. "They ignored widely available data and drug manufacturers, because both indicated efficacy had dropped significantly."