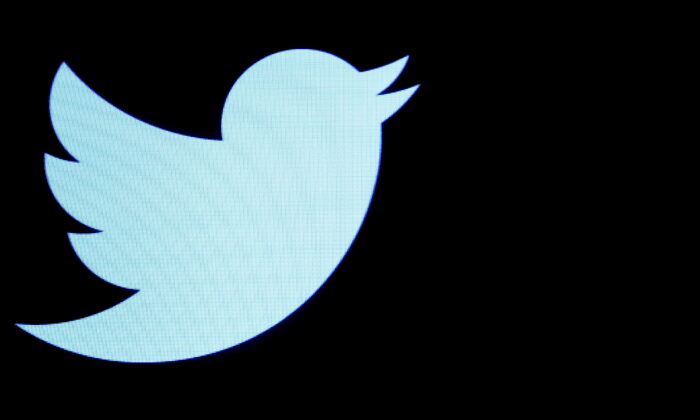 The Twitter logo is displayed on a screen on the floor of the New York Stock Exchange (NYSE) on Sep. 28, 2016. (Brendan McDermid/Reuters)
Twitter Slaps 'Unsafe' Label on Abstract in American Heart Association Journal
The abstract expressed concern over an elevated risk of heart disease resulting from mRNA vaccines
On Thursday, Twitter applied a warning label to a post of a study abstract from the American Heart Association website AHA Journals that expresses concern over mRNA vaccines and heart disease.
The abstract, published Nov. 8, is titled "Abstract 10712: mRNA COVID Vaccines Dramatically Increase Endothelial Inflammatory Markers and ACS Risk as Measured by the PULS Cardiac Test: a Warning." The author outlines evidence that mRNA vaccines contribute to factors that predict an elevated risk of Acute Coronary Syndrome, which can lead to "inflammation on the endothelium and T cell infiltration of cardiac muscle and may account for the observations of increased thrombosis, cardiomyopathy, and other vascular events following vaccination."
The abstract was written by Steven Gundry, MD at the International Heart & Lung Institute in California.
A link to the abstract was posted on Twitter on Thursday by Marina Medvin, a trial attorney and opinion columnist. The post was flagged by Twitter's system for screening and disclaiming content perceived as harmful.
When attempting to open the link, one is redirected to another Twitter page with the warning: "this link may be unsafe."
Previously, this warning system was only used in the case of spam, malware risks, and other deceptive means of soliciting clicks or information. However, its scope has been expanded to include "violent and misleading content that could lead to real world harm" and "certain categories of content that, if posted directly on Twitter, are a violation of the Twitter rules."
The study is not currently peer-reviewed.
AHA Journals has also published an Expression of Concern concerning the abstract on Nov. 24: "[T]here are several typographical errors, there is no data in the abstract regarding myocardial T-cell infiltration, there are no statistical analyses for significance provided, and the author is not clear that only anecdotal data was used."
This incident occurs as Twitter undergoes a major transition following the sudden departure of CEO and founder Jack Dorsey on Monday. His replacement Parag Agrawal has made waves in his first week as CEO by pursuing a comprehensive reorganization of the site and its administration.
While the AHA warning label is likely unrelated to these developments, it nonetheless indicates a willingness to stigmatize information skeptical of the dominant scientific narratives about the CCP (Chinese Communist Party) virus—even if that information comes from an organization as widely known and respected as the American Heart Association.
The Epoch Times reached out to Twitter for comment.