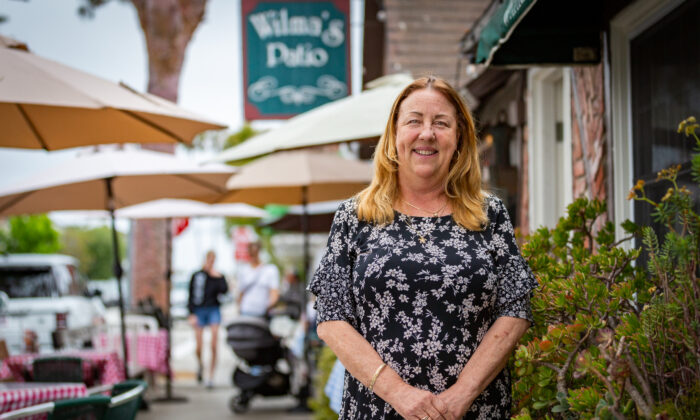 Owner Sheri Drewry stands in front of Wilma's Patio Restaurant in Newport Beach, Calif., on June 3, 2021. (John Fredricks/The Epoch Times)
The Flavor of Gratefulness: Restaurant Owner Shares Her Pandemic Journey
It's been more than a year since Gov. Gavin Newsom mandated the closure of all California restaurants to curb the spread of COVID-19. The stay-at-home order devastated the food industry, cost nearly 1 million related jobs, and resulted in hundreds of billions of dollars in lost revenue.
Restaurants throughout Southern California struggled to survive the restrictions; many didn't make it. But Wilma's Patio in Orange County's Newport Beach has managed to endure—and owner Sheri Drewry told The Epoch Times she's grateful for the loyal customers who provided the opportunity.
"I'm a people pleaser and I'm a foodie, so I love the whole process of how food brings people together and creates a job industry for people," Drewry said. "It's always been about making people happy."
Wilma's Patio is a family-friendly eatery specializing in homestyle cooking. The eatery has become a fixture on Balboa Island since it opened in 1982, nearly 40 years ago.
While other restaurants on the island struggled, Drewry and her team kept a positive attitude, thanks to gracious customers and a supportive community. The mindset allowed Wilma's Patio to stay afloat, surviving the worst of the pandemic as it looked forward to a full reopening.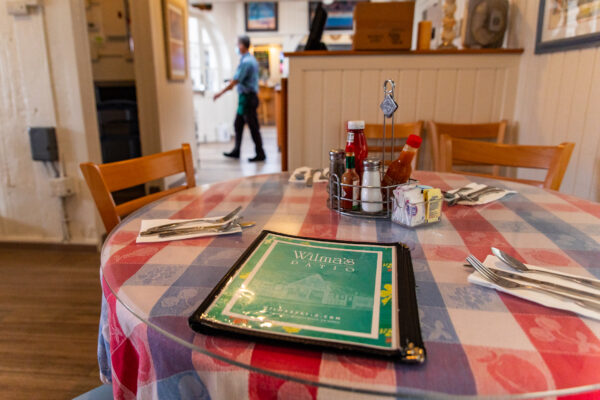 'How Do We Do This?'
Drewry took over the restaurant after her parents passed away. Despite immense challenges, she continued to serve loyal diners with team members that have become like family to her and to each other. Some have been working together for 20 to 30 years.
But nothing could have prepared any of them for the complications the CCP (Chinese Communist Party) virus would bring to local eateries—beginning with the mandatory closures in March 2020.
"In the beginning, everybody thought it was just going to be two [or] three weeks," Drewry said. Soon, however, she realized it was going to be much longer.
"The day after we closed, we started with the to-go only, and boy, that was really weird," she said. Before long, she began to ask herself, "How do we do this?"
Drewry and her staff quickly adapted by modifying their business plan.
"We decided we were going to do free deliveries on the island," she said. Restaurant employees started to bring food to people's homes, right up to their front doors. "That was a really smart move that paid off well. But in the beginning, it was so much unknown."
Scheduling adjustments were made to keep the entire staff working through the restaurant's reduced hours. But it was Balboa Island's atmosphere during the most stressful stretch of the pandemic that helped her team stay positive, she said.
"One thing I think I'm the most grateful for is the fact that Balboa Island was probably the one place in the universe that felt almost normal, where everything else felt like you're in the Twilight Zone," she said.
"You could still walk around the island, and they would flip it on different days, you know, so you could walk to the left and go around the island that way, or go walk to the right and walk around the island," she said. "Because it was an outdoor activity … we had a lot of people coming to the island just to walk, to get out, so that helped the sanity sector."
But although Balboa Island remained comfortable for Drewry, some of the other local businesses didn't make it through the pandemic—including some that had been around long before Wilma's Patio had been established.
"Even the Starbucks didn't survive," she said. "We lost a lot here to be honest with you, so it's nice to see the stores slowly filling back up again."
The damage may not yet be over. "There could definitely be a domino effect, depending on what industry it is," she said. "But I think the ones that were hit really hard was any business with a storefront."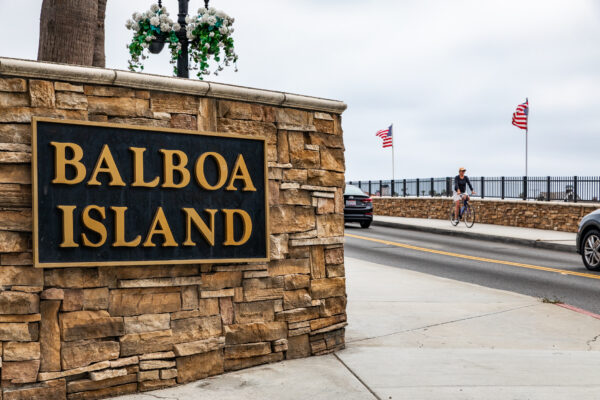 Community Support
Drewry credits many moments of individual kindness with helping her team get by over the course of the challenging year.
"It was unreal how caring the customer base was to my team," she said. "We had one guy come and spend $3,000 in cash to buy gift certificates. I had another come and just hand me $1,500. I had people mailing me money to give to my staff."
Drewry also found hope and encouragement when the city of Newport Beach issued her the permits she needed, allowing the restaurant to serve customers outdoors on the sidewalks.
"I think it was a constant adjustment, daily to weekly, on how to survive this thing," she said.
The local restaurant community banded together during the pandemic to support each other during monthly meetings. The gatherings have been so successful that they have continued.
"It's a bunch of us restaurateurs that meet every month and talk about what we're going through with the pandemic," she said. "We talked about everything and tried to be there for each other."
Members of the group can all relate to the current challenges they face in finding employees, Drewry noted, and many are offering sign-on bonuses.
"Restaurants are really struggling to get the help they need. The amount of money that these cooks and kitchen help are now getting has just skyrocketed," she said.
"I'm not sure if it's from the unemployment [benefits], or if it is because some of the people changed industries—I'm not sure why."
Drewry said she considers it a blessing that she was able to keep her employees, who are like family to her, throughout the struggle. "The employee pool is dried up and gone away, especially for cooks and things. I'm so grateful I was able to keep most of mine when so many lost theirs."
Drewry and her team look forward to the full reopening of Wilma's Patio on June 19.
In the meantime, she continues to run the family business with the same mentality she had prior to the pandemic: being able to find beauty in the challenges and enjoying the opportunity to bring people together with delicious food.
"This last couple of months have been so beautiful, because I've finally seen people I haven't seen in years," she said. "That's what keeps me going every day—because it's a hard, hard industry."
The family-friendly, casual dining atmosphere of Wilma's Patio is open for business at 203 Marine Ave. in Newport Beach, on Balboa Island. Dine-in, curbside pickup, and deliveries are available.