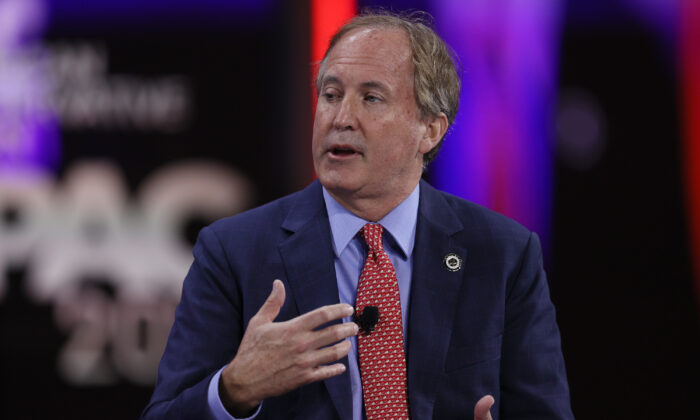 Ken Paxton, the Texas attorney general, speaks at the Conservative Political Action Conference held in the Hyatt Regency in Orlando, Fla., on Feb. 27, 2021. (Joe Raedle/Getty Images)
Supreme Court Declines to Hear Religious Liberty Dispute Between California, Texas
The Supreme Court said on April 26 it won't hear a dispute between Texas and California over the latter's ban on state-funded business travel.
The nation's top court delivered the decision in an unsigned order.
Texas Attorney General Ken Paxton in February 2020 asked the Supreme Court to strike down California's ban of state-funded travel from Texas, enacted in response to a law passed in Texas that allows foster care and adoption agencies to decline placements that don't align with their religious beliefs.
"The law California opposes does not prevent anyone from contributing to child-welfare; in fact, it allows our state to partner with as many different agencies as possible to expand the number of safe and loving homes available to foster children. Boycotting states based on nothing more than political disagreement breaks down the ability of states to serve as laboratories of democracy while still working together as one nation—the very thing our Constitution intended to prevent," he said in a statement at the time.
Nineteen states filed a brief in support of Texas.
The law in question, HB 3859, lets agencies place children only in houses with a married mother and father, among other provisions. California asserted the law "does protect agencies that discriminate on the basis of sexual orientation or gender identity."
"For example, it would not protect an agency that declines to provide adoption services to an interracial couple on religious grounds; it would, however, protect an agency that declines to provide the same services to a same-sex couple on religious grounds," the state said in a filing (pdf) to the Supreme Court, arguing that the measure effectively authorized discrimination against gay and lesbian couples hoping to adopt or foster children, which would violate California law.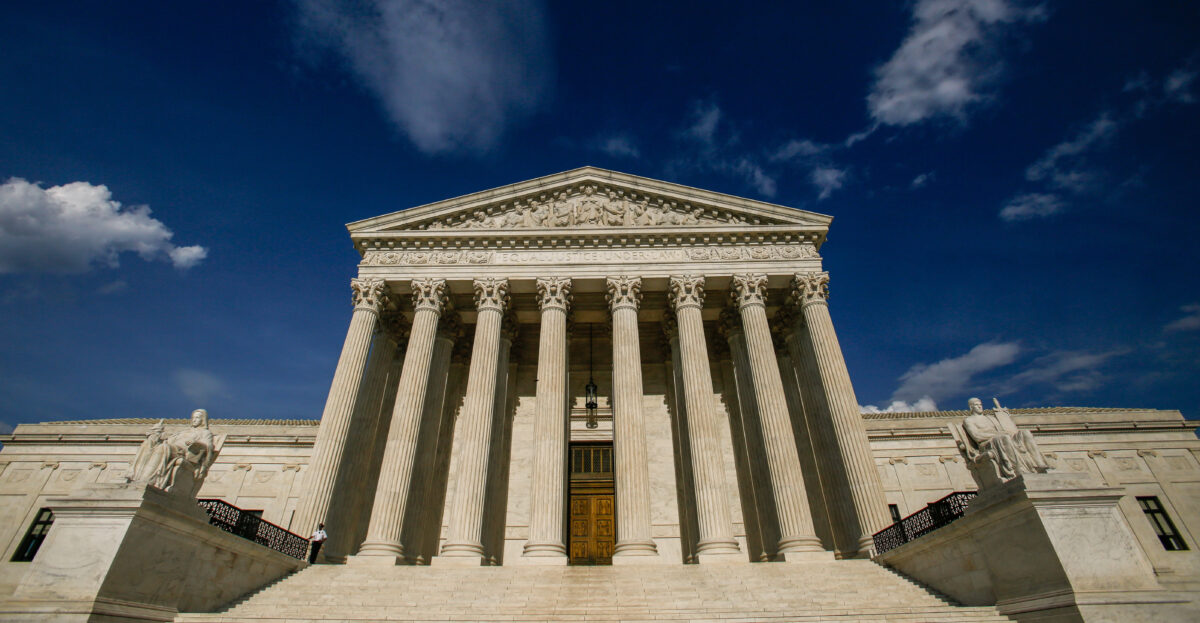 In its unsigned order, the Supreme Court didn't explain why justices rejected Paxton's challenge.
In a dissent (pdf), Justice Samuel Alito, joined by Justice Clarence Thomas, wondered why the court wouldn't allow the filing.
Alito conjured up a situation in which where a Texan and a Californian were involved in a traffic accident in California. He said when the Texan tried to sue the Californian in federal court, he invoked the "diversity" jurisdiction and the district court refuses to allow the filing of a complaint.
Alito imagined the court saying: "I know that the Constitution and a federal statute give me jurisdiction over diversity cases, and I know that the Framers of the Constitution and the Congress that enacted the statute thought that diversity jurisdiction was important because it provides a neutral forum for out-of-state parties. But in my opinion, that's not really so important anymore, and if I have to handle diversity suits, I won't have the time I need to deal with more important matters. Therefore, in the exercise of my discretion, I am ordering that the complaint not be accepted for filing.
"The State of Texas wishes to sue the State of California and invokes our 'original and exclusive jurisdiction of all controversies between two or more States,'" the George W. Bush nominee wrote.
"Can we justify our refusal to entertain Texas's suit on essentially the same ground that we would reject out of hand in the hypothetical diversity case just described, that is, on the ground that our original jurisdiction no longer seems as important as it was when the Constitution was adopted, and that a proliferation of original cases would crowd out more important matters on our appellate docket?"
Paxton's office did not respond to a request for comment.
California Attorney General Rob Bonta said in a statement emailed to The Epoch Times that the Supreme Court decision "is a win for California and it's a win for our commitment to respecting LGBTQ+ rights."
"Bottom line: Texas can't dictate how the State of California uses its own resources. At the California Department of Justice, we will keep doing our job and keep pushing back against LGBTQ+ discrimination — because that's exactly what California law requires," he added.