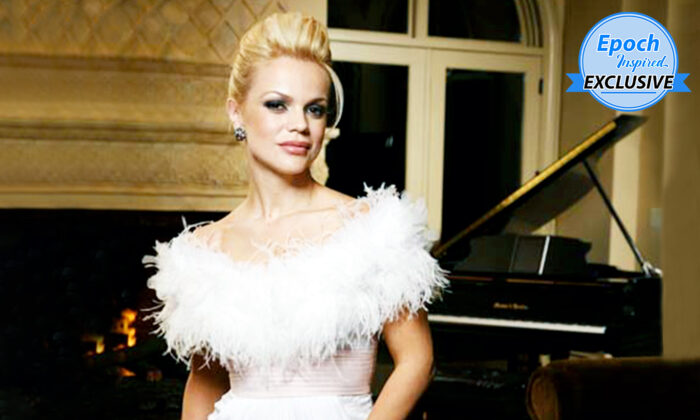 Elida Dakoli, the founding ambassador of the Victims of Communism Memorial Foundation's Dallas Commission and the executive director of the Dallas Institute of Musical Advancement. (Courtesy of Elida Dakoli)
Pianist Persecuted in Communist Albania Warns Against Socialism in the US: 'Don't Fall for It'
'Capitalism is the only option that offers you the freedom of family life, success, and liberty'
An accomplished classical pianist who grew up in communist Albania—and whose family was labeled by the Party as having a "bad biography"—overcame political persecution and is now using her family's story to warn people that "socialism is a cover-up for communism."
Elida Dakoli, an American Albanian who was born in the city of Durrës, Albania, couldn't escape the designated label as a child. It all began with her maternal great-grandfather and paternal grandfather, who were eventually poisoned to death by the communist party.
"My family was given the label of 'bad biography' on both sides," Dakoli told The Epoch Times.
"On my mother's side, her grandfather was a prominent pro-democracy political figure. On my father's side, his father was a successful businessman who refused to turn over his self-earned property to the Party. Both were disruptors of the order the Party had worked hard to impose."
Now residing in the Texan city of Dallas with her husband and three children, Dakoli said she's read that communist persecution of a family often goes on for up to three generations, but in her family's case, it went on for longer.
As a great-granddaughter of one of the founders of the first Albanian pluralist Congress in 1921, Dakoli endured sabotage of her musical endeavors by her classmates and teachers, not to mention having been robbed of the inheritance of her family's hard-earned wealth, which had been sequestered from her grandparents in 1945 by the then-new communist government.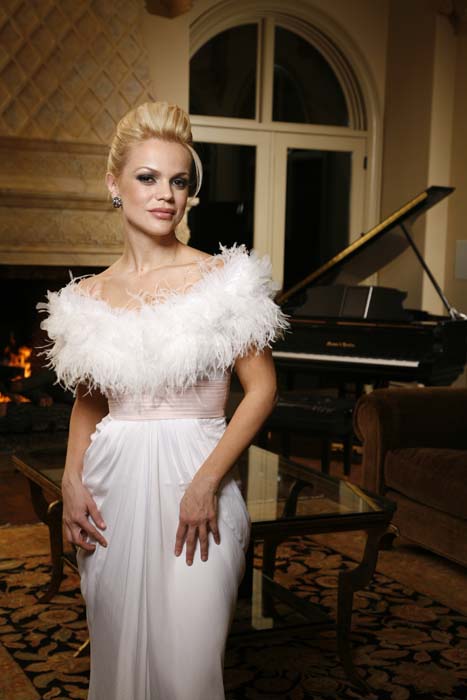 Remember, socialism is a cover-up for communism … They want control, and the only way to that is by brainwashing this Amazon generation. Don't fall for it!
After the fall of communism in Albania in 1991, things began to change for then-teenaged Dakoli, and she's since gone on to become an international concert pianist, recording artist, educator, entrepreneur, published author, and human rights advocate.
Most recently, Dakoli joined the National Advisory Council of the Victims of Communism Memorial Foundation (VOC), and as the founding ambassador of the VOC's Dallas Commission, she successfully appealed to the Texas Congress to pass legislation commemorating the victims of communist regimes. As a result, in May this year, Texas became the fourth state to officially recognize November 7 as "Victims of Communism Memorial Day."
To Dakoli, this commemoration day is of great importance. She pointed out that, despite the fact that Karl Marx clearly revealed in his "Manifesto of the Communist Party" that socialism is the first step toward communism, alarmingly, socialism among the younger generation is turning into a trend these days.
"This ideology is managing to infiltrate their minds through the usual lie as a perfect solution, playing on the uncertainties of capitalism," she said. "Capitalism is the only option that offers you the freedom of family life, success, and liberty.
"Our goal is to educate new generations about the ideology, history, and legacy of communism to ensure that the millions who suffered—and still suffer—under communist regimes are not forgotten."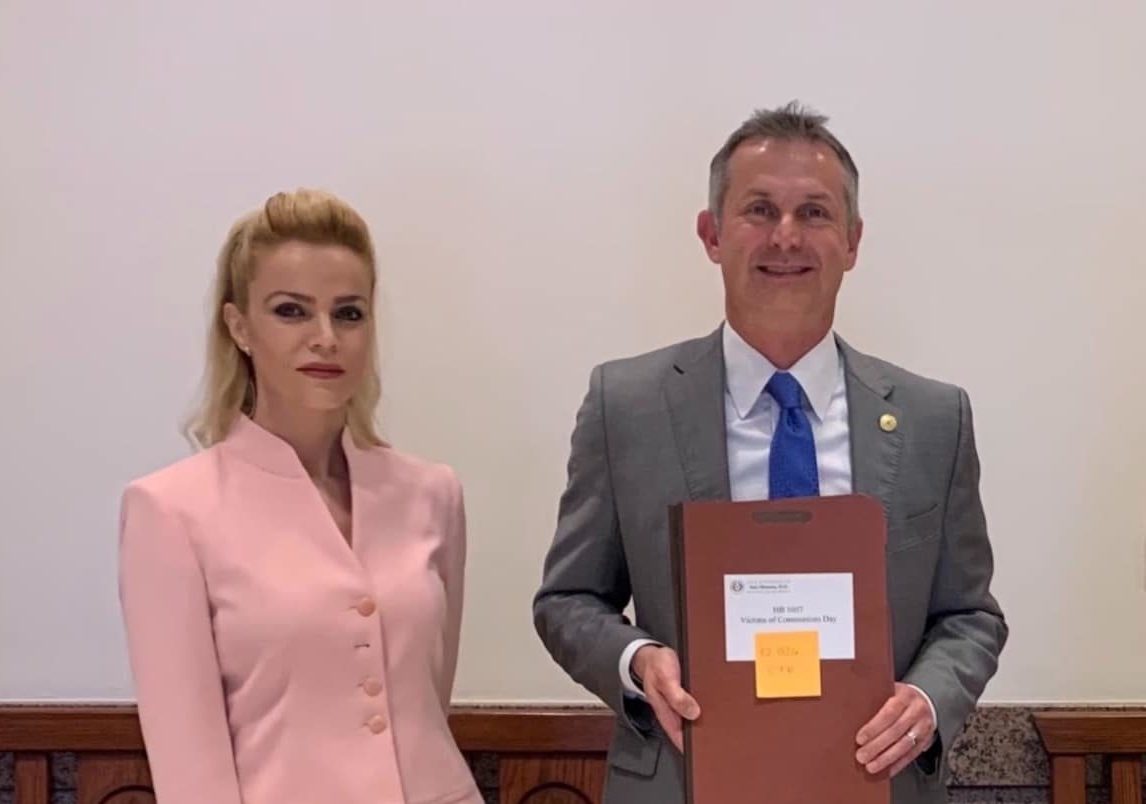 Political Persecution
Dakoli's great-grandfather on her mother's side, Hysen Myshketa, was a well-known attorney and city mayor of Durrës, a patriot to his country, and a leading supporter of democracy. He was elected as a congressman in the new Albanian Congress in 1943 but was subjected to an assassination attempt on Oct. 4, 1943, just days before the opening of Congress—where he was to give the opening speech.
"He was walking home to eat the lunch his lovely wife had prepared for them at home, and he was shot twice in the street," Dakoli said. "The two shots didn't kill my great-grandfather. He miraculously survived and started to feel better after a few days in the hospital. However, he died when a nurse poisoned his milk."
Dakoli's grandfather Isa Myshketa—Hysen Myshketa's son—was there during the shooting, and decades later, after the advent of democracy, was able to relay to his grandchildren what had happened. After discovering two shots had hit his father but not killed him, he grabbed his father's arm to walk him to the nearby hospital, but the communist assassins kept firing at both father and son as they walked. Though they failed to achieve the fatal shot they were after, the assassins continued their pursuit by going every day with hidden revolvers to the hospital where Hysen was recovering. They couldn't get past the guards to shoot Hysen there, but a nurse was eventually compromised and Hysen died from poisoning on Oct. 10, 1943.
"Even though he was being guarded at all times, communists somehow managed to achieve their goal of killing a fighter for freedom," Dakoli said.
His Congress opening speech ended up being read by one of his friends.
Dakoli said that the communist party was supposedly fighting for the "so-called freedom" of the country; however, their ulterior motive was "eliminating the elite of the country."
"This way, they would have an easier ride in taking power," she said. "To justify their actions, they always used the Marxist-Leninist slogan 'in the name of the people.' But who were these people? The 'people' were terrorized."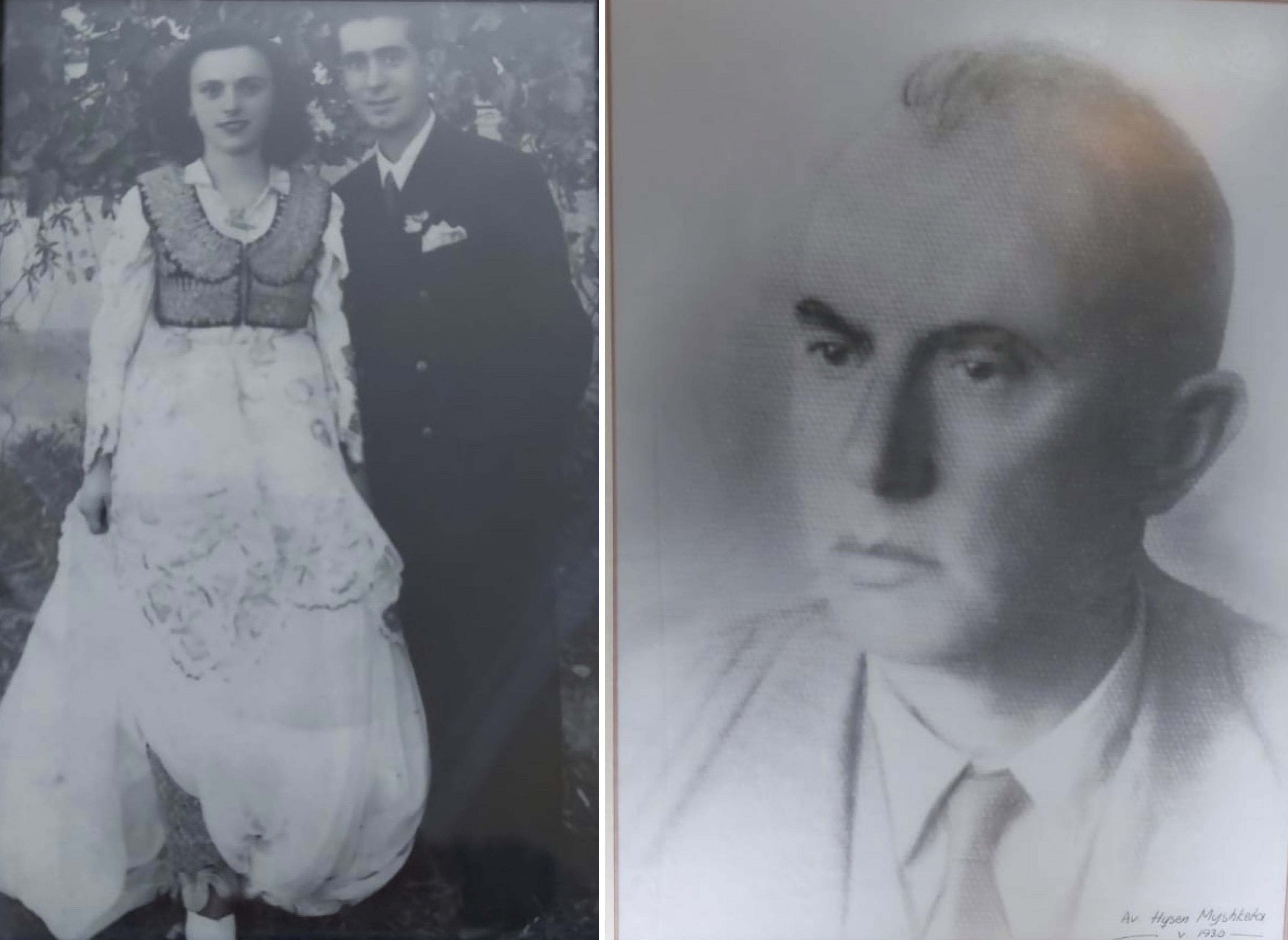 Dakoli's paternal grandfather, Sadik Dakoli, was also a target of the communist regime. A man dedicated to family and a supporter of education in Albania, Sadik was a philanthropist—as was his father before him—donating monthly toward educational causes.
"Sadik Dakoli never thought that the communist party, made up of uneducated people that only knew how to murder and violate, would take over the country—and keep control," she said of her grandfather.
Dakoli said that "the first hit to the Dakoli family" came with the public announcement of "Sequestration Decision 278" on Jan. 14, 1945, which ordered that all movable and immovable property be sequestered by the new government.
"This meant the government was coming for the Dakolis' business and gold, our homes in the city, and their olive fields in the country," she said. "Even the furniture and clothes were technically property of the communist state."
By 1946, Dakoli's grandfather Sadik had been arrested, and her grandmother Jaja along with her four children—including Dakoli's father, Eqrem, who was 4 at the time—were thrown into the street in the middle of the night.
"After ransacking their home, the communist militants violently ripped the gold coin necklace from her neck and the wedding ring from her finger," Dakoli said. "The soldiers didn't even allow enough time to vacate for the children to put on shoes or put on coats. They just kicked them out of their own home.
"Once the family was outside, they were told, 'The Dakoli family has been identified as an enemy of the people. As such, they do not deserve to live in luxury with the money they have gained by sucking the blood of the working class. Their property has been officially transferred to the state and they are being evicted from this home, effective immediately.'
"This family, who had worked so hard for generations to develop the economy of their city and country, who had created an international business that represented Albania with pride all over the world, from this terrible night on, never again saw a beautiful day in their lives."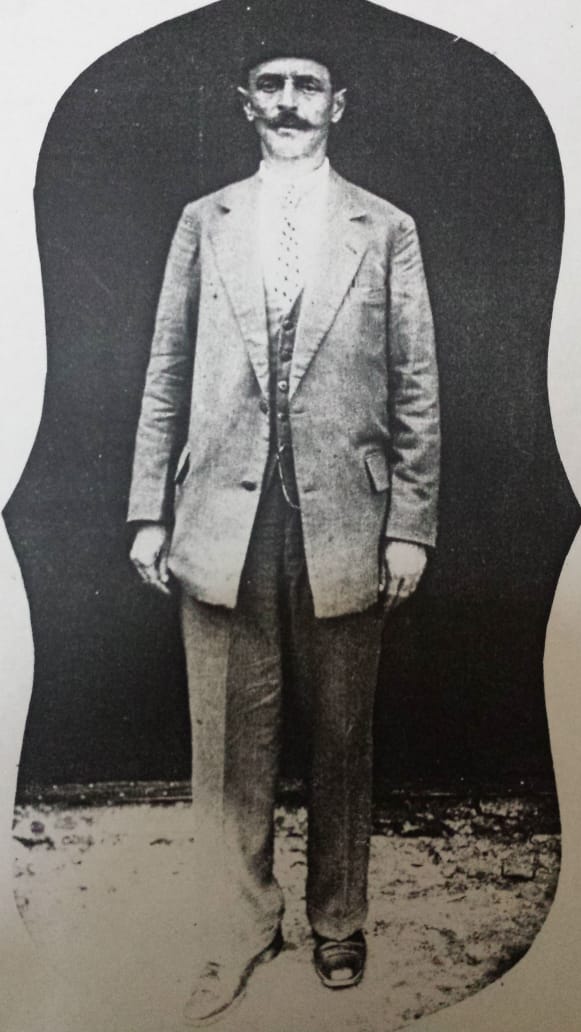 While her grandfather Sadik became a work slave in a gulag, her grandmother, father, and his siblings went to live in one room with her grandmother's brother and his family. Sadik later died behind bars in 1951.
"He was also poisoned," she said. "His family wasn't notified. My grandmother only found out weeks later after waiting for hours to visit him when a guard told her that Sadik no longer existed, so there was no reason to wait. To this day, we don't know where his grave is."
A 'Bad Biography'
Dakoli revealed that a person in communist Albania only had a "bad biography" if they were related to someone who didn't agree with the communist view.
"To have a 'bad biography' was to be a second-class citizen that bears the mark as an 'enemy of the people,'" she said. "Many with 'bad biographies' were murdered, like my great-grandfather, or imprisoned, like my grandfather, but even more were persecuted."
This designation, Dakoli said, was a way for the communist regime to punish political dissidents beyond their own lives with the suffering of their families for generations.
"Those with a 'bad biography' did not have the same privileges as the rest of their community," she said. "Their job options were limited, as most were not permitted to pursue advanced education or careers. They were often forced to move to the country to work and farm the government-owned land."
Dakoli remembers Albania during communism as a place where people lived with fear, unable to trust anyone. Even if a person didn't have a "bad biography," living conditions were still very poor.
"In a two-bedroom, one-bathroom apartment, the Party would place two families that never met each other before to live together," she said. "Everything was rationed. Only 10 eggs for the family a month, 1/2lb of cheese, and so on. Everything was so limited. However, no one was able to complain as they would end up in prison and their families would be persecuted with a 'bad biography.'"
Dakoli lived in cramped conditions, sharing a two-bedroom, one-bathroom apartment with her parents and brother; her uncle, his wife, and their two children; and her grandmother.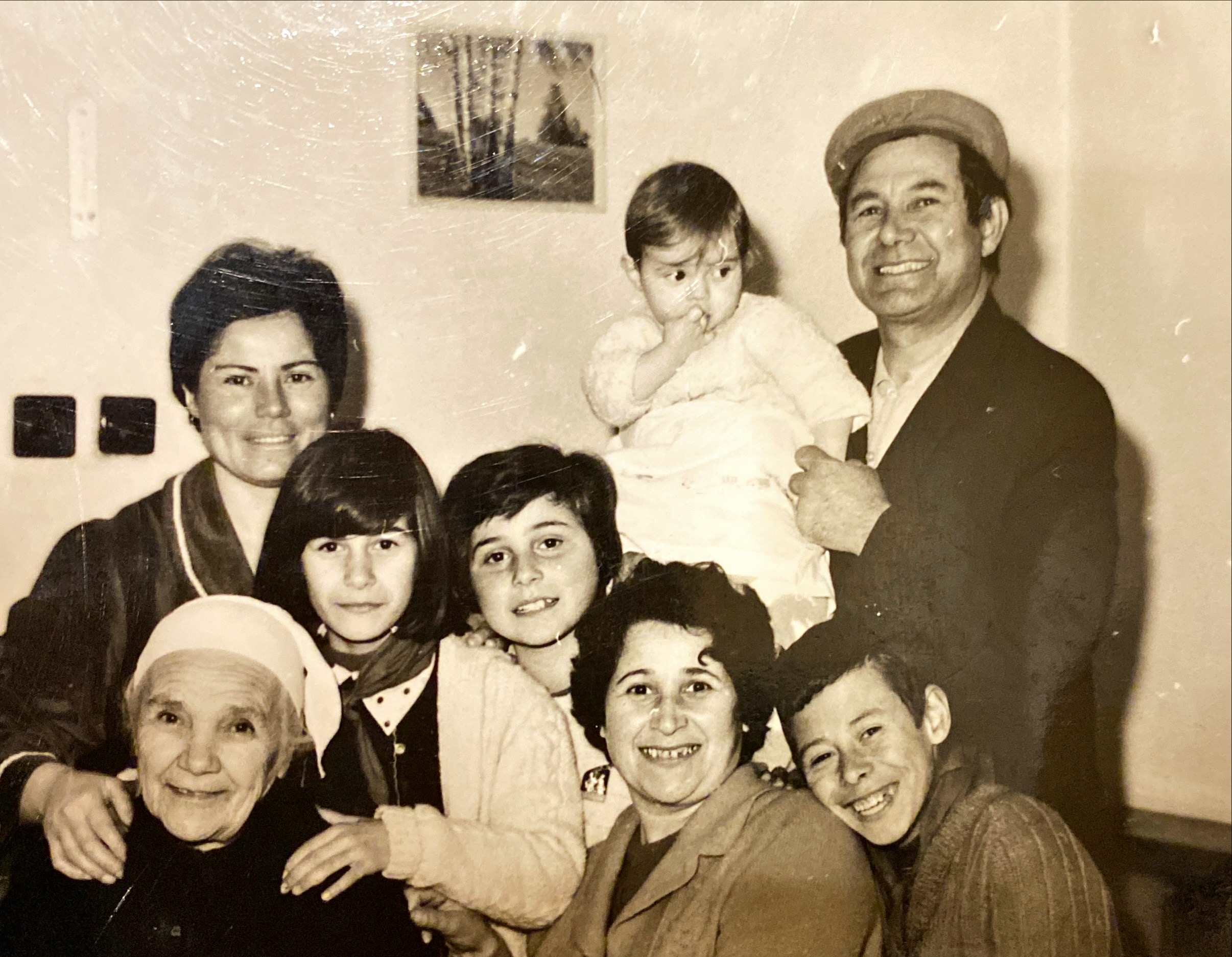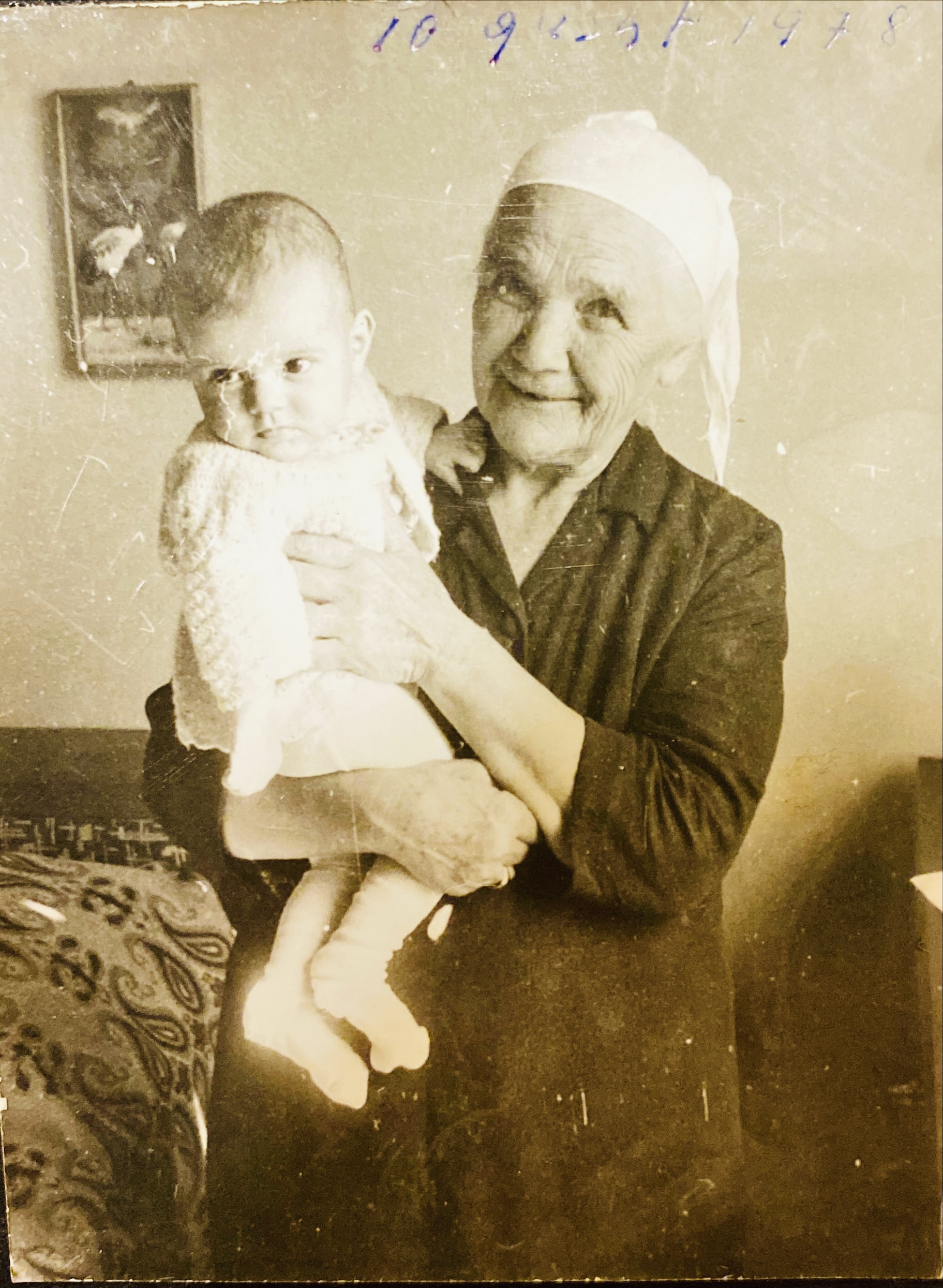 Yet Dakoli's daily obstacles as a child during the 1970s and '80s went beyond just living in poor conditions. Daring to aim high with her musical aspirations from the age of 6 despite having been designated with a "bad biography" since birth, young Dakoli's first obstacle as an aspiring pianist was that she had no piano.
"They were considered private property and only the elite party members could own one," she said. "Therefore, I had a long sheet of paper with keys drawn on to use for practice. This was my piano for the first few years, but my parents always encouraged me to visualize and imagine playing in a concert hall."
Later, Dakoli was finally assigned a time at the school to rehearse, but because of her "bad biography," she was given the earliest time. Each day, her mother would wake her at 5:00 a.m. to dress her half-asleep, and an hour later, her father would take her to school on his bicycle before work. In addition, each day, she had to prepare for "a new form of sabotage," and the one that stands out most in Dakoli's memory is "the missing lightbulb."
"On my first day of the new practice session, the lights were out," she recalled. "Next session, it happened again, and I could not see while practicing. We discovered that children or their parents had started taking the lightbulbs from the overhead light."
From that day on, Dakoli's family started bringing their own lightbulbs, but eventually, even they didn't work, as the breaker had been shut off. "So we brought an electrician just to practice," she said.
"This happened because the competition was so intense. But my father always encouraged me to see the positive side of things and redefine setbacks as new little adventures. He would joke by saying that 'now it's time to show your strength and perform like a true artist that isn't scared of anything—the weather, broken keys, or a missing lightbulb.' This mentality of setbacks as an adventure has been pivotal to my success as Elida today."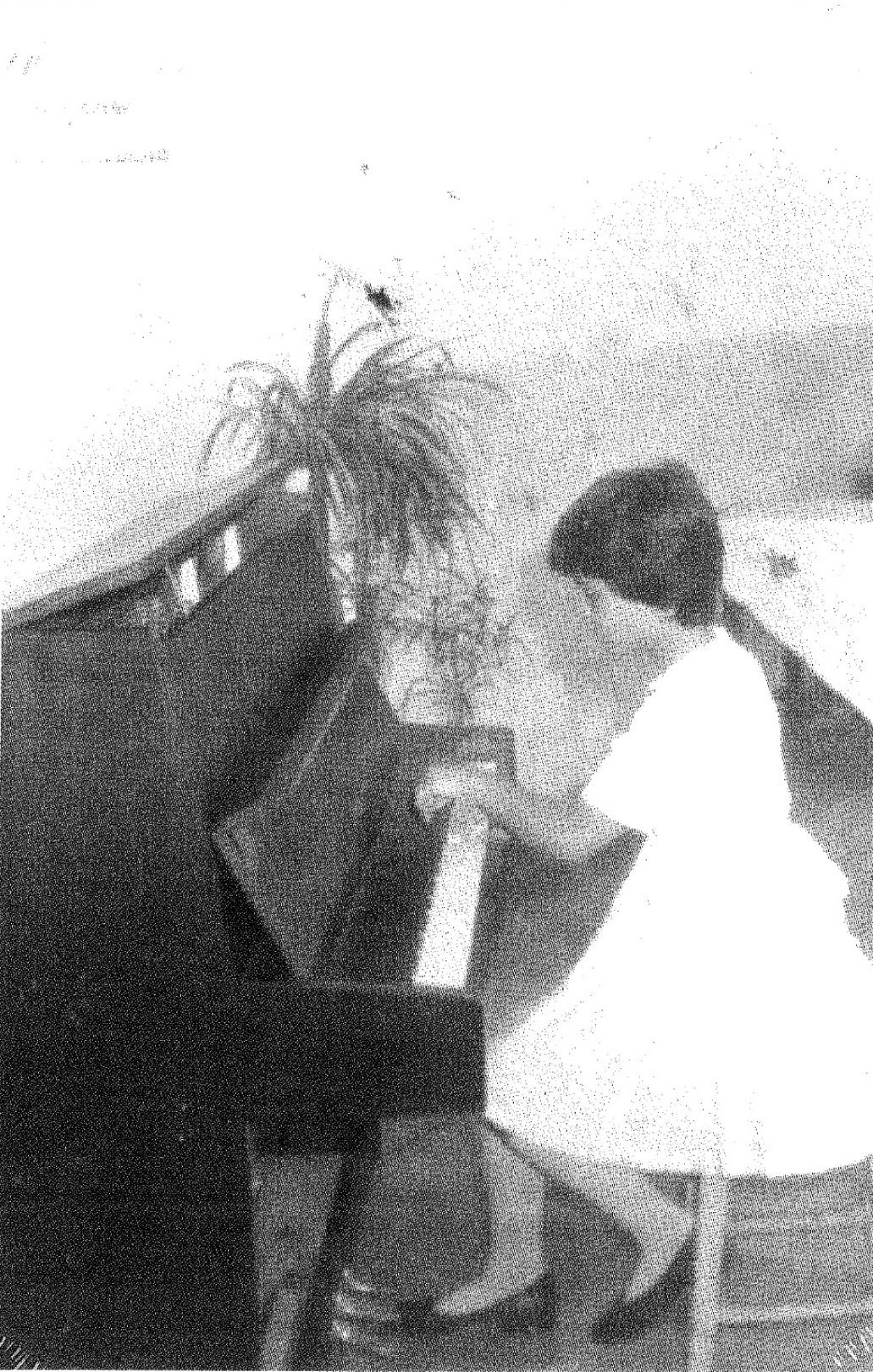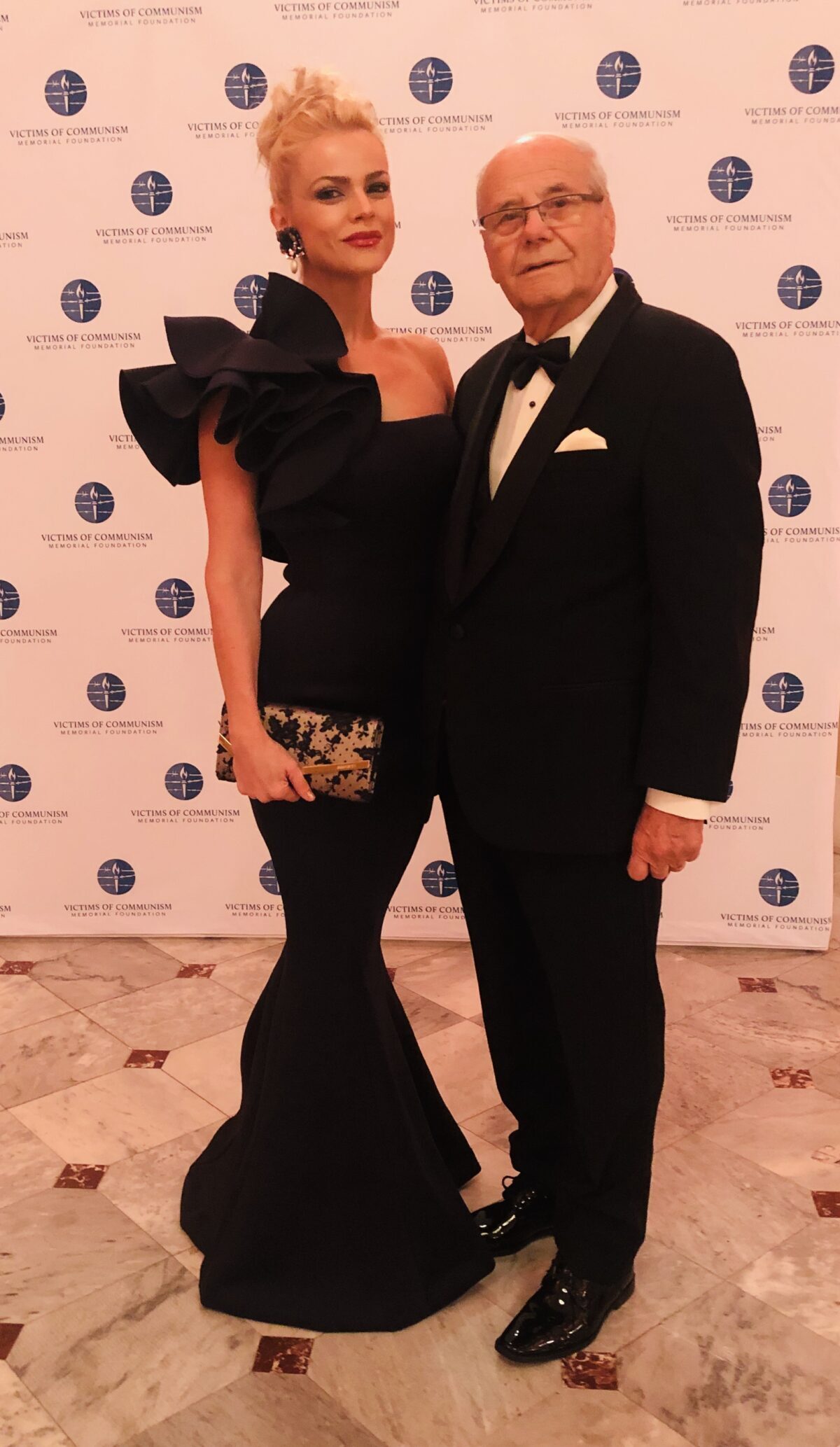 For Dakoli, being accepted into the Academy of Arts, the only music university in the country, as one of five pianists, was the first major way in which she "triumphed over repression."
"The Party didn't want people like me to be educated," she said. "The system, the teachers, and the students had worked against me for so long, but I still managed to persevere."
Dakoli eventually left Europe to pursue a graduate degree at Baylor University in Waco, Texas, and subsequently earned her Doctor of Musical Arts in Piano Performance degree from Louisiana State University. She is also the founder and professor of the Entrepreneurship in the Arts program at Dallas Baptist University and is executive director of the Dallas Institute of Musical Advancement (DIMA), which she founded in 2017. In addition, she is a Mason & Hamlin Artist and serves as the face of and a recording artist for PianoDisc.
It wasn't until living in the United States and pregnant with her third child that Dakoli began to find out the full story of the persecution endured by her own parents, who now also live in America. While reading and translating her father's book—which he wrote for Dakoli and her brother, as well as for future generations to read—she learned the truth of her own childhood and the sacrifices her parents had made.
"I couldn't stop crying for hours," she said. "I couldn't believe all that happened to them and yet, they came home, put on a happy face, and carried on as if their life was simply perfect, for the sake of our happiness.
"I learned that many things I believed about my childhood were just a cover-up to protect us as children from the brutal reality. Much of my poor treatment at school, I thought, was just because I wasn't good enough. However, it was simply because of my 'bad biography.'"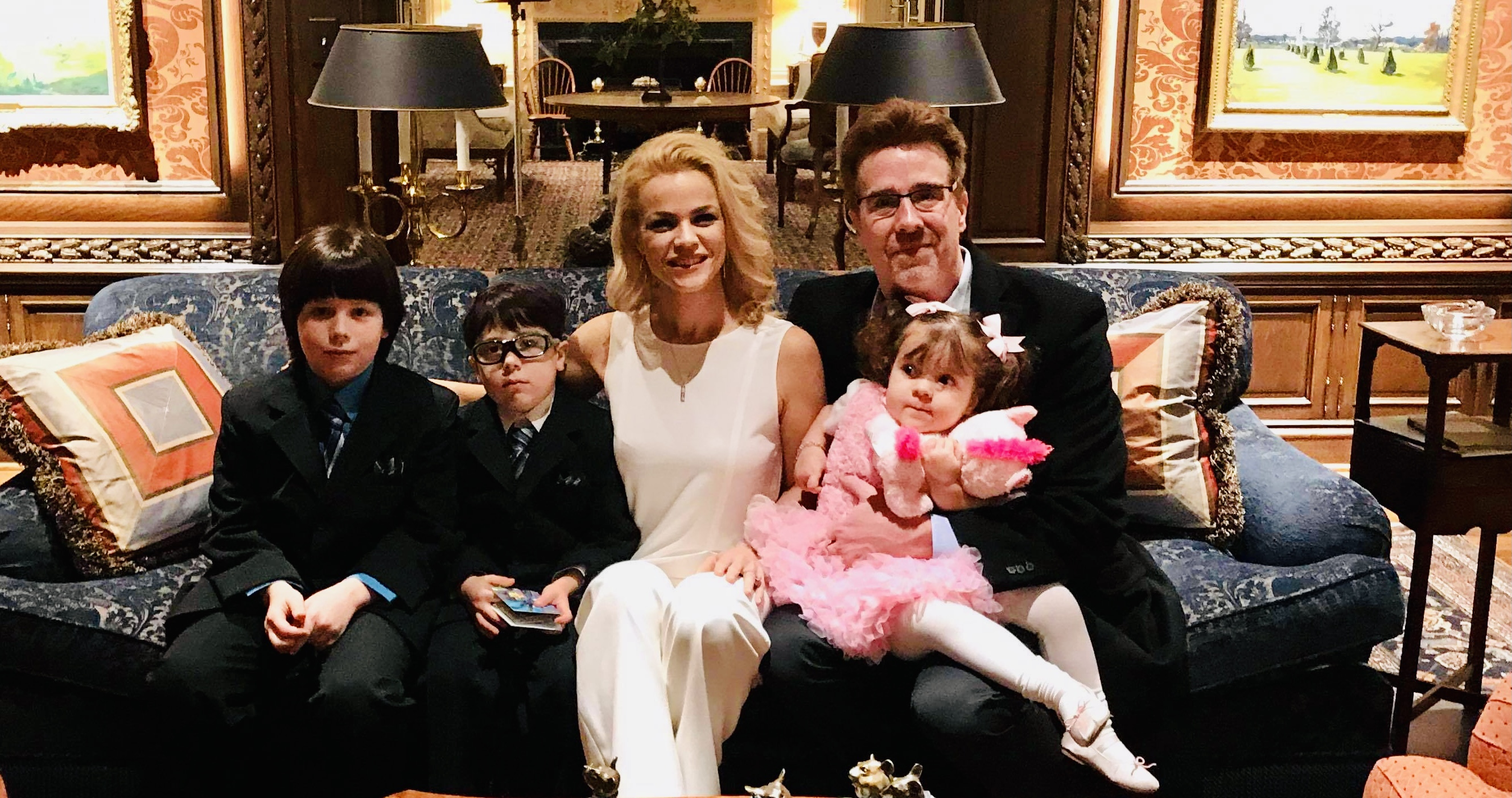 Educating About the Victims of Communism
Dakoli highlighted that studies consistently reveal that America's high school and college students don't know basic facts about the history of communism and the suffering and damage it has inflicted upon millions of people.
"An entire generation of Americans is unaware of the true nature and history of communism, and is warming to collectivist ideas because they don't know the facts," she said. "Socialism is turning into this trend of greatness. The reality is that such a thing doesn't exist. This perfectionism called socialism or communism is just an ideology, not a reality.
"Perhaps this is the reason that communism doesn't allow the freedom of religion; they are scared of anything being praised as better or greater than what they portray themselves to be."
Dakoli said she has learned that the Chinese regime has control over a large population of Chinese people in the United States, not just inside China. "Many are afraid to speak, as they have businesses in China. They are aware that the Chinese government is watching every step very closely. I wonder if the same thing is happening with the [U.S.] government?" she said.
"I was amazed to learn that they have infiltrated deep in the heart of society here, even in Dallas. That's why bringing awareness to the reality of past and present communist regimes is of the utmost importance at this very moment."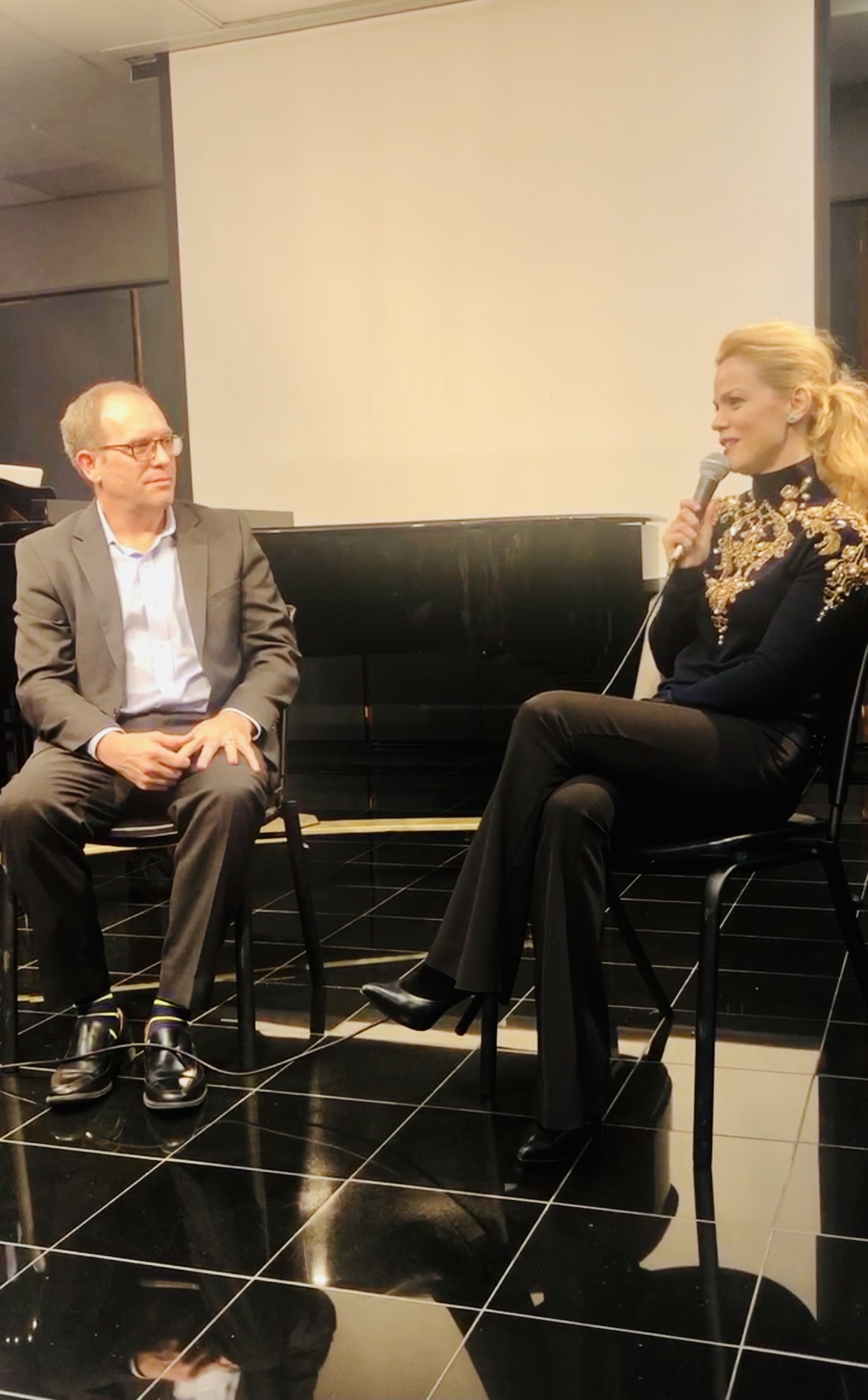 This is precisely why Dakoli became the ambassador for the VOC Dallas Commission and encourages others like her to join, and why she advocates for more recognition of Victims of Communism Day.
Dakoli urges: "Let's make November 7 the day to remember the more than 100 million people that gave their lives in the fight for freedom of speech, freedom of religion.
"Be yourself, find your uniqueness—and remember, socialism is a cover-up for communism that won't allow any of these. They want control, and the only way to that is by brainwashing this Amazon generation. Don't fall for it!"
Share your stories with us at emg.inspired@epochtimes.com, and continue to get your daily dose of inspiration by signing up for the Epoch Inspired newsletter at TheEpochTimes.com/newsletter