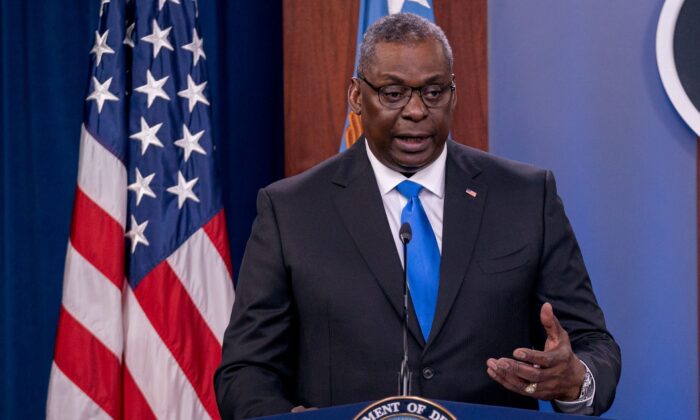 Defense Secretary Lloyd Austin speaks during a press conference at the Pentagon in Arlington, Va., on July 21, 2021. (Ken Cedeno/Reuters)
Pentagon Warns of Worsening Terrorist Threat After Taliban Takes Over Afghanistan
The U.S. Department of Defense is now evaluating Afghanistan for the "reconstruction of terrorist networks" after the Taliban captured Kabul and declared victory over the weekend, said a spokesman.
Before the Taliban was toppled in the early 2000s by U.S. forces, the group was accused of harboring terrorist organizations including al-Qaeda and, later, the Haqqani network.
"It's way too early to make assessments and judgments about what the terrorism threat is going to be in Afghanistan going forward," Pentagon press secretary John Kirby told reporters on Monday. "The secretary certainly believes that, in light of recent events, that a reassessment of the possibilities for reconstitution of terrorist networks inside Afghanistan is warranted."
The catastrophic failure of the Afghan government to fight the Taliban to create the conditions for peace talks has raised the risks of terrorists from other countries going to Afghanistan. The Taliban, an Islamist organization, shares a similar ideology as al-Qaeda, al-Shabaab, and other Sunni Islamist groups.
Defense Secretary Lloyd Austin told members of Congress that he will re-assess the possibility of terror networks like al Qaeda or ISIS residing in Afghanistan, Kirby told Politico. It's not yet clear if the Pentagon can "make a firm judgment either way" about what the terrorist threat will develop into in the near future, he said.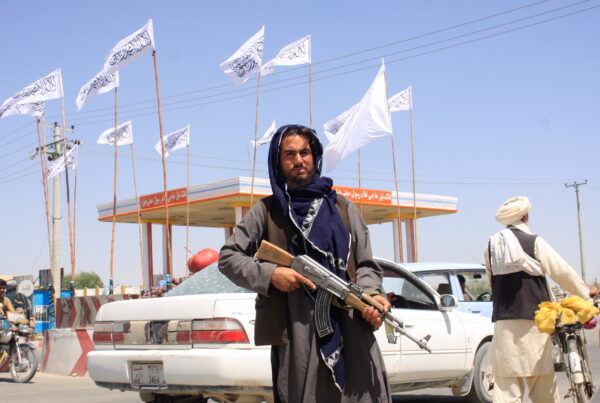 Some designated terrorist groups applauded the fall of Kabul to the Taliban.
"The Taliban are victorious today after being accused of backwardness and terrorism," Hamas's Mousa Abu Marzouk tweeted Monday. "They confronted America and its agents, and refused to compromise with them. They were not deceived by bright headlines about 'democracy' and 'elections.'"
Meanwhile, media outlets backed by the Chinese Communist Party (CCP) have touted the CCP's potential relationship with the Taliban. Other CCP mouthpiece media outlets have used the American withdrawal and Taliban victory to denigrate the United States' credibility while touting the ruling regime.
China's foreign affairs Twitter account posted a press release Monday saying the CCP and Taliban would be holding "talks aimed at forming an open, inclusive Islamic government in Afghanistan." Afghanistan and China's Xinjiang region share a small border area.
Kirby said that at the moment, thousands of U.S. troops are deployed in Afghanistan, an assessment that was echoed later by President Joe Biden during his first remarks on the Taliban capture.
"All the images coming out are of concern and troubling, and we want to do this in a safe and efficient and as orderly a way as possible," Kirby told reporters. "And that is why right now, our troops are focused on making a safe and secure environment at the airport and clearing people in the crowds off of the tarmac and the flight line so that flights can resume. That's our focus right now."