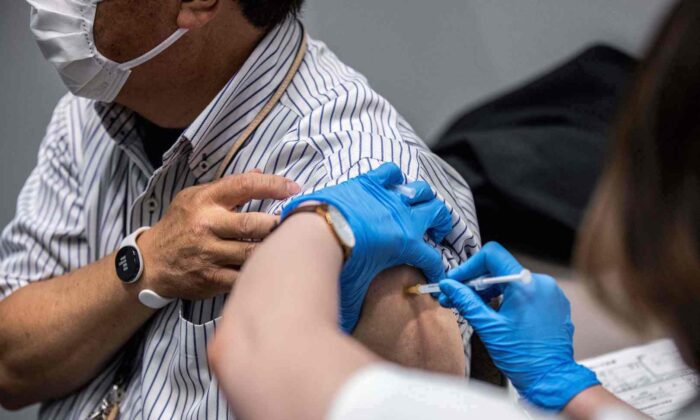 An employee of Japan's Mori Building Company, a property management firm, receives the Moderna COVID-19 vaccine in Tokyo on June 21, 2021. (Behrouz Mehri/AFP via Getty Images)
Japan Suspends Another 1 Million Moderna Doses Over Contamination Concerns
Japanese authorities suspended another 1 million doses of Moderna's COVID-19 vaccine on Aug. 29 at distribution centers in two regions over contamination concerns, according to local governments.
The latest suspension comes a day after officials reported that two men in their 30s died after receiving doses from other tainted Moderna lots placed under investigation—around 1.63 million doses—earlier this month.
Okinawa, a Japanese prefecture made up of more than 150 islands, announced in a statement that it had suspended the use of Moderna COVID-19 vaccines at a major vaccination center in the city of Naha, The Japan Times reported.
"We are suspending the use of Moderna COVID-19 vaccines, as foreign substances were spotted," Okinawa officials said.
Also in Gunma prefecture, located north of Tokyo, contaminated lots were paused over similar concerns, though an official noted that they will continue distributing "lots that are not affected by the incident."
More than 2.6 million Moderna doses are currently affected in Japan. Last week, three batches totaling 1.63 million doses were suspended over safety concerns after "foreign materials" were discovered in at least 390 doses—or 39 vials—of the Moderna vaccine coming from eight vaccination sites.
The Japanese Ministry of Health requested distribution centers to not use the suspended lots that were shipped to more than 800 centers nationwide.
A tiny black substance was found in a Moderna vaccine vial in Gunma, an official from the prefecture said. In Okinawa, black substances were spotted in syringes and a vial, and pink material was found in a different syringe.
The country's health ministry said some of the incidents may have been due to needles being incorrectly inserted into vials, breaking off bits of the rubber stopper.
Moderna previously described the contamination reports as a "particulate matter" that didn't pose a safety or efficacy issue.
The U.S.-based drugmaker and Takeda Pharmaceutical said in an Aug. 28 joint statement that they've been notified of the deaths in Japan, calling it a "tragic event" and adding that there's currently no evidence that the jab caused those deaths.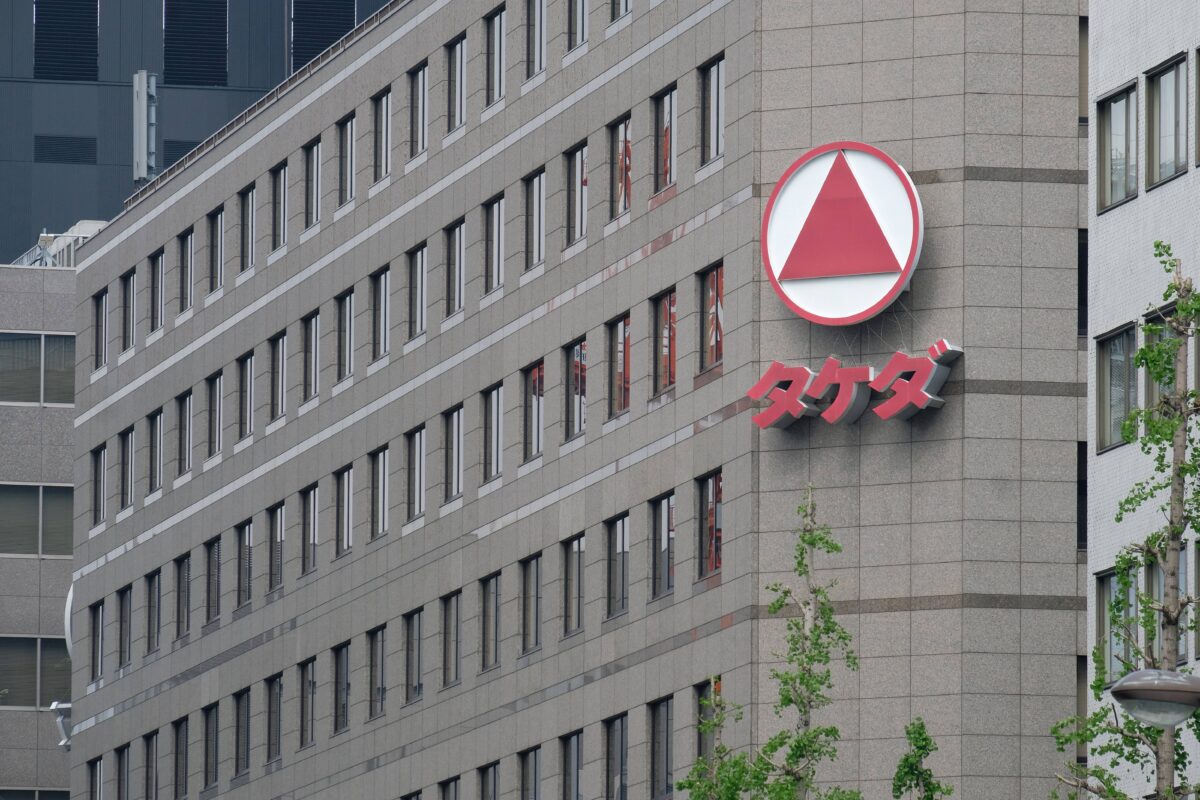 "At this time, we do not have any evidence that these deaths are caused by the Moderna COVID-19 vaccine, and it is important to conduct a formal investigation to determine whether there is any connection," the companies stated.
The deaths of the two men, aged 30 and 38, occurred in August. They both suffered from a fever the day after getting a second dose from one of the suspended lots, with each dying two days after that.
Nearly 1,000 people in Japan have died after receiving shots from Pfizer's vaccine, while 11 are reported to have died after receiving the Moderna vaccine. The country's health ministry said they haven't established a causality link between the injections and the deaths.
As of Aug. 30, 15,969 Japanese citizens have died from COVID-19 since the start of the pandemic, according to health officials. A large part of the country has been placed under strict measures in response to the CCP (Chinese Communist Party) virus, which causes COVID-19.
Reuters contributed to this report.
From NTD News