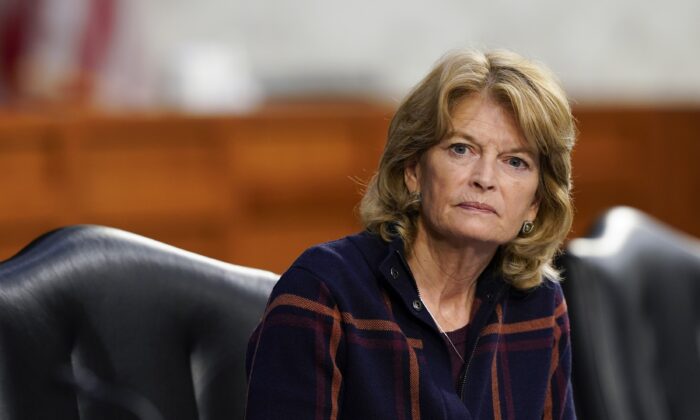 Sen. Lisa Murkowski (R-Alaska) on Capitol Hill in Washington on March 18, 2021. (Susan Walsh/Pool/Getty Images)
GOP Leaders Betray Their Voters Over Murkowski
The other day, I received the following email from Lisa Murkowski, currently Republican senator from Alaska:
"Fellow Conservative,
"Today I announced my campaign for re-election to continue representing the great state of Alaska. You've been there from the beginning, Fellow Conservative, and I wanted you to hear the news directly from me.
"As a born and raised Alaskan, serving my state has been the honor of a lifetime. This privilege is only possible because of fantastic supporters like you!
"This will be my toughest fight yet and it is critical that we get this campaign off to a strong start. That's where you come in, Fellow Conservative."
Fellow Conservative? (How many questions marks can I put after that without seeming illiterate?) Murkowski is about as conservative as Nancy Pelosi on one of her middling days. I was going to write AOC, but that would have been unfair—a tad anyway.
In 2013 the National Journal ranked Murkowski the 56th most liberal and 44th most conservative member of the Senate and it has only gotten worse since.
More recently, among many more liberal-friendly acts, the Alaska senator waffled forever on the Kavanaugh nomination, even after the most despicable smears, and then, of all things, voted to convict Donald Trump during that fiesta of the most overt leftwing partisan hackery, the second impeachment trial.
At the moment, three other candidates, all decidedly more conservative than Murkowski, have declared against her in the primary with two more, one of them being Sarah Palin, having expressed interest.
But… lest we the great unwashed forget where Lisa really stands… "Fellow Conservative" [caps. hers] appears not just the quoted three times, but five times in the brief solicitation email I received, which closes in the following manner (resist the gag reflex, please):
"I can't thank you enough, Fellow Conservative. This will be a long and difficult road but with you by my side I know we will prevail."
If you click on that email, it takes you directly to the familiar WinRed site that almost all conservative causes and politicians use for donations. By law the site is required to pass the money on to the individual candidate's campaign within ten days.
You could call what Murkowski is doing attempted robbery through misrepresentation, but the larger, and more important question, is how this was allowed to happen.
According to the Washington Post, the following transpired when Sen. Rick Scott (R-Fla.)—chairman of the National Republican Senatorial Committee—appeared on "Meet the Press" Nov. 7:
"Scott reaffirmed his support for Senate Minority Leader Mitch McConnell (R-Ky.) and Sen. Lisa Murkowski (R-Alaska), defying the attacks that Trump has levied against both. Trump has endorsed Murkowski's primary challenger, Kelly Tshibaka, saying in June that Tshibaka is 'MAGA all the way.'"
When asked if the NRSC would back Murkowski financially, Scott said "Absolutely."
What kind of game is the Florida senator playing here? Arguments exist pro and con McConnell, who has done some things well, notably judicial nominations, but Murkowski?
Nothing is discernible for her and, as noted above, several good Republicans are running against her in the primary. Moreover, Alaska is a reliable GOP state. Trump won it comfortably in 2020.
I can only speculate what's behind Scott's support, but it couldn't be more obvious that he is betraying, disdaining, alienating, ignoring—choose the word you wish—the Republican rank-and-file, who are finished with Murkowski. Ask virtually anyone. (It's worth remembering Murkowski initially became senator through being appointed by her father, then state governor.)
This is a foolish thing to do on many levels, so the conclusion must be there is money involved for someone (or some candidate or candidates). Otherwise it makes little sense unless it's part of a covert plot by so-called "moderate" (read: RINO) Republicans to subvert Trump. Possibly both are involved.
That this was done at a moment of maximum Republican enthusiasm after the victory in Virginia and the near-victory in Democrat stronghold New Jersey makes it all the more disturbing.
Many people wonder why Republicans lose when they are able to outdraw the Democrats on the ground, and not just at Trump rallies, in large numbers.
Perhaps it is that some of them, the leadership in particular, secretly want to lose—or to win only when their candidates are part of the Deep State/Uniparty.
That would appear to apply to Scott who should be removed from his position forthwith.
As for Murkowski, she's probably toast anyway. The NRSC is wasting their… excuse me, your… money. I would advise you not to give them any. Pick your candidates individually and carefully.
Views expressed in this article are the opinions of the author and do not necessarily reflect the views of The Epoch Times.